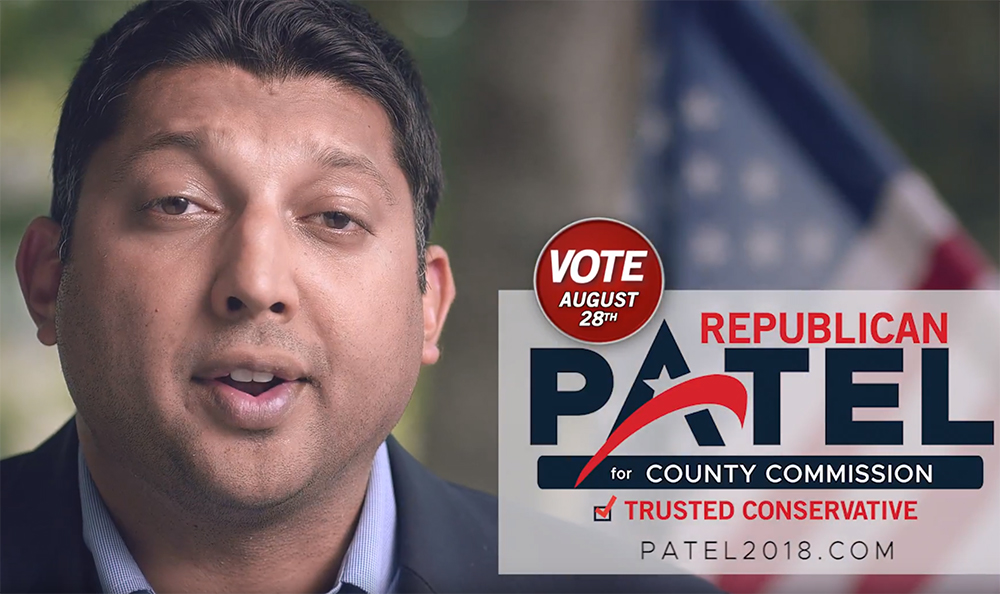 Republican Aakash Patel announced Tuesday that the first TV ad backing his Hillsborough County Commission campaign is already hitting the airwaves.
The 30-second spot, entitled "A Better Hillsborough," features a half dozen Hillsborough residents saying what they are looking for out of the next commissioner to hold the countywide District 7 seat.
"My county commissioner should be a trusted conservative, who protects our values and has always fought for Hillsborough," the residents say. "I don't want a career politician. I want someone who will fix the term limit loophole, so they actually work. My commissioner should want what we want: Less traffic, more jobs and the best education for our children."
The ad then turns over to Patel, who says that "together we can work toward a better Hillsborough County."
In a press release announcing the ad, Patel thanked Terry Castro of Patriots 4 Trump, Marsha Craig of Tampa Republican Women Federated and Jake Hoffman of Tampa Bay Young Republicans for volunteering to appear in the campaign ad.
"I continue to be humbled by the outpouring of support for my campaign. I want to express my sincere gratitude to these Hillsborough Voters who have come out and publicly supported me. These are only a few of the ever-increasing number of supporters we are gaining as we move toward Election Day," Patel said.
Patel, who runs a business consulting firm, is running against attorney Todd Marks in the Aug. 28 Republican primary. Also running are Democrats Ray Chiaramonte, Mark Nash, Kimberly Overman and Sky White as well as Green Party candidate Kim O'Connor.
Through July 6, Patel led the money race with more than $364,000 raised for his campaign and about $130,000 in the bank. He also had another $75,570 on hand in an affiliated political committee, Elevate Tampa.
The only other candidate to crack the six-figure mark in fundraising is Marks, who like Patel was a candidate for the District 1 seat held by Commissioner Sandra Murman before switching over to the District 7 seat held by retiring commissioner Al Higginbotham.
As of July 6, Marks had raised $108,768 in hard money and had $99,365 in the bank.
Patel's ad is below.