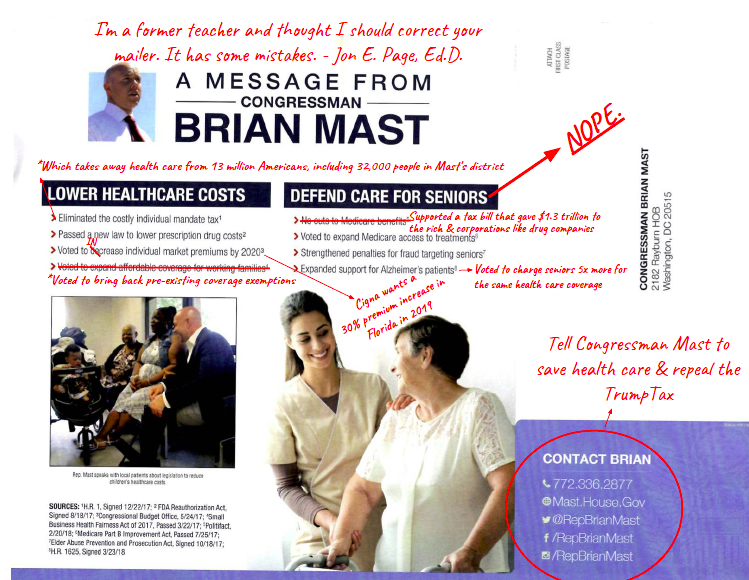 Liberal action group Floridians for a Fair Shake is out to "correct" a health care mailer sent by incumbent U.S. Rep. Brian Mast.
Mast is a Republican representing Florida's 18th Congressional District. He recently sent the mailer to voters, touting his record on health care since his election to Congress in 2016.
Not surprisingly, the liberal group, which advocates on issues tied to the health care and economy, had some problems with Mast's mailer. Jon E. Page, Ed.D., who serves as an advisory committee member for the group, says at the start, "I'm a former teacher and thought I should correct your mailer. It has some mistakes."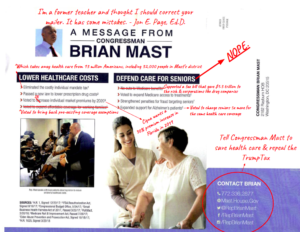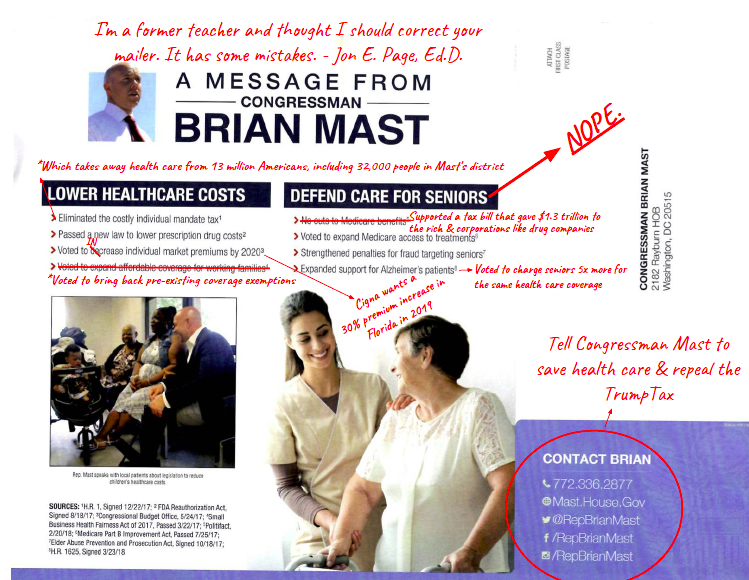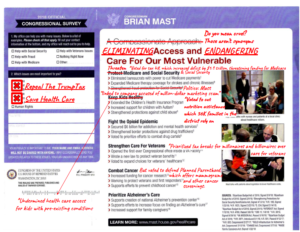 For example, Page disputes that Mast's claim that he sought to "defend care for seniors." Page notes the GOP health care bill would have allowed seniors to be charged five times more for health care coverage, whereas the Affordable Care Act capped that increase at just three times more.
Some of the group's "corrections" can be attributed to policy differences, such as criticisms of the GOP bill's tax breaks.
While Mast and many other Republicans voted to repeal the Affordable Care Act, those efforts ultimately died in the Senate.
Still, the group urges voters to reach out to Mast, highlighting his contact information included in the mailer, and tell him to "save health care and repeal the Trump tax."
Mast Communications Director Brad Stewart hammered the group in response. "Floridians for a Fair Shake should be honest about who they are: a DC-based dark money group," said Stewart in a statement to Florida Politics.
"Groups like this that hide their true motives while attempting to deceive voters of a state they don't even live in is exactly what's wrong with politics today. While they're busy 'correcting' things they should change their name to Washingtonians for a Fair Shake."
Stewart also said the original mailer "has every single bullet point sourced to legislation — which is much more than [Floridians for a Fair Shake] can say about their lies."
Mast is competing for the CD 18 Republican nomination with entrepreneur and teacher Dave Cummings and businessman Mark Freeman. Attorney Lauren Baer and former naval officer Pam Keith are running for the Democratic nomination.
See the Mast mailer, sans corrections, below.