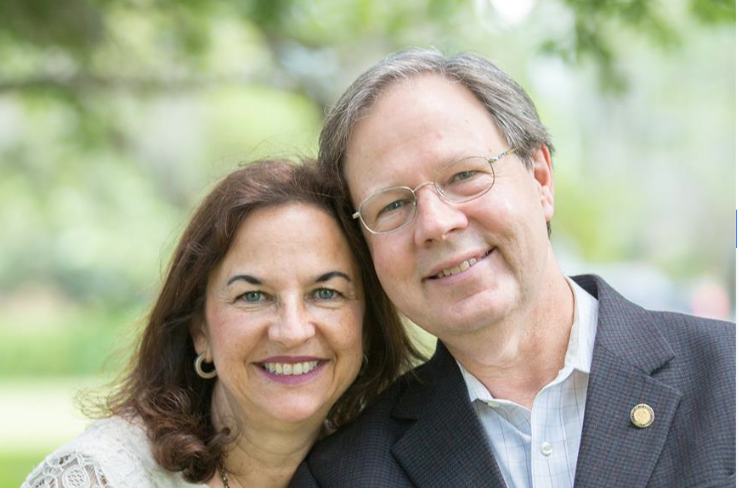 Scott Plakon recently confessed that when he was in high school he was the kind of geek to whom cheerleaders wouldn't give the time of day.
Normally.
Susie Rushing was a cheerleader, but not that kind. She was the fairy tale kind, he recalled.
Susie Rushing Plakon, 57, wife of state Rep. Scott Plakon of Altamonte Springs, died peacefully at their home Monday, after a more than four-year battle with Alzheimer's Disease.
"Susie and I have had a fairy tale marriage," he wrote last week as she entered her final days, in home hospice. "I'm blessed to be able to say that I love her more than the day we married nearly 33 years ago and I know that she feels the same way."
The Plakon's 33rd wedding anniversary was last Friday.
Susie Plakon was blessed with a singing voice, a strong commitment to family, her church, and community, and a deep Christian faith, something she and her husband shared. A stay-at-home mom, she and Scott raised six children, Jeanne, Timothy, John, Jamison, David,  and Erica.
Suzanne Kay Rushing was born March 28, 1961, in Pensacola, the son of John and Zenaida Rushing, who had met while he was a soldier in Cuba, and she was a local Cuban woman. Susie grew up in Key West and went to Key West High School, where she was head cheerleader. She attended the University of Central Florida and then went into banking.
As a young woman, in 1983, she began attending Calvary Assembly [now Calvary Orlando] and found her faith, which took deep root, and she quickly became a fellowship leader. It was through that she met Scott Plakon, at a retreat for fellowship leaders.
Once he entered politics and was elected to the Florida House of Representatives  in 2008 she would frequently go with him to Tallahassee, spending much of the session with him, and she was active with spousal groups, particuarly spousal prayer groups.
Susie Plakon not only sang, but wrote songs. She also was a leader in Seminole County Prayer Breakfasts. He posted an internet video of her sitting in a hallway outside his Legislative office, singing and declaring praise for God, and the video was viewed more than 22,000 times in the first few days.
Fellow Republican state Rep. Bob Cortes of neighboring Altamonte Springs, and his wife Virginia Cortes visited with the Plakons Sunday night. He called Susie a "charismatic, caring, nurturing person, just a loving person, always grounded in her Christian background."
Her passing touched people on both sides of the aisle. Scott Plakon, represting District 29 in Seminole County, is a rock-solid conservative. Democratic state Rep. Carlos Guillermo Smith is a far-left progressive, and in a Facebook post Monday he called him a "dear friend" and her "amazing."
"I'm terribly saddened by Susie's passing," Smith wrote. "She was a beautiful person and Alzheimer's is a horrible disease."
She also was an inspiration to her husband, who led to effort last year to get state approval for funding for an Alzheimer's clinic and research center in Winter Park, and continues to advocate for the Alzheimer's community.
Two years ago the Plakons were involved in a terrible traffic accident. Until then her disease had progressed slowly. But after the accident she suffered multiple seizures and the disease began rapidly progressing.
He kept her at home, caring for her himself, until just last week, when a hospice nurse began attending to her.
"In my entire life, I have never met another person that has walked closer and had a more intimate relationship with Jesus than Susie Plakon," he wrote on Facebook last week.
She is survived by her husband, her six children, her mother, a sister Debi Stolte of Orlando and a brother Danny Rushing of Orlando. She was preceded in death by her father and a sister, Jeanne Rushing.
Services will be held at Church in the Son, 4484 N John Young Parkway, Orlando, on July 29th at 3:30 p.m. In lieu of flowers, donations can me made to the Alzheimer's Association.