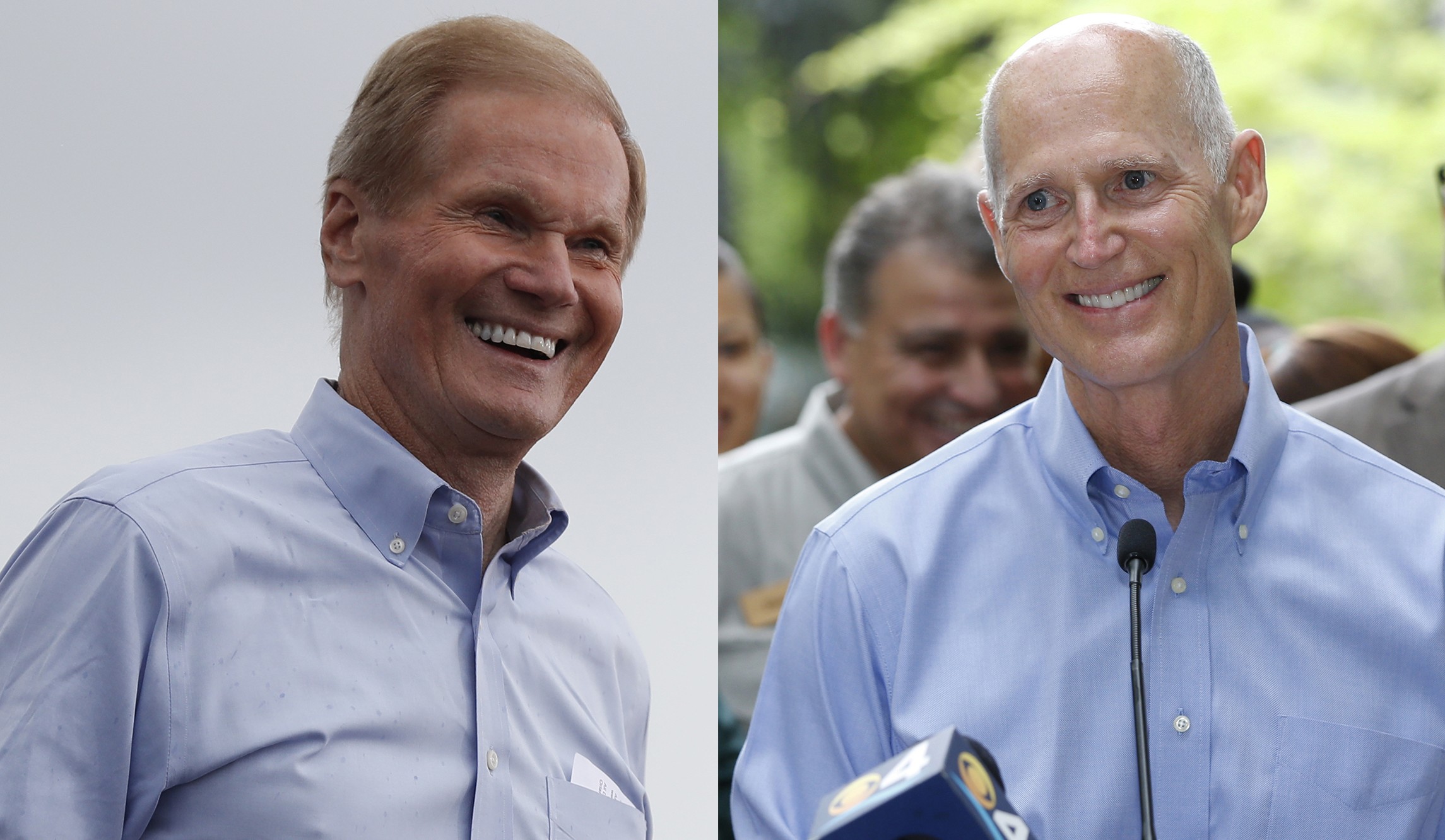 A new survey out shows Gov. Rick Scott leading incumbent U.S. Sen. Bill Nelson by four percentage points in the race for U.S. Senate.
Scott earns 44 percent of the vote compared to Nelson's 40 percent, according to the most recent results by the Florida Atlantic University Business and Economics Polling Initiative. Those numbers are nearly identical to the last measure released by FAU in May.
But the number of undecided voters did increase; 17 percent of whom say they're undecided now, compared to 16 percent in the previous poll — although that can be attributed to rounding error.
Those numbers are in line with other surveys which have shown a close race, albeit at times with different candidates leading. RealClearPolitics currently has Scott with a lead of less than a percentage point, according to an aggregate of available polls.
The FAU poll did show some other notable numbers relevant to the race, with Scott's approval rating well above Nelson's.
Voters give Scott a 50 percent approval rating as Governor, compared to 32 percent unfavorable, giving him a plus-18 in favorability. Nelson's unfavorability rating as U.S. Senator matches Scott's 32 percent, but his favorability came in double-digits below Scott's at 37 percent. FAU didn't measure either's favorability in its May poll.
One major difference from two months ago, however, is the explosion of concern expressed by Floridians over the toxic algal blooms that have plagued the state's coast. According to FAU, 53 percent of those polled said they are "very concerned" about the thick green slime, while another third said they were "somewhat concerned."
The issue has taken a front-row seat in the Senate race. Nelson hit Scott over algal blooms during the weekend, saying they have been exacerbated by poor leadership at the state level.
"Rick Scott has systematically dismembered the environmental agencies of the state of Florida over the last eight years," Nelson said during a roundtable discussion about the discharges.
The Scott campaign hit back, calling on Nelson to "do his job" and help secure funding to address the problem while touting the Governor's efforts at both the state level and dealing with the Trump Administration.
"The fact that Florida is waiting for such an important project to move forward shows that it's time to end the career politician mentality of only working three days a week and allowing Washington's bureaucratic processes to slow down results," Scott said Tuesday.
The FAU poll was conducted from July 20-21 and sampled 800 registered voters. The group was made up of 35 percent registered Democrats, 33 percent registered Republicans and 32 percent registered Independents. It has a margin of error of plus or minus 3.4 percentage points.