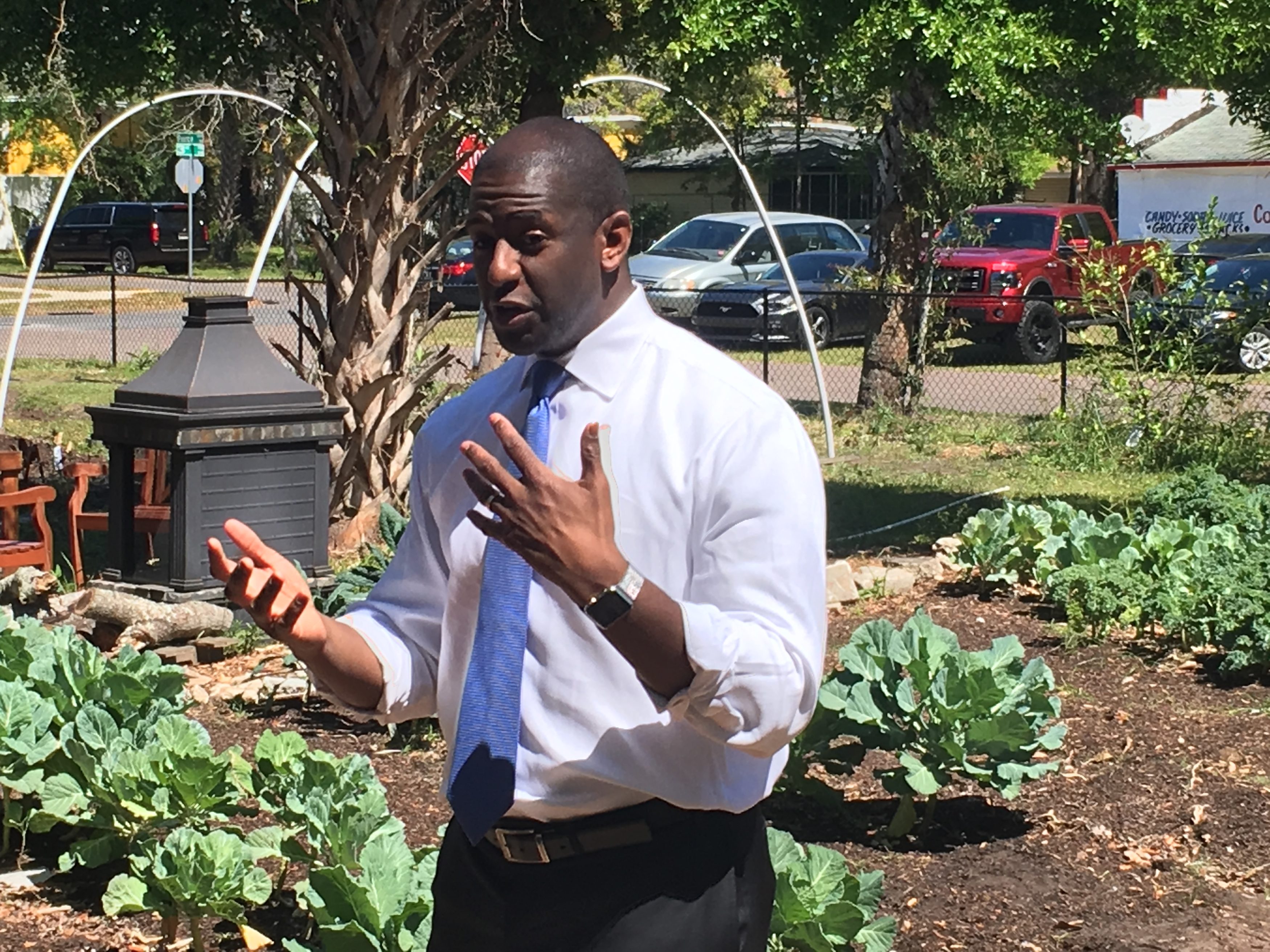 Tallahassee Mayor Andrew Gillum spent his birthday Thursday in Northeast Florida.
First in Atlantic Beach, accompanied by his wife R. Jai, for a "Women with Gillum" event at the Adele Grage Cultural Center that he said was "incredible." Then, at a stately home in Avondale near the river, he opened his new campaign headquarters.
These are good times for his campaign, which has a unique generational appeal and some providentially-timed bonus oomph.
Gillum, who has been overwhelmed by the self-financing of Philip Levine and Jeff Greene and the fundraising of Gwen Graham in terms of campaign finance reports, is getting extra help down the stretch from outside groups.
Per POLITICO Playbook, the New Florida Vision PAC is working to turn out 100,000 African-American, Latino and Haitian voters for Gillum.
As well, billionaire populists have bought in: George Soros has donated $700,000, with Tom Steyer making a million dollar commitment, which will include efforts, including canvassing and messaging, by his Next Gen America.
The Indivisible group backs him, and they too will canvass and message through the primary.
And meanwhile, less accountable money has come in: almost three-quarters of a million dollars, via the Collective Super PAC. In that instance, the group went negative on Gwen Graham, the most negative messaging of what up until now has been a fairly anodyne campaign.
Gillum, who typically is not coming in at the top of polls, believes he has an "extremely clear" path to victory that involves getting a vote share in the twenties, with the other three plausible candidates just behind him.
Polls show him doing well despite a very limited TV spend, which he attributes to the impact of "retail campaigning."
But during the homestretch, other groups will be running concessions in the shop. Victory Lane will be cleared by blocking backs that he doesn't necessarily control.
"Other groups are now pitching in," Gillum said. "Every day I read clips and there's another effort that's underway to help us."
When asked, Gillum was confident that lack of message control won't be an issue.
"I try to be my own best messenger," Gillum said, "and hope that they can pick up from kind of where I leave off, and frankly create ads and advertisements that use my voice and get my voice out there."
"Obviously we don't get to control what everyone else does. I'm learning more and more about what everybody's doing as I read the news," Gillum added.
"For the part that we can control," Gillum added, "we are building really strong momentum around the state of Florida."
Of course, while the Democratic race has yet to get really negative, it's only a matter of time.
Gillum's administration in Tallahassee has been under a cloud of FBI investigation, one that has cooled the ardor of direct donations. His opponents have avoided the issue in public, with ops pushing material and memes in private.
But things are bound to change, and there are questions as to whether Gillum can take the heat.
"What I've told voters this whole time — this isn't the first time we've been confronted with questions about that," Gillum said. "I can't take responsibility for the actions of others. I can answer for what my own actions have been."
Gillum added that his actions "consistently have been … above board, consistent with my values. I hope that people pay attention to what that means."
We asked if, in retrospect, he should have practiced better oversight in his executive role.
"Assuming that this case involves another elected official," Gillum said, "those folks have got to be accountable themselves. I couldn't remove anyone if I wanted to. That's not the system of government we have."
Will those answers fly with Florida Democrats? Expect to find out Aug. 28.