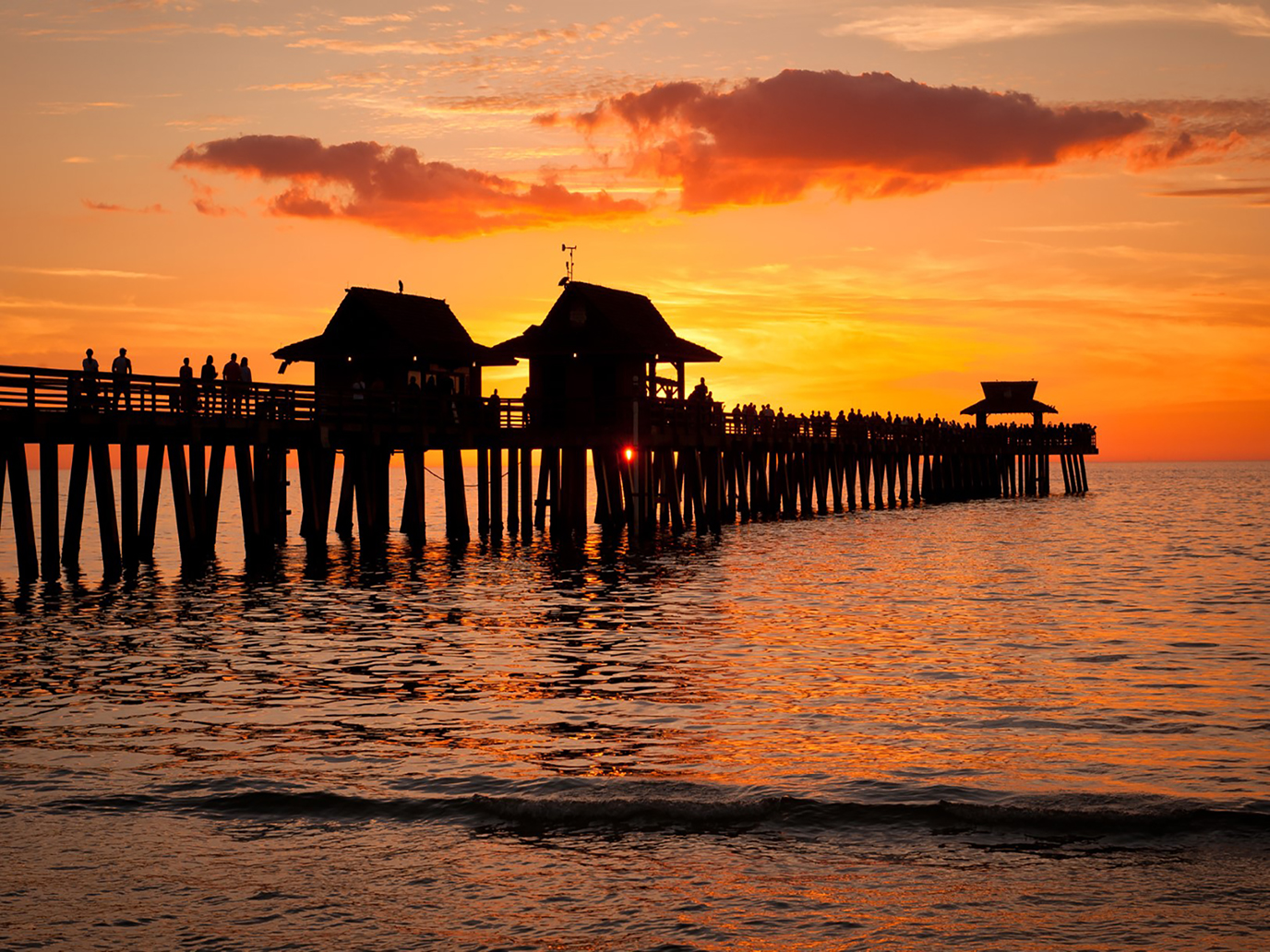 Sunburn — The morning read of what's hot in Florida politics.
By Peter Schorsch, Phil Ammann, Daniel McAuliffe, Jim Rosica, and Drew Wilson.
The Trump Show is coming to Tampa, and it couldn't be a worse day for The Big Guava.
The president will ostensibly be at the fairgrounds to boost his favored candidate for Florida governor, Ron DeSantis.
But mostly, if experience is any guide, he's going to talk about himself.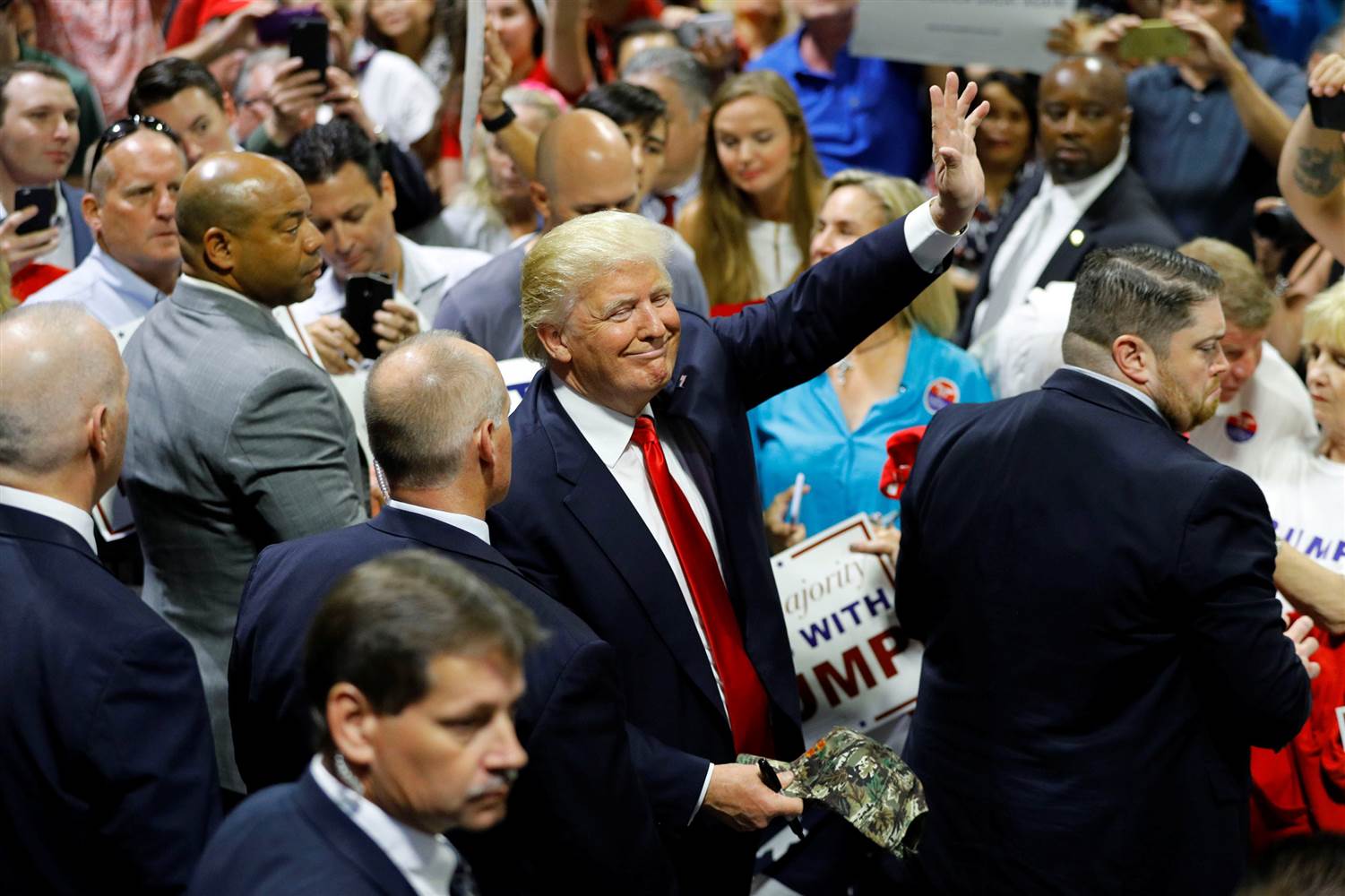 The Donald will no doubt relish his opportunity to vent his spleen unfiltered in front of an adoring crowd of acolytes.
But is it good for his party? Nope, critics say.
In fact, "all of this is bad for the Republican Party," former Republican Congressman David Jolly told the Tampa Bay Times, warning of "a swift and hard correction come November."
"We recognize that a wipeout of congressional candidates and gubernatorial candidates like DeSantis might be an inflection point to say this has gone too far and we can no longer be a party with a governing majority that represents the broader diversity of this country."
That may be, but for now, here are the Top 5 reasons why Trump's rally will suck.
The Location — If you've been smart all of your life and avoided the Florida State Fairgrounds, you won't regret your decision if you decide to Tuesday's rally. The Fairgrounds is, to use the appropriate vernacular, a swamp. The actual rally will take place in the Expo Hall, but you'll still have to park and walk through what basically resembles the infield of a monster truck rally.
The Location — Part 2 — The Fairgrounds shouldn't even be associated with Tampa Bay. It's in Tampa, yes, but barely. It's really in Seffner or Thonotosassa or some other place in the sticks where Cousin Eddie retired to. Undoubtedly, the locals will be out in force tomorrow night, chanting "Lock her up" and threatening the caged-in press corps.
The Traffic — It's not impossible to get to the Fairgrounds, especially if you're coming from I-75, but if you overnighted anywhere to the west of that and are driving to the event along I-4, you're in for the kind of snarling traffic that will is the automotive equivalent of a Chinese finger puzzle.
The Weather — It feels like it's been raining every day since July 4. And when it's not raining, it's uncomfortably hot and humid. The National Weather Service in Tampa Bay described the recent weather pattern best in a tweet Sunday morning: "If someone randomly showed up with this satellite image and told me to guess what month it was from … July would not be my first guess. It wouldn't be my second or third guess either." The forecast calls for late afternoon showers — right about when folks will be in line to see POTUS.
The Message — By campaigning in Florida just as early ballots arrive in mailboxes, Trump is, again, setting a bad precedent. He keeps breaking the unspoken rule that sitting presidents don't pit primary opponents in their own party against each other.
The Sh*tshow — Even Jeff Greene said he'll attend the protest planned for Trump's appearance at the fairgrounds. Look for other protests to break out.
The Blowback — The bottom line is that Trump is fanning the base at expense of the general election. He's giving undecideds who don't like him a reason to vote against DeSantis.
If there is any upside to Trump rallying tomorrow night in Tampa, it's that he'll be doing so across the street from the Seminole Hard Rock Casino. Do yourself a favor and enjoy one of the best steaks you'll have anywhere at its Council Oak. Then hit the blackjack tables and enjoy the show via Twitter.
"Vo-Ed supporters plan to make their case to Donald Trump in Tampa" via Joe Henderson of Florida Politics — Last week, at venerable Tampa Bay Tech High School in Tampa, a friend of mine counted 27 maintenance trucks from the Hillsborough County School District on site. The president is due to visit TBT this afternoon as part of his quick hop and rally in Tampa. The presence of the maintenance armada seemed appropriate because Trump's drop-in will highlight increasing awareness in Florida that vocational education is something to be embraced, not looked down on in the way some educators have. The Tampa Bay Times reported current and former students are holding a demonstration to coincide with Trump's visit to urge support for vocational education. That's a good thing. The whole idea of coming out of high school is to gain some preparation for the adult world. If that world includes the use of calculus, statistics and/or higher-level science, great. Top colleges are still going to require proficiency in those areas, and that's fine. But it's OK to say that not everyone is going to college. It's expensive, and while the experience can be great, there are a lot of ways to find fulfilling work at a livable wage.
"Jeff Greene to protest Donald Trump during Tampa Bay visit" via William March of the Tampa Bay Times — Greene has scrapped planned campaign events in St. Petersburg and Tampa to join a protest being planned at the Florida State Fairgrounds outside Trump's campaign rally. Two progressive groups, NextGen Florida and Indivisible Action Tampa Bay, are using a Facebook page to solicit attendees to the event in a protest zone … the Facebook page shows it located on the west side of U.S. 301 in the fairgrounds. Greene plans to attend with his campaign bus, adorned with the slogan, "Trump's worst nightmare," and a stage and sound system … the campaign plans to set up in the protest zone about 5 to 5:30 p.m. as doors open for attendees at the 7 p.m. rally.
— SITUATIONAL AWARENESS —
—@RandPaul: After meeting Judge [Brett] Kavanaugh and reviewing his record, I have decided to support his nomination. No one will ever completely agree with a nominee (unless of course, you are the nominee). Each nominee, however, must be judged on the totality of their views character and opinions.
—@DeFede: Happy Birthday, to you? By now most folks know @realDonaldTrump has a rally Tuesday in Tampa for @RepDeSantis — a rally likely to assure DeSantis winning the Republican nomination for governor over @adamputnam But less known, Tuesday is also Putnam's birthday. #Ouch #SadBirthday
—@AlCardenasFL_DC: One more thing: we have had GOP gov primaries won on candidates' talent, issues of their day, resources but never on the backs of Presidential endorsements. This is just not the way its supposed to be. Elections should be won on merit of candidates
—@AnnaForFlorida: Bye bye, @adamputnam & hello racist jokes w/@RonDeSantisFL worshipping his overlord @realDonaldTrump. This ad is pathetic as it is scary. Teaching children to build a wall is not ok, even when done in jest. Looking forward to electing better role models this Nov.
—@EvanAxelbank: One question: WHO will Trump aim at during Tampa rally? Putnam or Graham?
—@CarlMarksTimes: Office chatter: #Tampa traffic is gonna be bad enough tomorrow night when @realDonaldTrump comes to town, but imagine the logjam when those people leave at the same time as @WWE Smackdown fans
—@KevinCate: 7,214 people have already voted in Florida bellwether @VotePinellas. #GOTV people! It's primary time!
—@RepHastings: The widespread printing of do-it-yourself guns will only embolden those people that Florida's brave police officers work tirelessly to protect us from. Today, I wrote Florida Attorney General Pam Bondi urging her to stop the publication of these plans.
—@GNewburn: Great to see @mattcaldwell_fl in Newberry this afternoon. He has an encyclopedic, almost scary understanding of Florida's agriculture issues, and I left today knowing we'll be in good hands when he wins the job this November.
— DAYS UNTIL —
Deadline for filing claim bills — 1; 'The Race for Governor' Democratic gubernatorial debate in West Palm Beach — 2; Florida's back to school sales tax holiday begins — 3; Republican gubernatorial debate in Jacksonville — 8; School begins in the first 19 Florida districts — 10; Start of the U.S. Open — 27; Primary Election Day — 28; College Football opening weekend — 30; Labor Day — 37; NFL regular season starts — 37; Future of Florida Forum — 57; 'Before You Vote' Florida U.S. Senate debate — 84; 'Before You Vote' Florida Governor debate — 85; General Election Day — 98; Florida Chamber Insurance Summit — 119; 'Hamilton' comes to the Straz Center — 196; 2019 Legislative Session starts — 217; 2020 General Election — 826.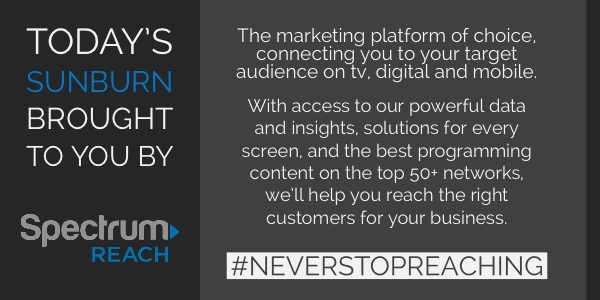 — TOP STORY —
Democrats rally against 'Stand Your Ground' after Clearwater shooting" via Matt Dixon of POLITICO Florida — "'Stand your ground,' as it exists in this state, has created the opportunity for people to take into their own hands the decision to be judge, jury and executioner," Tallahassee Mayor Andrew Gillum, who is also running for the Democratic nomination for governor, told reporters. The latest backlash follows Pinellas County Sheriff Bob Gualtieri's decision not to arrest Michael Drejka, a 47-year-old white man, after he shot and killed Markeis McGlockton, a 28-year-old black man, during a dispute at a Clearwater gas station. Gualtieri said Florida's 2005 stand-your-ground law "created a standard" that prevented him from making an arrest. Gillum is calling on Gov. Scott to call a "state of emergency" and suspend the stand-your-ground laws.
— NELSON VS. SCOTT —
Just off embargo — "Rick Scott slips ahead of Bill Nelson in Mason-Dixon poll" via Scott Powers of Florida Politics — The new poll, conducted last Tuesday and Wednesday, gives Scott a three-point lead, 47 to 44, over Nelson … "The Senate race between incumbent Democrat Bill Nelson and term-limited Republican Governor Rick Scott continues to be one of the most competitive in the country," the Washington D.C.- and Jacksonville-based pollster stated. … Scott and Nelson both have clearly defined camps of support … Scott's getting 55 percent of the men's vote to Nelson's 34 percent, according to the latest Mason-Dixon poll. Meanwhile, Nelson is getting 54 percent of the women's vote to Scott's 39 percent. Both of those gaps have opened wider since Mason-Dixon's February poll. … Not surprisingly, Nelson holds commanding leads among Democrats and black voters, and has an edge with Hispanic voters, 44-39 percent; while Scott has no problem with the Republican vote; leads solidly among white voters, 58-36 percent; and has a slight edge with voters without party affiliations, leading 47 percent to 43 percent for Nelson. … Mason-Dixon also asked about President Trump: 43 percent of those surveyed in this Florida poll had a favorable view of him, and 46 percent had an unfavorable view.
To view the ad, click on the image below:
— NOTES FROM THE CAMPAIGN TRAIL —
If you read one thing —" In Florida, not all politics are local, as Trump shapes Governor's race" via Jonathan Martin of The New York Times
"Ron DeSantis ad shows sense of humor — and unadulterated love for Trump" via Anthony Man of the South Florida Sun-Sentinel — The 30-second spot continues sprinkled with funny lines and images — all reinforcing that DeSantis is 100 percent Trump. He The candidate teaches one of his two children to "build the wall" — a reference to Trump's proposed wall on the U.S. border with Mexico — and shows them building a wall out of cardboard blocks. Then he reads a story to one of the kids, who sits in his lap as he holds a copy of then-businessman Trump's book "The Art of the Deal" and utters this line: "Then Mr. Trump said, 'You're fired.' I love that part." Finally, Casey DeSantis explains, her husband is teaching infant daughter Madison how to talk. It shows her sitting in her dad's lap. He's holding a Donald Trump campaign sign and reciting and pointing to each word in the president's slogan: Make America Great Again.
To view the ad, click on the image below:
Tweet, tweet:
Actual ad for the GOP frontrunner for FLGOV. This goes beyond doubling down on Trump. Need a whole new set of words to describe this strategy. https://t.co/KAW22BRgNa

— Chuck Todd (@chucktodd) July 30, 2018
"New mailer touts Trump's nod for DeSantis, takes down Adam Putnam's record" via Florida Politics — As President Trump comes to Tampa to rally for DeSantis, Republican voters across Florida began receiving a mail piece which highlights the President's endorsement. On the other side of the mailer is a multipronged, heavily sourced attack on Putnam's long record in public office. The DeSantis-aligned political committee, Friends of Ron DeSantis, sent the piece … Sensing a winning hand, the pro-DeSantis mailer remains positive — free of the dark imagery and distorted photos that often mark political "hit mail." The piece stands out for its heavy use of citations and limited hyperbolic language — a stark contrast to the tactics of Putnam, who has recently faced withering criticism from mainstream media outlets, fact-checkers, and national conservative figures over a series of false attacks on DeSantis.
American Bridge launches ad lambasting DeSantis for 'failing to keep guns from criminals' — Progressive group American Bridge launched a new ad ahead of Trump's rally in Tampa for Republican gubernatorial candidate and Fox News contributor DeSantis. "Runs Away" highlights DeSantis's "failure to do anything to keep guns from criminals and the mentally ill." According to American Bridge, after the February school shooting in Parkland, DeSantis failed to propose or support any policies that would keep guns out of the hands of dangerous people. The ad begins is running this week on Instagram and Facebook. It is geotargeted to reach young voters in the ZIP codes surrounding Trump's rally with DeSantis.
To view the ad, click on the image below:
Assignment editors — Putnam will appear with the Band of Brothers veterans' group, 2:30 p.m., City Fire-Lake Sumter Landing, 1018 Canal St., The Villages.
"In Governor's race, are Jeff Greene and Phil Levine one in the same?" via David Smiley of the Tampa Bay Times — "Both men have extremely similar profiles — politically experienced, successful business owners who are white, male, Jewish and from South Florida," Brad Coker, CEO of Mason-Dixon Polling & Strategy, noted last week after a poll showed Greene climbing into third place and Levine falling into second behind Gwen Graham. "With this overlapping appeal, the two are drawing a combined 30 percent of voters — slightly more than Graham." Levine had built an advantage over the field heading into the summer thanks in part to a habit of crisscrossing the state in a luxury tour bus wrapped in campaign logos and an advertising blitz funded by his own money, which he's used to match his donors' contributions. But that was before Greene spent $13 million of his own dollars in seven weeks. Now, while Levine's other opponents are either just getting on television or avoiding South Florida's expensive TV market altogether, Greene is suddenly sharing airtime with Levine in Miami and outspending him around Florida.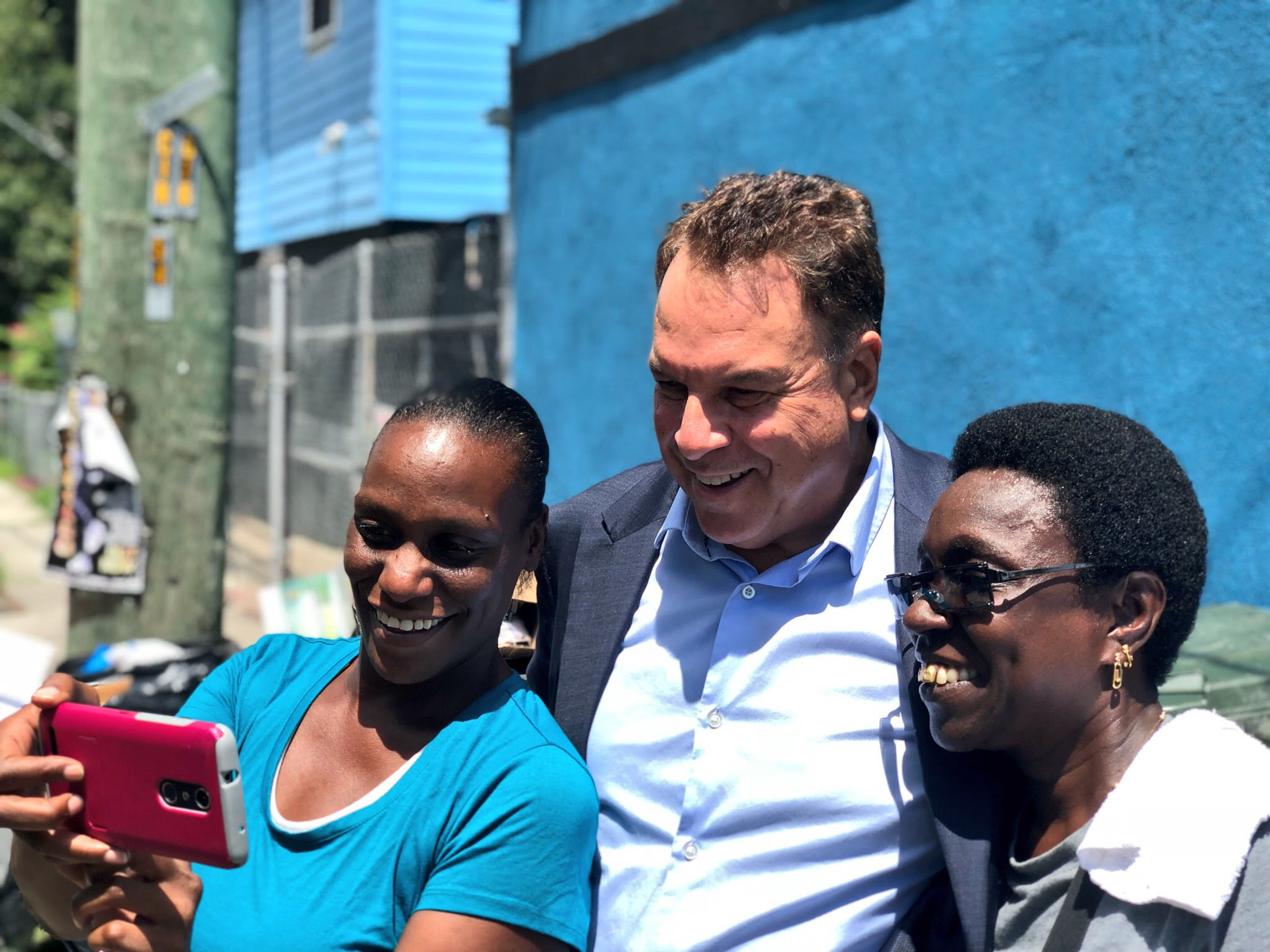 Assignment editors — Levine will attend a meet-and-greet with members of the Miramar, Pines and Weston Democratic Clubs, as well as the Broward Young Democrats; 6:30 p.m., Total Wine, 15980 Pines Blvd., Pembroke Pines; 8 p.m., 3010 De Soto Blvd., Coral Gables.
Holmes County Sheriff endorses Ashley Moody for AG — In announcing his endorsement, Holmes County Sheriff John Tate said: "During my time as Sheriff, I've used my faith as a guiding light. After meeting Ashley, I know her commitment to her family and her faith will guide her during her time as Attorney General and that's why I wholeheartedly support and endorse her candidacy. I look forward to working alongside her to make our communities safer for everyone to enjoy." … "I am honored to receive the endorsement of Sheriff Tate," Moody responds. "His motto, working hard to keep you safe, is one that I will continue to uphold as Florida's next Attorney General and as the top cop for our state."
"Campaign contribution was really loan, Ryan Torrens explains" via Jim Rosica of Florida Politics — Democratic candidate for Attorney General Torrens is striking back after primary opponent Sean Shaw sued last week to have him kicked off the ballot. In a Monday statement, Torrens said the money in question was essentially a loan to his campaign … Shaw's suit said Torrens "failed to properly qualify" because of an "illegal campaign contribution." … Torrens' campaign treasurer Jessica Vasconez acknowledged that the campaign received a $4,000 contribution from Francesca Yabraian. The maximum permitted for a statewide candidate is $3,000. Yabraian is Torrens' wife. "The check he cited was drawn on our joint account," Torrens said. "So the bottom line is, this was a case in which my money was being transferred to my campaign, and as all candidates know, there is no limit on the amount a candidate is allowed to spend on his or her own campaign."
— NOTES FROM THE CAMPAIGN TRAIL, PART 2 —
"Sore knuckles much? Florida GOP knocks on 1 million doors" via Ryan Nicol of Florida Politics — While Democrats continue to hope for a "blue wave" come November, the Republican Party of Florida (RPOF) is hoping its ground game can hold off the rising tide. The party announced it has knocked on its 1 millionth door of the 2018 midterm cycle, as campaign workers try to make the case to voters that Republican majorities at the state and federal level should stay put. The announcement comes as the GOP participates in a "National Week of Action," aimed at getting voters off the sideline and involved in local, state and federal elections. "As a grassroots chairman, I have always stressed the importance of the ground game," RPOF Chairman Blaise Ingoglia said.
"Kathy Castor urges USF to create early voting site" via Steve Bousquet of the Tampa Bay Times — In a letter to USF President Judy Genshaft, Castor cited the length of the November general election ballot as one reason why early voting on campus would be a good idea. "Voters need time to properly consider the entire ballot," Castor wrote. Hillsborough Supervisor of Elections Craig Latimer told the Times/Herald he's talking with USF officials about using the school's Marshall Student Center for early voting in the November election.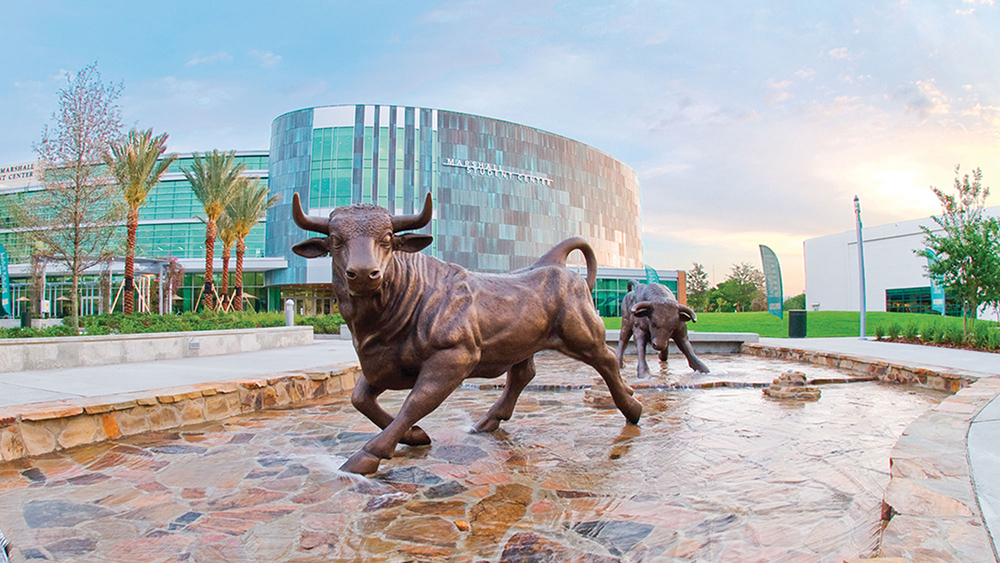 Assignment editors — Grassroots organization Floridians for a Fair Shake will deliver written feedback on health care issues from recent town hall participants to Congressmen Brian Mast and Vern Buchanan, 11 a.m., Buchanan's District Office, 111 S. Orange St., Sarasota; 11:30 a.m., Mast's District Office, 420 US 1, Suite 19, North Palm Beach.
—"Mario Diaz-Balart's terrible, horrible, no good, very bad week" via Florida Politics
—"GOP money keeps playing a role for incumbent Kim Daniels in open HD 14 Dem primary" via AG Gancarski of Florida Politics
"Ardian Zika hits $200K raised for HD 37 campaign" via Florida Politics — Zika, a Republican, tacked on another $6,150 during the middle two weeks of July, bringing his overall fundraising past the $200,000 mark since he entered the race in August 2017. He has more than $164,000 in the bank. Zika's fundraising tally keeps him far ahead of his primary opponents, Elle Rudisill and Ryan Patrick Boney, neither of whom have made much headway on the fundraising trail.
—"The 'voice of Florida Business' speaks up for Shawn Harrison in HD 63" via Florida Politics
Happening tonight — House District 69 Democratic candidate Jennifer Webb will hold a fundraising reception, 6 p.m., The Historic Peninsula Inn, 2937 Beach Blvd. S., Gulfport.
Happening tonight — Tracy Pratt, a Democratic candidate for House District 71, will campaign during a potluck event, 5 p.m., Bayshore Gardens Park and Recreation District, 6919 26th St. West, Bradenton. Pratt is seeking to replace term-limited state Rep. Jim Boyd in the district covering Manatee and Sarasota counties.
"Toby Overdorf makes provably baseless attack in HD 83 GOP primary" via Florida Politics — Overdorf is accusing his opponent in the House District 83 Republican primary of accepting money from the sugar industry, but a glance at contribution records turns up no evidence of supporting the allegation. "Did you hear Sasha Dadan took campaign money from Big Sugar? It's all on the Florida Division of Elections website, but she's claiming she wants to clean the lagoon," a message from the Overdorf campaign says. "How can she do both? I'm going to ask her on her Facebook page. Will you ask her, too?" Looking over Dadan's campaign contributions through July 20 shows some money from the ag industry — she has received checks from Garcia Family Farms, which operates an orange grove, and cattle rancher Clayton Humphries pitched in as well, but there's no sign of money from "Big Sugar." Additionally, industry sources confirmed that they have not made contributions to any candidate running for HD 83, though they did say Overdorf has solicited their support in the primary race.
"Direct mail round-up: 'Strange friends' funding Michael Caruso's HD 89 bid" via Florida Politics — A new mailer hitting Palm Beach County mailboxes alleges Delray Beach Republican Caruso has some "strange friends" bankrolling his bid to succeed term-limited Rep. Bill Hager … "What do failed politician Michael Caruso and these people have in common?" The front of the mailer reads, alongside pictures of Caruso and three high-profile national Democrats — U.S. Rep. Nancy Pelosi and U.S. Sens. Bernie Sanders and Elizabeth Warren. "Strange friends," the mailer answers, borrowing from the title card of the Netflix series "Stranger Things." The mailer highlights a $1,000 contribution Caruso received in November from the Boca Raton-based Herb Law Firm … partner James A. Herb filed suit in 2016 to have then-candidate Donald Trump declared mentally unfit to be president … the common thread between the four politicians are that "they've all been funded by anti-Trumpers!"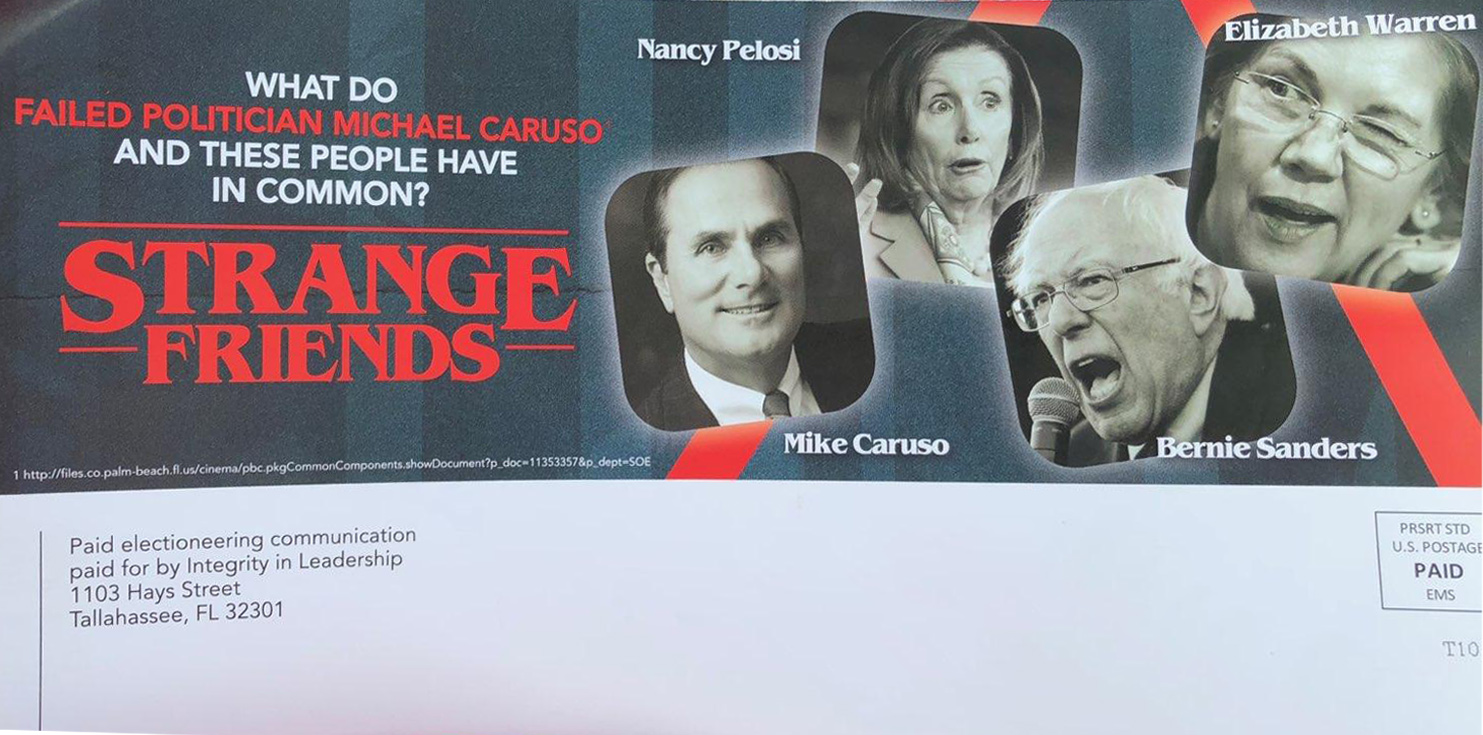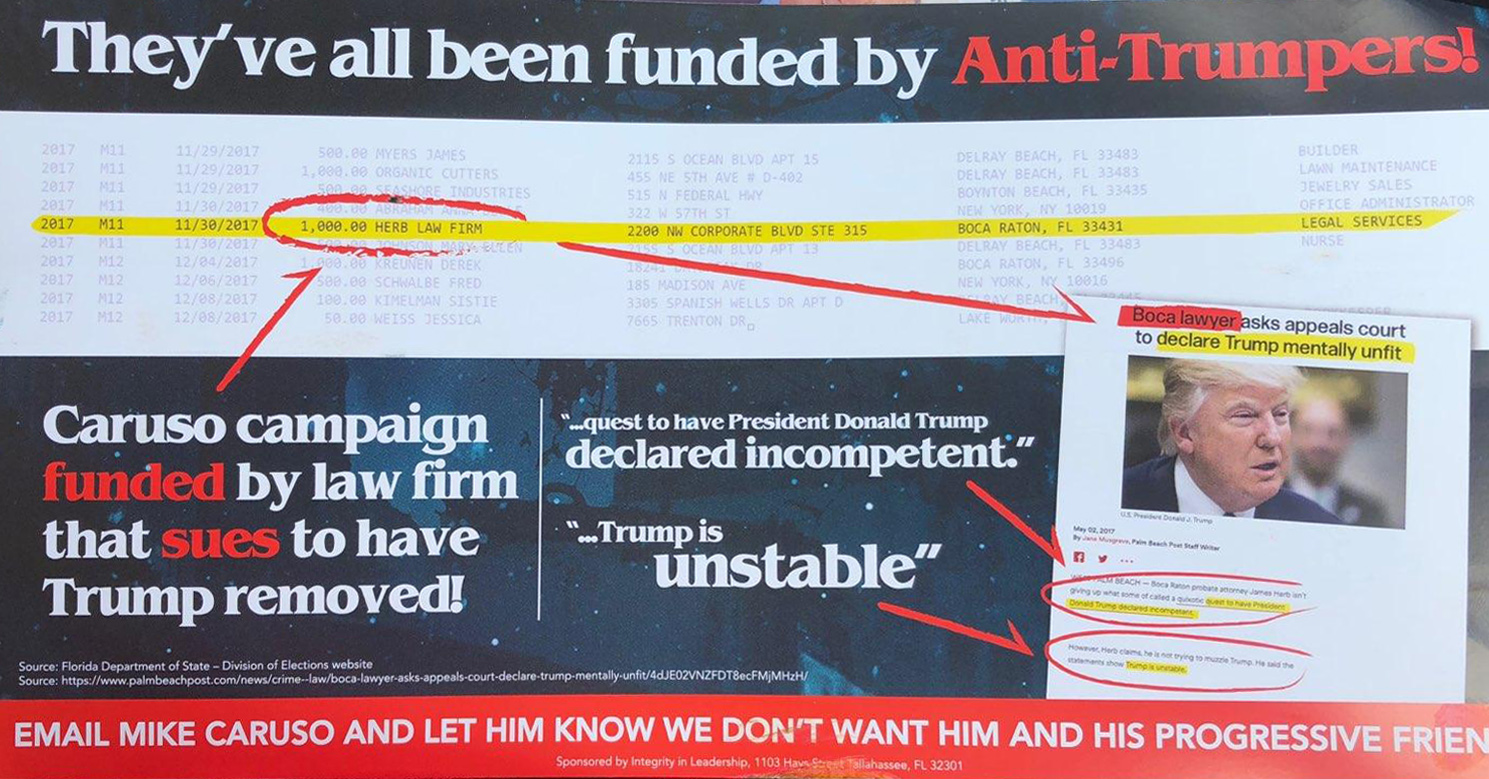 — CURBELO'S CASE —
All eyes are on Republican Congressman Carlos Curbelo of South Florida as he fights to keep his seat in the upcoming midterm.
But for the Democrats watching with bated breath, they might be disappointed. That's the gist of McClatchy's Katie Glueck's latest story, which takes a deep dive into the dynamics of Curbelo's Democratic-skewed district.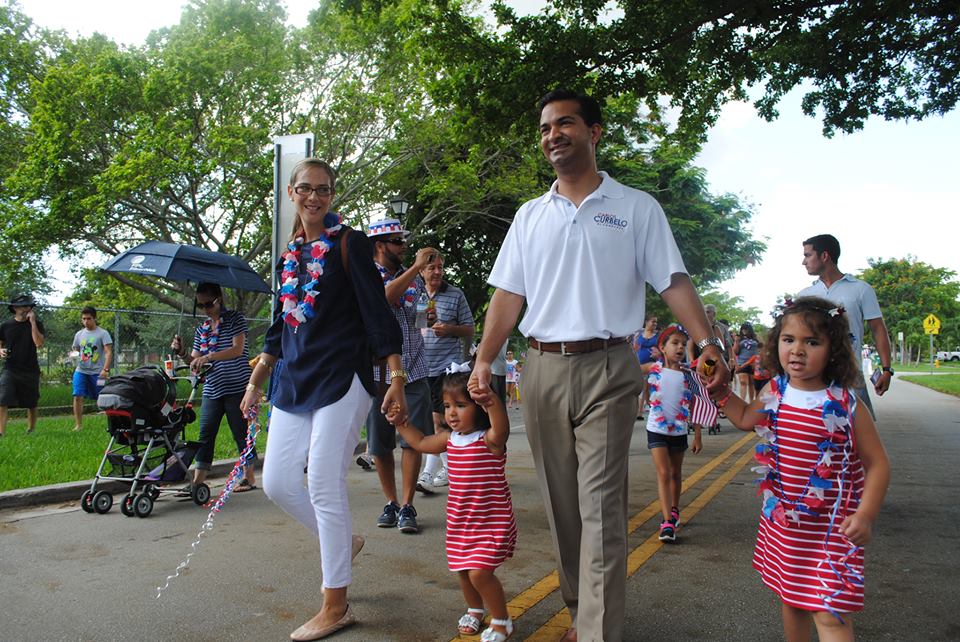 The CD 26 Republican will likely face Democrat Debbie Mucarsel–Powell in November, and Glueck writes, that "race is shaping up as a national test of whether environment alone is enough to boost a bevy of lesser-known Democratic candidates — or if a strong personal brand still matters on a district-by-district level."
A different approach: Mucarsel-Powell is unloading a very bipartisan message in her campaign, touting her party ID more than most, Glueck notes.
In contrast: Glueck paints Curbelo as a candidate with a personal approach. "The district knows me well, they know what type of representative I am, they know that I'm always going to call it honest, no matter who's the president, no matter which party is in control," Curbelo told Glueck.
Time will tell: "Really, he's been very clever in how he's positioned himself," former state legislator and former Miami-Dade Democratic Party chair Mike Abrams told Glueck. "Still, at the end of the day, he's a vote for a party right now that's controlled by Donald Trump."
— ENDORSEMENT ROUND-UP —
The Sun Sentinel editorial board has endorsed Matt Spritz, a lawyer turned legislative aide, in the House District 89 Republican primary, noting his long list of endorsements, "libertarian bent" on marijuana legalization and voiced support of the Marjory Stoneman Douglas High School Public Safety Act. Spritz faces Caruso in the Aug. 28 primary. In the Democratic primary for House District 89, the Sentinel is backing Jim Bonfiglio, citing his "sharp mind and a solid grasp of the issues" as well as his experience in local government. Bonfiglio faces Ryan Rossi, a real estate agent and former teacher. The board also endorsed Tina Polsky in the Democratic primary for House District 81. The editorial team expressed confidence in Polsky's ability to mitigate the issue of toxic algae blooms caused by runoff from Lake Okeechobee. Polsky is opposed by retired teacher Mindy Koch.

— STATEWIDE —
"Democrat's bid for 'Stand Your Ground' special session faces steep odds" via Steve Bousquet of the Tampa Bay Times — Recent history suggests that Sen. Darryl Rouson is not likely to succeed. "It is our duty to our constituents that we amend the framework of the implementation of the stand your ground statute," Rouson said in a letter to his colleagues. "Every day that passes, we are letting down the citizens of Florida who are put at risk by the unintended consequences of this statute." By law, if 20 percent of the members of the Legislature support a special session, the Secretary of State must poll all members. If three-fifths of the members of both houses agree, a special session will be convened. That's extremely unlikely in an election year in the Legislature where the Republicans hold strong majorities in both chambers. Democrats tried to use the same strategy in May to force a special session on school spending. But it didn't work.
"SunPass vendor could face federal investigation" via Skyler Swisher of the South Florida Sun-Sentinel — Democratic U.S. Sens. Nelson and Gary Peters of Michigan sent a letter to Federal Trade Commission Chairman Joseph Simons requesting the New Jersey-based vendor Conduent be examined for "unfair and deceptive trade practices," including inaccurate toll charges, late fees and penalties. "Conduent's pattern of mismanaging cashless toll systems is deeply troubling and warrants further scrutiny," the senators wrote. "If drivers are being hurt financially, the FTC should hold the company accountable and prevent it from doing further harm." Frank Dorman, an FTC spokesman, said the agency is reviewing the letter, but the existence of an investigation is typically not made public. The FTC has broad powers to enforce consumer-protection laws, including levying civil penalties and fines.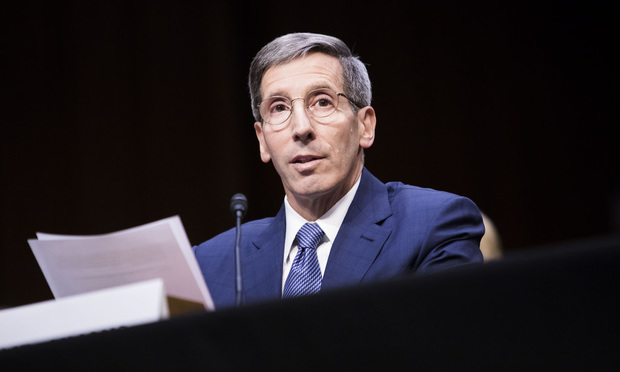 "Algae is oozing across Florida's coast, and it's sending people to the hospital" via Randy Roguski of the South Florida Sun-Sentinel — At least 15 people were treated last week at Martin Health System emergency rooms after having contact with the St. Lucie River … Toxic algae blooms have spread as the U.S. Army Corps of Engineers releases water from Lake Okeechobee to keep lake levels down. Releases were suspended temporarily, but they were resuming Monday from the St. Lucie Lock & Dam. In Stuart, Florida Sportsman magazine has closed its office because a nearby blue-green algae bloom appeared to be making staffers sick … "It smells like death," Publisher Blair Wickstrom said as he walked along the canal.
— "A toxic tide is killing Florida wildlife" via Tryggvi Adalbjornsson and Melissa Gomez of The New York Times
"More money flowing into Florida's medical marijuana market" via Jim Rosica of Florida Politics — As the state gets ready to license more providers, another potentially big deal is in the works as medical marijuana captivates private capital as the newest new thing. A new concern called Cannabis Cures Investments (CCI) has agreed to buy a 60 percent interest in 3 Boys Farm of Ruskin, with the closing expected in mid-August. Terms of the pending deal were not disclosed. Florida corporation records show CCI itself is owned by Namaste Gorgie, one of South Florida yoga entrepreneur Cathy DeFrancesco's companies. DeFrancesco, who founded SOL Yoga in Miami, and husband Andrew DeFrancesco also are behind private equity firm The Delavaco Group, which has invested in Aphria, a Canadian producer of medical cannabis products. And Aphria formerly was invested in Canadian-based DFMMJ Investments, which owns Florida medical marijuana provider Liberty Health Sciences. The current heat is likely because, as financier Justin Costello recently put it, medicinal cannabis in Florida is seen as a potential "multibillion-dollar industry."
Assignment editors — Progress Florida will join with the Floridians For Reproductive Freedom Coalition to deliver petitions from more than 5,000 Floridians calling for more aggressive Department of Health oversight of the state anti-abortion fake clinics, 10 a.m. at the Governor's office; 11 a.m. at the Surgeon General's office, Florida Department of Health, 4052 Bald Cypress Way, Tallahassee.
"NextEra finishes Florida City Gas purchase" via the News Service of Florida — NextEra Energy completed the purchase of Florida City Gas as part of a multibillion-dollar package announced in May that includes NextEra buying Gulf Power Co. Florida City Gas has about 110,000 commercial and residential natural gas customers in Miami-Dade, Brevard, St. Lucie and Indian River counties, according to NextEra, the parent company of Florida Power & Light. The deal totaled $6.475 billion, includes NexEra buying Florida City Gas, Gulf Power and interests in two power plants from the Atlanta-based Southern Company.
— OPINIONS —
"Let's try to remember charter schools are not the enemy" via John Romano of the Tampa Bay Times — Maybe, when Democratic gubernatorial candidates Levine and Greene recently declared that no public funds should go to charter schools, they were employing hyperbole to make a point. No matter the reason, they need to stop. It may be a popular applause line among Democrats, but it is unnecessary and unproductive. The target of their ire should be the politicians in Tallahassee who have created an unequal playing field for education, and are constantly scheming to direct education money into corporate hands. Now, it's true charter schools have benefitted from these policies. And it's true the rapid growth of charters has taken scads of money out of traditional schools and, in many cases, been recklessly wasted. But to say there is no place in Florida for charter schools, which are publicly funded but independently operated, is just wrong.
— MOVEMENTS —
"Rich Rasmussen to leave Florida Hospital industry post" via the News Service of Florida — After 18 years, Rasmussen is leaving the Florida Hospital Association to head the Montana Hospital Association. The Montana Hospital Association Board of Trustees chose Rasmussen as the organization's new president/CEO, effective Oct. 1. The Montana Hospital Association represents nearly every nonprofit acute-care hospital in the state. Rasmussen is currently vice president for membership relations at the Florida Hospital Association and serves as chief administrative officer of the FHA Research and Education Foundation and as chief strategic officer of the FHA Management Corp., the hospital association's for-profit subsidiary.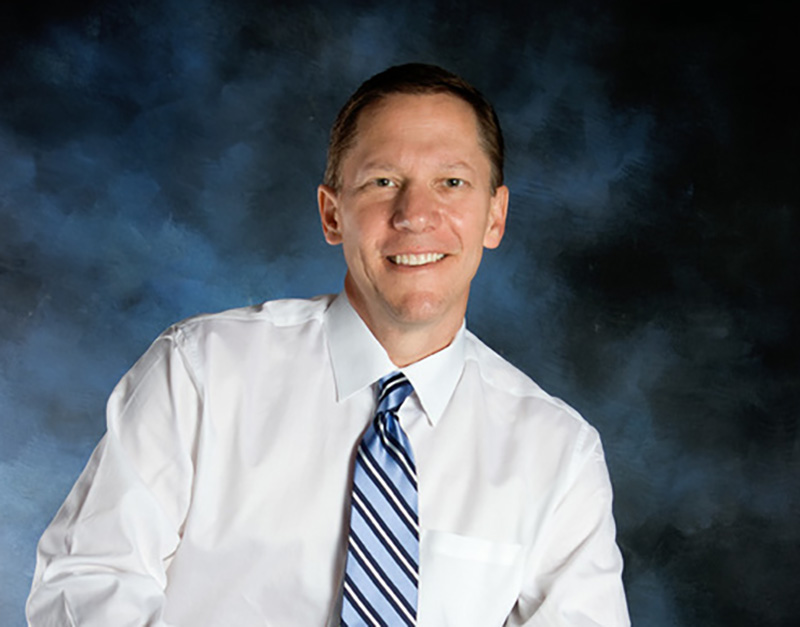 — ALOE —
"Local growers celebrate summer okra harvest" via Michele Miller of the Tampa Bay Times — That's the point behind the annual Okra Occasion, which will be held Aug. 6 at the New Port Richey Public Library. It's a modest event that last year attracted about 50 people … Other annual growing events promoted by the environmental committee and local organic growers during Florida's long growing season include the Sweet Potato Round-up (September), Holiday Farm and Produce Festival (January), Arbor Day (January) and The Florida Loquat Festival (March). The Okra Event, now in its fourth year, will feature brief educational presentations. Representatives from Friendship Farms & Fare, FarmNet, Grand Gardens and other growers and citizens, will be on hand to share information. Environmental Committee members, who have helped forge the agricultural ordinance allowing for residential farms and gardens and micro-urban farms in the city of New Port Richey, also will be on hand.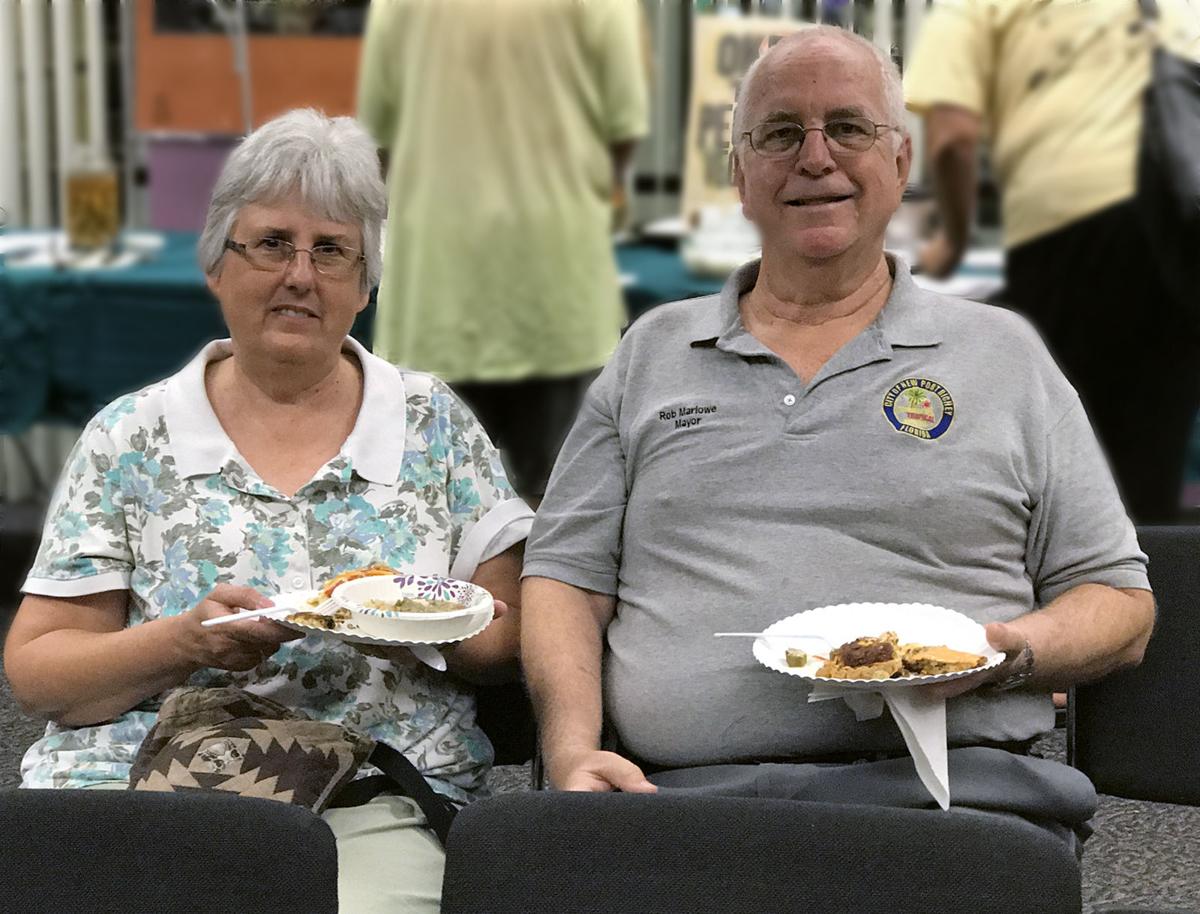 What Jeff Sharkey and Taylor Biehl are reading — "Jimmy Buffett and partners plan two new hotels for luxury development in Bradenton" via Mark Young of the Bradenton Herald — Singer and businessman Buffett and his partners hope to build two new hotels as part of the One Particular Harbour Margaritaville development taking shape on Perico Island. The changes to the original planned development agreement for the project at 12300 Manatee Ave. W. are so significant, they require that the proposal go back through the city approval process. The Bradenton Planning Commission unanimously approved the changes on July 18, and the city council will consider it on Aug. 8. According to the application submitted to the city, developers now want to build a five-story, 101-room hotel and a separate three-story, 30-room hotel. "The five-story will be more of the main hotel associated with the resort, pool and restaurant," said Darenda Marvin, a planner for the development team led by Minto Communities, Buffet's Margaritaville Development and most recently Floridays Development Co.
"MLB spring training estimated to have $680M impact" via Danny McAuliffe of Florida Politics — According to a recent report from the Florida Sports Foundation, spring training had an estimated $687.1 million impact on the state's economy in 2018. That's a more than 60 percent increase since 2009 when an adjusted total economic impact was estimated to be around $426.5 million. The new impact estimates are a function of direct, induced and indirect effects of spending in Florida tied to the series of exhibition games held this year. The games held by the 15 teams, known as the Grapefruit League, also are estimated to create 7,152 jobs annually, accounting for $253.5 million in wages. The numbers drew the attention of Gov. Scott, who's led a largely jobs-focused administration. "Each year, fans from around the world come to Florida to enjoy spring training," Scott said. The New York Yankees, which holds its spring games at George M. Steinbrenner Field in Tampa, had the highest per game average with 9,882 fans attending 16 games during the 2018 season.
"UK travel agency drops SeaWorld over its use of captive whales" via John Gregory of Orlando Rising — Thomas Cook, one of the largest travel companies in the U.K., will no longer sell tickets to attractions which keep killer whales in captivity — including SeaWorld Orlando. Peter Fankhauser, the CEO of Thomas Cook, wrote that while SeaWorld and other parks keeping orcas passed the required audits and made improvements for their animals, "more than 90 percent" of its customers said they were concerned about animal welfare, leading to its decision not to do business with attractions keeping killer whales in captivity. "This was not a decision we took lightly," Fankhauser wrote. "We always said that we would continue to review our policy, conscious that the more we got into this area, the more we would learn, and conscious also of changing customer sentiment." The company will continue offering SeaWorld tickets through next summer.
Happy birthday to Agriculture Commissioner Adam Putnam, David Cardenas, the FHCA's Kristen Knapp, and the Ace Rothstein of South Florida, Nick Sortal.