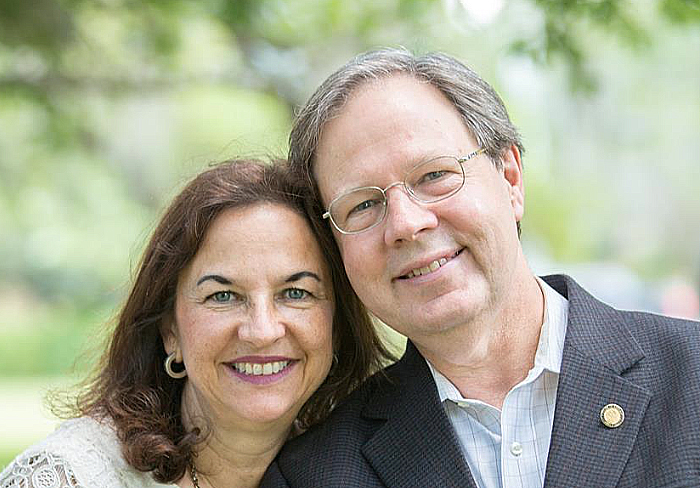 Days after state Rep. Scott Plakon mourned his wife's untimely death, Gov. Rick Scott appointed the lawmaker to the Florida Alzheimer's Disease Advisory Committee.
"Following the tragic loss of his wife, Susie, to Alzheimer's, I know that Rep. Plakon will be a strong advocate and committed partner in the fight to end Alzheimer's in Florida," Scott said.
"My wife Ann and I send our thoughts and prayers to Scott and his family during this difficult time, but we also know that this is a disease we must fight and that Scott will help lead Florida in this effort."
Scott Plakon, a Sanford Republican, lost his wife Monday, days after the couple's 33rd wedding anniversary. Susie Plakon, 57, was diagnosed with Alzheimer's four years prior to her death. News of her passing inspired bipartisan messages of condolence from around the state.
Scott Plakon served a stint in the state House from 2008 through 2012, then returned in 2014 and has held his seat since. He's also the CEO of ShredPro Secure.
His term on the Alzheimer's Disease Advisory Committee begins immediately and runs through Feb. 13, 2022.
The 10-member committee advises the Florida Department of Elder Affairs regarding legislative, programmatic and administrative matters that are related to individuals with Alzheimer's disease and their caretakers.
By statute, the make-up of the committee must include at least four members who have been caretakers of victims of Alzheimer's.
Since Susie Plakon's diagnosis, Scott Plakon has worked with the Alzheimer's Association, and upon his wife's death asked that donations be made to the organization in lieu of flowers.
Through his work with the Legislature, he sponsored a bill establishing Alzheimer's and Brain Awareness Month in the state of Florida.
He also helped secure funding for a center treating victims of dementia and Alzheimer's in Orange County, according to POLITICO.