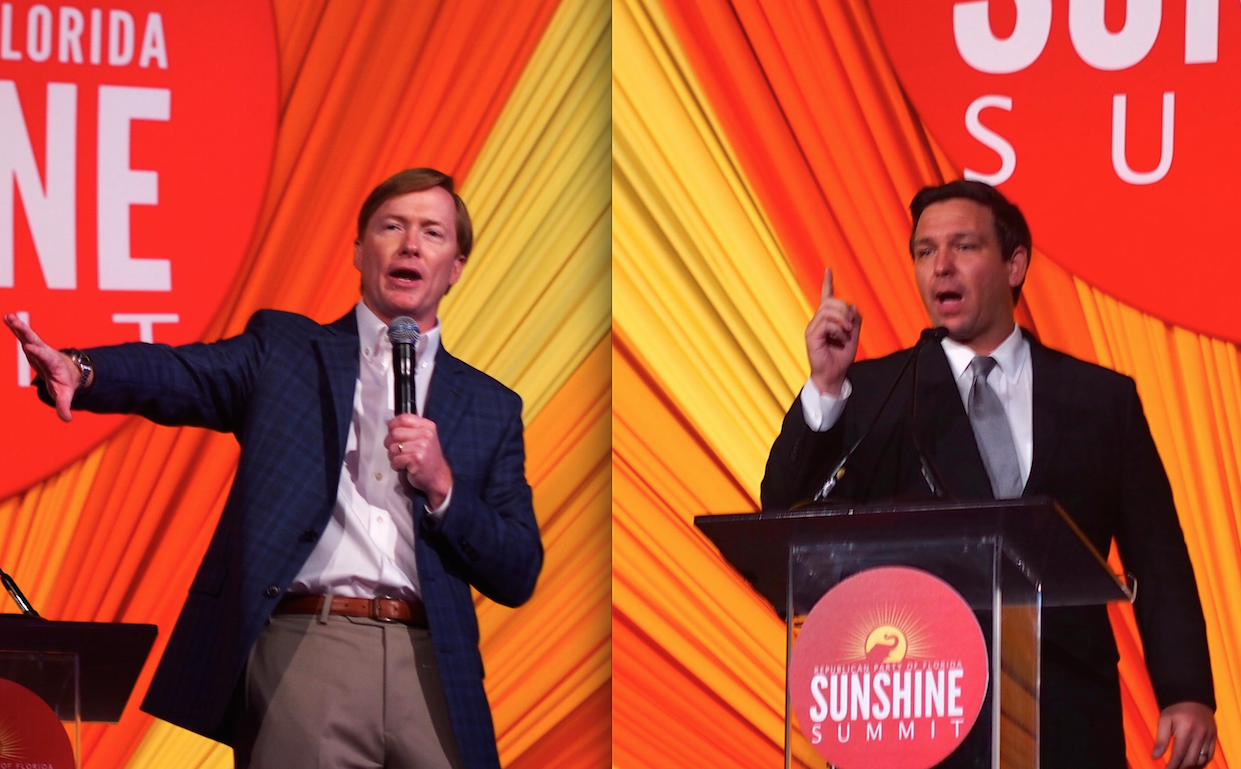 Republican gubernatorial candidate Ron DeSantis pushed back against new ads from primary opponent Adam Putnam, suggesting the congressman supported welfare for undocumented immigrants.
"It's a shame to see Adam Putnam abandoning his integrity," said Dave Vasquez, a DeSantis spokesman. "He's now basing his campaign around blatantly false claims meant to mislead voters."
But Putnam officials say DeSantis won't stand by his own congressional voting record.
"Since when do we let politicians deny their record?" says Putnam spokeswoman Meredith Beatrice. "His record in Congress is an indication of what he could do to our state."
The mailer repeats a claim previously made by Putnam during a Fox News-televised debate that DeSantis favored giving "food stamps to illegal immigrants."
That was based on the congressman's vote against a farm bill that included worker requirements and assistance funding in the federal Supplemental Nutrition Assistance Program. That debate claim earned Putnam a "Pants on Fire" grade from Politifact.
Pushback to the new Putnam mailer comes days after an advertisement from Putnam's Florida Grown political committee insinuated a sales tax supported by DeSantis would hit Florida's economy.
Fact-checking outlets like PolitiFact note that ignores the fact a bill DeSantis supported in Congress, the Fair Tax Act, would have also eliminated the federal income tax.
At a Republican event in Sarasota on Saturday where both DeSantis and Putnam spoke to voters, Putnam from stage said, "Candidates from both sides want to raise our taxes."
Putnam's people stand by the claim "The new 23 percent national sales tax is not conservative," Beatrice said, citing studies published in the National Review suggesting a sales tax hike would shift the tax burden on the middle class.
In fact, the Fair Tax Act primarily draws its support from ultra-conservative pundits like Neal Boortz, who tweeted disapproval with Putnam for characterizing the tax as a hike.
I am dedicated to defeating Adam Putnam in Florida because of his shameless blatant lies about the FairTax. @adamputnam

— Neal Boortz. Proud White Dude (@Talkmaster) July 27, 2018
Of course, the DeSantis campaign claims the negative attacks come as a sign of desperation following an apparent shift in the primary.
Putnam has led the money race by millions. Until recently, he has also led in most polls, but that changed after President Donald Trump formally endorsed DeSantis in the race. In July, poll after poll after poll has shown the congressman now leading the commissioner—sometimes by double-digit margins—in a dramatic turnaround weeks before the Aug. 28 primary.
DeSantis people note Putnam's "fading in the polls" in a press release responding harshly to negative mailers.
"Completely underwater in every recent poll, Adam Putnam and his campaign have completely given up on providing any semblance of honesty to Florida voters," the statement reads.