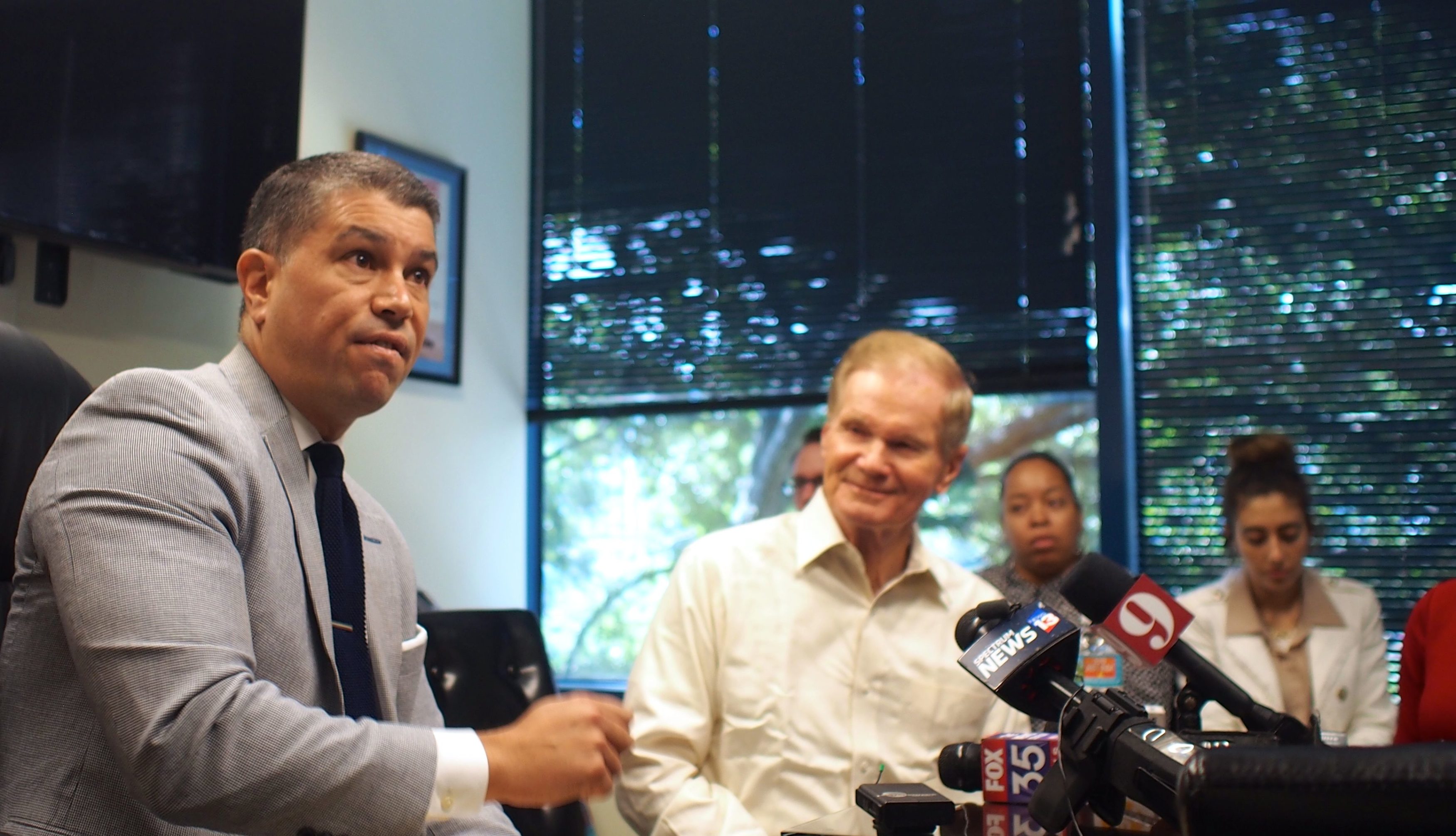 In explaining why he's seeking a federal inquiry into Florida's problems with its SunPass contractor, Democratic U.S. Sen. Bill Nelson brought up last March's bridge collapse in Miami, charging the Florida Department of Transportation has shown a "pattern of activity" that suggests it does not hold itself or contractors accountable.
At his U.S. Senate office in Orlando, Nelson addressed the media why he and U.S. Sen. Gary Peters, a Michigan Republican asked the Federal Trade Commission Monday morning to investigate SunPass contractor Conduent State & Local Solutions for possible illegal wrongdoing, even though the contracts and issues in Florida, and in Peters' home state, appear to be state matters, not federal.
He brought along a lawyer from the Senate Committee on Commerce, Space and Transportation, Christian Fjeld, to help explain the legal rationale for seeking the FTC probe of Conduent, the contractor behind the $287 million SunPass toll road collection-system upgrades that haven't been working this summer.
But while Fjeld and Nelson laid out the legal jurisdiction claims for such an inquiry, Nelson made it clear he had no faith in Florida fixing the system, or protecting SunPass users as consumers from potential false charges, fines, or at least from huge bills arriving as the department untangles from several weeks of unprocessed charges.
And Nelson cited the March 15 collapse of a bridge under construction at Florida International University, which killed six people. State officials initially had insisted they had nothing to do with that bridge, but eventually, reports revealed the FDOT played a role.
Nelson, of course, is seeking reelection and being challenged by the governor overseeing the Florida Department of Transportation, and ultimately the investigations into the FIU bridge collapse and the SunPass billing mess, Republican Gov. Rick Scott.
"Who is responsible for seeing that the contract is carried out properly? We know that it is not being carried out properly. And we see the results of folks of Florida being harassed by huge bills. If the state of Florida is not holding them accountable, let's get somebody who will," Nelson said.
"There's a pattern of activity. Look at the bridge collapse at Florida International University. There is all kind of finger-pointing, saying it is not the state of Florida's responsibility. The governor actually said that.," Nelson said. "Then, low and behold … we find the state Departement of Transportation was in it up to their ears."
"So we see a pattern of activity like that over time, and it's got to stop," he added.
Scott's campaign replied by saying he has been clear that the SunPass issues are completely unacceptable, "which he is why has taken action to stop payments to the vendor and hold them accountable. Millions of transactions are being processed every day and late fees have been waived to keep this from impacting drivers on their daily commutes," spokeswoman Kerri Wyland said.
"While it's typical for a career politician like Bill Nelson to think the only way to fix a problem is to write letters and point fingers, it's disgusting that he would then try to politicize the FIU bridge tragedy," she added.
Nelson said the people of Florida expect him to seek answers on the SunPass problems.
"We have a serious problem, a real problem, because SunPass customers are suddenly getting huge bills that have accumulated over time because of a failed contractor contracted by the state of Florida Departement of Transportation that not only has bolloxed it the collection of tolls for SunPass, but also has bolloxed it in four other states," he said.
"And that occurred before the state of Florida gave them a contract."
The Florida Department of Transportation responded that it has been and continues to hold Conduent accountable, and has already pusted more than 122 million transactions from the system since the upgrades.
"FDOT will continue to hold the vendor fully accountable for the delays that it has caused, and will be enforcing all penalty clauses of the contract to the maximum extent possible," FDOT Interim Communications Director Ed Seifert stated.