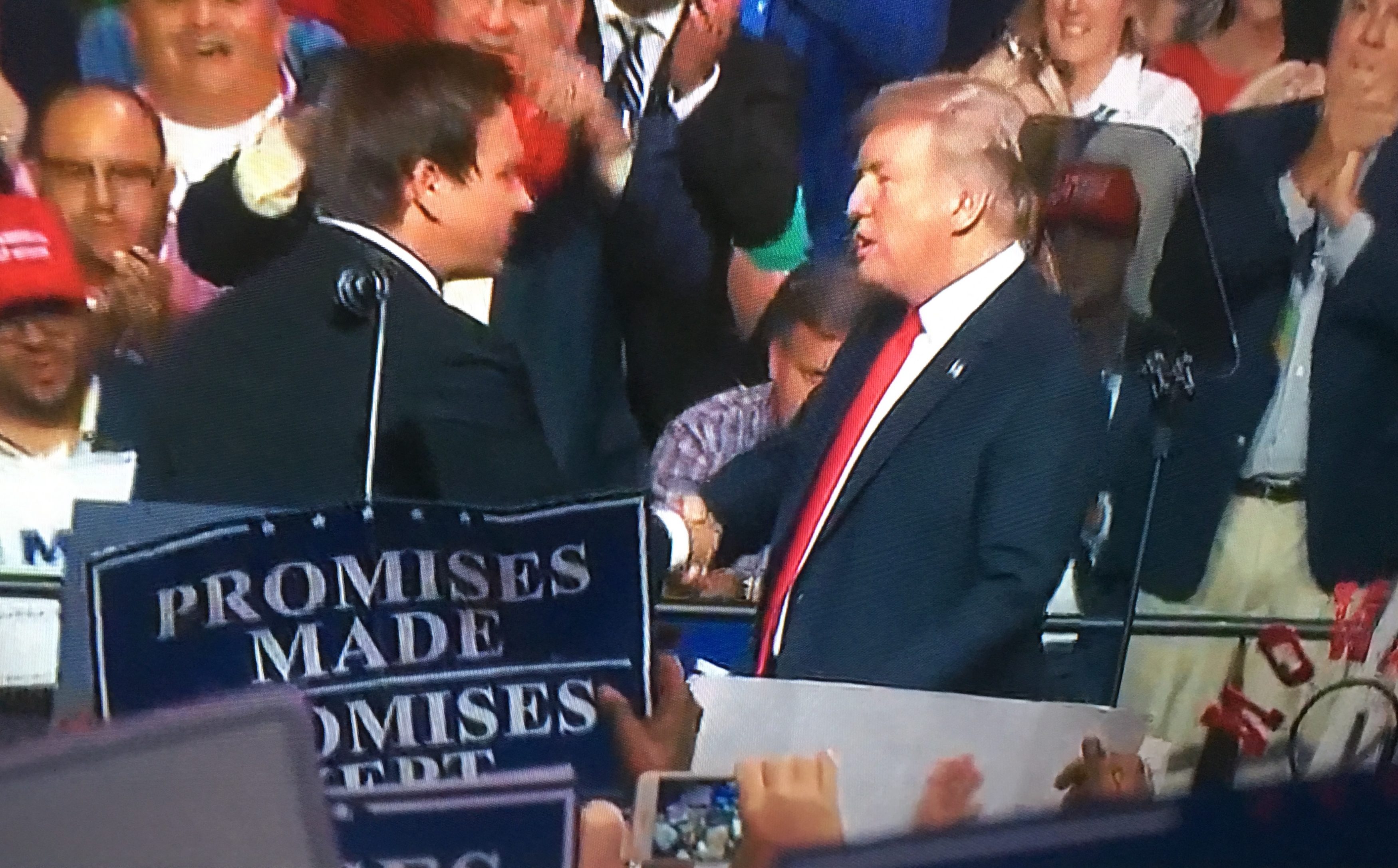 For roughly an hour Tuesday night, Donald Trump worked the crowd at the Florida State Fairgrounds, in his element in a state he won in 2016 and clearly wanting to call the shots in the 2018 elections.
A central question coming into the event was how much the President would say on behalf of U.S. Rep. Ron DeSantis and against his gubernatorial primary opponent, Agriculture Commissioner Adam Putnam.
In what could be considered a birthday gift of sorts for Putnam, Trump did not mention the Commissioner by name.
Out of sight. Might as well have been out of mind; the primary seemingly decided (at least, in the crucible that is a Trump rally) four weeks before counting a single vote.
Early in the speech, Trump called DeSantis a "tough, brilliant cookie … who's going to be your next governor" eliciting rousing applause as he allowed DeSantis to speak.
In turn, DeSantis extolled Trump — for the economy,  standing by Israel, "strong Constitutionalists" on courts, and ending "the disastrous Iran deal."
DeSantis also vowed to "appoint strict Constitutionalists" to Florida courts, and stop Common Core.
While Trump did not name Putnam, he did say "everybody needs to support Ron DeSantis" in the August primary.
Roughly ten minutes after the rally began, the President moved beyond Florida concerns, into familiar rhetorical riffs lasting nearly half an hour before reminding the crowd again to vote for DeSantis, then pivoting with a Trumpian double-edged statement notable after an elided transition.
"The lobbyists and special interests fighting against my administration, many of them globalists, care about what's happening in other countries. I care what's happening here."
And then, toward the end, another endorsement.
"He's going to be an incredible governor … I don't do these endorsements easily," Trump said, noting his support in the Georgia gubernatorial primary that led to a landslide victory for Brian Kemp, who was a "great guy."
"I had to be here to formally endorse Ron," Trump said, again omitting mention of Putnam. "You've gotta get out and vote."
"When you elect Ron DeSantis as your governor," Trump predicted, "the people of Florida" will beg DeSantis to come to him and complain of "too much winning."
"The people of Florida are just downright tired of winning, they can't stand it," a hypothetical DeSantis said to a future Trump.
No matter, the President assured. The winning won't stop.
At least in the GOP gubernatorial primary, there were no named losers.
Putnam went unmentioned, a cipher at the Fairgrounds where he sits on the board.
And the message with relevance in August was clear.
Ron DeSantis was Trump's guy.
And Adam? Adam who?
Putnam, in a prepared statement, said he supports Trump and his agenda.
"But this is about being Florida's governor. This is about leading a $1 trillion economy in the third largest state, and to do that you need to know Florida," Putnam said. "I know Florida better than any of the other candidates running. I'm confident that there's an awful lot of Trump-Putnam voters out there who want a governor who actually understands the challenges facing them and puts them first."
The venue Tuesday was important because the Tampa Bay media market can potentially reach a quarter of the state's voters and has the largest concentration of Republican voters, said Susan MacManus, a longtime political-science professor at the University of South Florida.
"It's clear now that DeSantis is playing offense and Putnam is playing defense. We'll have to see. Putnam probably still has a lot of loyalists who see polls that suggest he could be better against any of the Democratic nominees," MacManus said.
Incoming Florida House Speaker Jose Oliva, a Miami Lakes Republican who was one of the opening speakers at the Tampa rally, said he supported the president's decision, noting the differing political agendas of the Republican and Democratic parties.
"At a time we're engaging in this debate, the sidelines is no place for a leader," said Oliva, who was one of the first major Tallahassee leaders to endorse DeSantis.
Democrats, of course, framed the event as a bipartisan split.
"Tonight's rally was not surprisingly filled with divisive rhetoric and bluster — and completely ignored the real challenges facing Florida," asserted Tampa Mayor Bob Buckhorn.
But Buckhorn was missing the point.
It's an August rally — all about the base.
—
Material from the News Service of Florida is used in this story with permission.