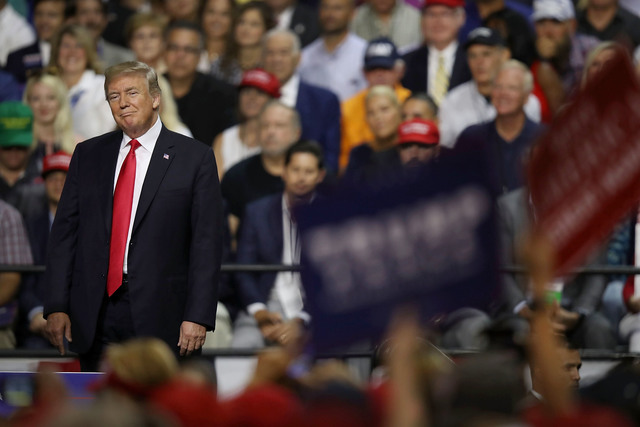 If you heard a pounding sound in the early evening Tuesday that sounded like tap … tap … tap …
BANG!
Don't fret.
That was just the sound of the coffin nailed shut on Adam Putnam's hopes to be Governor of Florida.
The hammer was being swung by President Donald Trump during a rally Tuesday in Tampa at the Florida State Fairgrounds, driving in the nails in Putnam's campaign at a venue that is under the umbrella of, um, Florida Agriculture Commissioner Adam Putnam.
But there it was, for an audience of true believers in the president's agenda.
Trump was effusive in his praise of Ron DeSantis, the darling of Fox News and Putnam's opponent in the fight to win the Republican nomination for Governor on Aug. 28. Never mind that Putnam is a child of Florida, with a history in Florida, is generally well-liked in Florida, and … oh, never mind.
Fox likes DeSantis.
Ergo: the president endorses DeSantis and, well, that's that.
Besides that, what could we take away from the president's in-and-out visit to Tampa?
Same ol', same ol' — to be honest.
It was a rally, so we expected Trump to touch all the talking points, and he didn't fail.
I'll sum it up: Democrats, BAD!
Me: GOOD! No, wait … GREAT!
Well, we'll see about that come November.
Depending which poll you trust, DeSantis holds a lead that could be double-digits over Putnam. It's too soon to tell which candidate the Democrats will choose, but all five candidates have been hitting the same talking points — education, environment, gun-law reforms, and, lest we forget, Trump is awful!
DeSantis, if he is nominated, will have to do more than cuddle up to Trump in the general election. He'll need a plan that goes beyond saying he supports the Trump agenda, whatever that means to the issues that affect everyday Floridians.
And Democrats will have to offer more than just a rejection of the president.
That was true yesterday before Air Force One set down in Tampa.
It's true today.
That brings us back to the net effect of what happened Tuesday at the state fairgrounds.
It was not that much.
Unless the president came out and said, "Oops, changed my mind, Putnam: 2018" he only reinforced what seems to be an inexorable trend that will put DeSantis on the GOP ticket in November. Oh, he also endorsed Rick Scott for U.S. senator over Bill Nelson. Color me stunned.
Democrats railed about the Trump agenda, which was to be expected. Gubernatorial candidate Jeff Greene earned style points for being there, but the basic message reverberated across the blue landscape: Trump, BAD!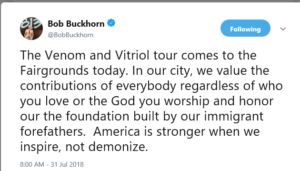 Tampa Mayor Bob Buckhorn, who has prided himself on being able to work across party lines, abandoned any pretense of "Welcome To Tampa, Mr. President" with a tweet that referred to the "Venom and Vitriol Tour" coming to the city.
And it was.
That has been the Trump battle plan since the day he rode down the escalator to announce his candidacy.
Divide. Conquer.
Humiliate. Abuse.
Ridicule. Scorn.
If all else fails, lie.
Usually, that applies to opponents from the other party.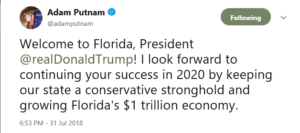 However, this morning Putnam, the reliable Republican who supposedly had paid his dues, may be wondering why he bothered to send out a tweet earlier Tuesday that welcomed Trump to Florida while adding, "I look forward to continuing your success in 2020 by keeping our state a conservative stronghold …"
He's not in your camp, sir.
He wants the other guy.
That won't change.
Nothing more to say, really.