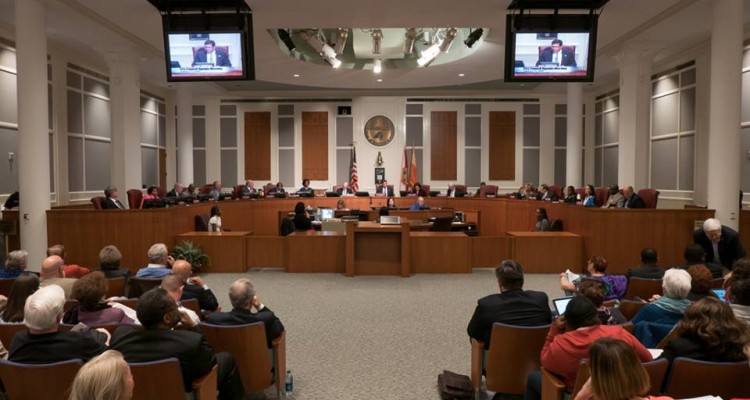 The annual review of the city of Jacksonville's proposed budget by the City Council's Finance Committee sees its first in a series of all-day sessions begin Aug. 16.
As compared with the $1.19 billion general fund budget in FY 16-17, and the $1.27 billion budget last year, the general fund budget is up this year to $1.31 billion.
The reamortization of what is now over $3 billion of pension debt from Jacksonville's costly defined benefit plans, closed as of 2016 to new applicants, is allowing city leaders to spend in ways not possible otherwise.
Savings realized from pension reform, $331 million over two fiscal years per Mayor Lenny Curry, are allowing the spending.
"Without pension reform," Curry said, "millions and millions of dollars would be diverted away from making our city better."
According to the just-released quarterly report from the Jacksonville City Council auditor, the city is well-positioned.
The city is poised to achieve a $12 million favorable variance on the current budget, which should be helpful as Jacksonville awaits reimbursements for over $87 million of hurricane-inflicted costs in the last two years. (The city is eligible for 87.5 percent of that money eventually being reimbursed).
Public safety spending, boosted again in this budget, will be discussed Aug. 16.
The Jacksonville Sheriff's Office would get $30 million in new money, facilitating 180 new officers (even as the total employee cap goes down), and a new data center for crime fighting. Fire and Rescue would receive an additional $17 million.
Children's program spending will be reviewed Aug. 22. The newly formed Kids Hope Alliance would get $41 million, a big boost from previous spending on the Jacksonville Journey and Jacksonville Children's Commission. Sixty new therapists would be funded for public schools, Curry said, with a 10 percent bump in children accessing KHA services.
A big part of the spend, to be discussed on Aug. 28, capital improvements.
FY 18-19 will see $161.4 million allocated to improvements, with big spends on Hart Bridge off-ramp removal ($12.5 million from the city matching the same sum from the state), a new fire station ($5 million), road resurfacing ($12 million), money for infrastructure at U.F. Health ($15 million, part of a $120 million commitment) and sidewalk projects (many of them delayed for years).
Curry's budget should have an easier time than it did last year when a Finance Committee stacked with Democrats (thanks to the previous council president) went beyond the numbers to ask epistemological questions about tactics in local policing.
This year sees Curry allies abound on the committee: Greg Anderson, Lori Boyer, and Bill Gulliford (all former Council Presidents) will dominate the proceedings.
Anderson and Council President Aaron Bowman both want a focus on the numbers, a more than tacit acknowledgment that the priorities of the Mayor and his allies largely overlap.
After the August deliberations, the full City Council will vote on the budget in September, with the new fiscal year beginning Oct. 1.