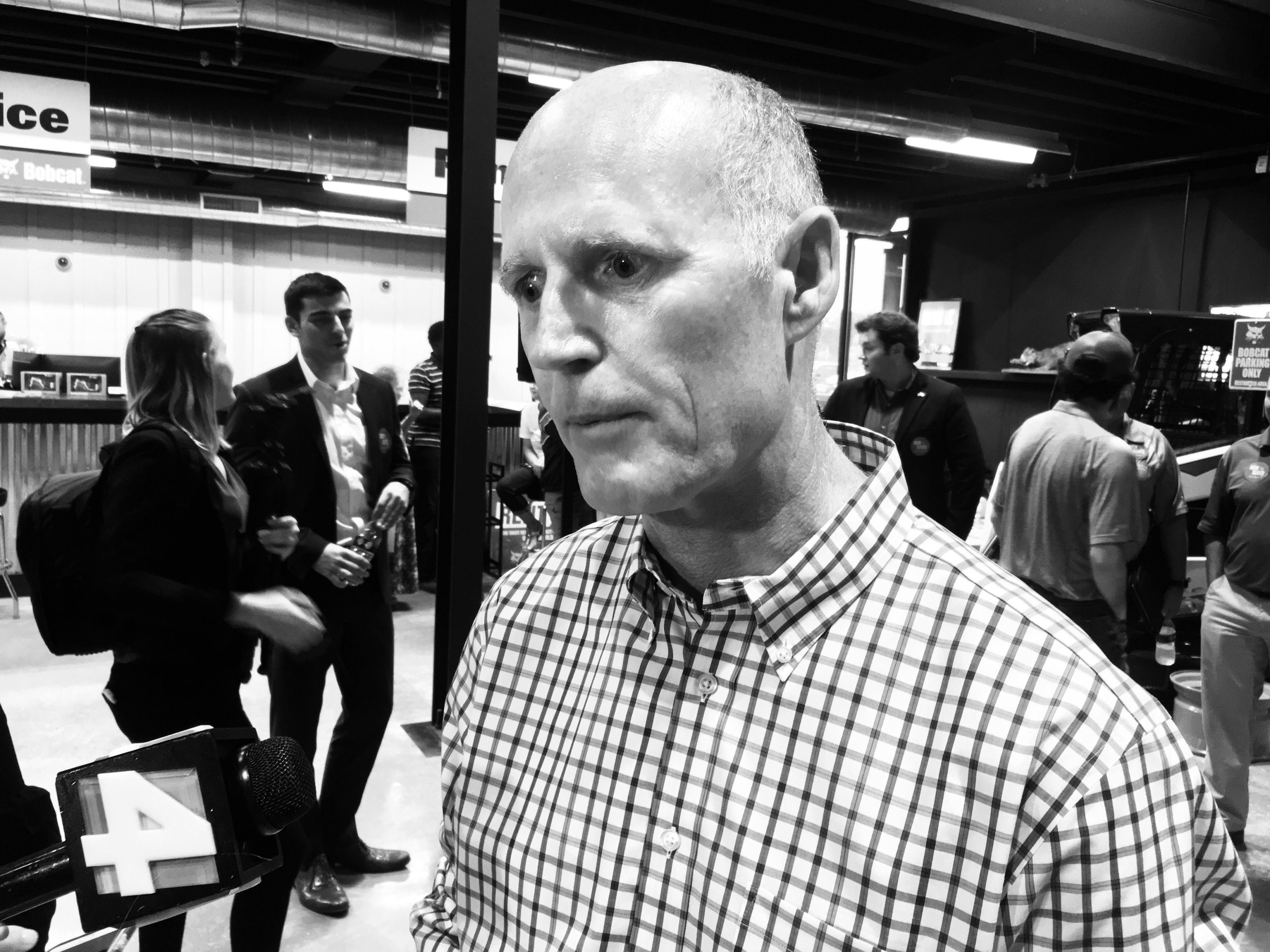 When one's financial disclosure has over a quarter-billion dollars of holdings, it's perhaps understandable that some of those holdings may be more controversial than others
This is the case with Gov. Rick Scott, who has seen his investment holdings scrutinized by the media since the release of his Senate financial disclosure last week.
Revelations have been regular and the latest is that Scott has holdings in a Taiwanese company that has continually done business with Chinese telecom giant ZTE, including during a recent American trade ban.
Per the disclosure, Scott personally has an interest of $1,001 to $15,000, and Scott's wife has an interest between $50,001 and $100,000 in Taiwan Semiconductor Manufacturing — which, via a subsidiary, has continued to transact with ZTE … a company so controversial that concerns about it led Sen. Marco Rubio to vote against the defense bill this week.
The company, per its president, found a workaround to trade ban restrictions: "TSMC is not a direct supplier to ZTE. It's not a direct supplier to ZTE. So indeed, some of the — they do have a subsidiary of ZTE and — but according to the rule you need to have a certain percentage of value-added from the U.S. And so for that particular subsidiary, the value-added is mostly from China and from TSMC. So that also is beyond the restriction scope."
Rubio has been blunt about the company.
'ZTE should be put out of business. There is no 'deal' with a state-directed company that the Chinese government and Communist Party uses to spy and steal from us where Americans come out winning. We must put American jobs and national security first, which is why I have urged NDAA conferees to ensure the bipartisan provision to reinstate penalties against ZTE is included in the final bill'," Rubio said in July.
Ultimately, however, those penalties were not part of the final package. And the trade ban has been lifted after ZTE cut a deal. However, at least for Marco Rubio, the national security implications present an existential concern.
For Rick Scott, per his Senate campaign, the question is "ridiculous."
"Governor Scott does not have investments in ZTE and any assertion that the Governor Scott is attempting to avoid U.S. restrictions is ridiculous," posited Scott spox Lauren Schenone.
"Furthermore," Schenone contended, "the Governor had no role in selecting that investment. The blind trust is managed by an independent financial professional who decides what assets are bought, sold or changed. The rules of the blind trust prevent any specific assets or the value of those assets within the trust from being disclosed to the Governor, and those requirements have always been followed."
Scott's ZTE stake is not the only entry in the 125 page document that has concerned Florida media. Scott's media shop offered vigorous defenses of the Governor to us about each of them.
The Miami Herald reported Scott made over $50,000 from the sale of stock in Navigator Holdings, which does business with a Kremlin-connected energy company called Sibur. Vladimir Putin's son in law is among that company's stakeholders.
This is not an issue, per Schenone: "Governor Scott no longer has an investment in Navigator Holdings. When asked recently, Governor Scott was clear he believes that Putin is not our friend or ally and should not be trusted."
Beyond these entries and their foreign intrigue, Scott's investments reveal controversial stateside ties as well.
Scott's investments in Gilead Sciences, maker of Hepatitis-c medicine, have also drawn scrutiny via GateHouse.
Schenone's defense: "The Governor has consistently fought against the national opioid crisis, including securing major state and federal funding and signed multiple pieces of legislation to combat opioid abuse and support law enforcement officers."
And as the Florida Bulldog reports, the Scott administration doled out $200,000 of tax incentives to 21st Century Oncology, a company owned by Vestar Holdings, which Scott has between $50,001 and $100,000 of interest in.
Those, per Schenone, are coincidences, as Scott "does not unilaterally decide how state incentive projects are awarded."
Under Scott's watch, "the state has reformed the incentive process" rooted in "strict performance metrics, including total jobs and capital investment."
"This highly accountable process works to recruit businesses to Florida, while at the same time protecting taxpayers' hard-earned money," Schenone maintained.