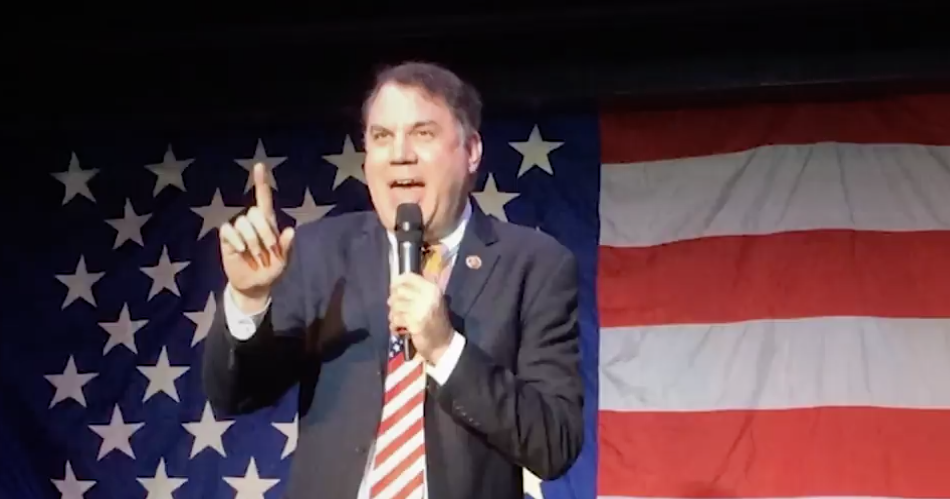 Is this video Alan Grayson's latest television commercial … or a trailer for the next Hollywood blockbuster?
Grayson, the Democratic former congressman trying to win his seat back in Florida's 9th Congressional District, is launching a new television commercial Tuesday that focuses on his commitment to seek President Donald Trump's impeachment.
The spot has just the most fleeting of references, a negative one, to Grayson's Democratic primary rival, U.S. Rep. Darren Soto.
The 30-second video, "When They Break the Law," plays out like an action movie trailer, with two video sequences of dozens of rapid-fire images, backed by dramatic crescendos of music, seeking the implications that Trump and his team have broken the law, and that Grayson will go after them.
The video opens with the first sequence, quick flashes of stark images of Trump, members of his family, and inner circle blasting onto the screen as the music crescendo climbs toward a bang.
That bang leads to a calmer, bridge moment in the video, starting with text screens that read "When They Break The Law," "Stand With Grayson," and "Impeach!!" That's followed by some old TV footage of Grayson being interviewed by, or talked about by, progressive TV commentators admiring him. Some of that footage is recycled from his previous TV commercials. It includes Grayson declaring, "If we do nothing you can kiss this country goodbye!"
The second crescendo sequence then starts, featuring a mixture of images of all kinds of Democrats' bugaboos, from Vladimir Putin to ICE agents, and from global warming problems to lines of police in riot gear. Sprinkled in are a few pictures of Democratic protesters and others resisting, and of Grayson looking brave and patriotic. That sequence also includes — so quickly that the messages might be best seen as subliminal — text screens that read, "Impeach Trump," "Grayson Will," and "Soto Won't."
That sequence draws from one of the points of hot contention in a CD 9 Democratic debate last week at the Tiger Bay Club of Central Florida, in which Grayson said he is ready to pursue impeachment articles against Trump — right now — that Soto twice voted against bills to impeach.
Soto responded that he wants to wait until after Special Council Robert Mueller finishes his investigation, but would be among the first to vote for impeachment if that investigation warrants it.
There were no details provided late Monday by Grayson's campaign team about what sort of media buy is backing the commercial.