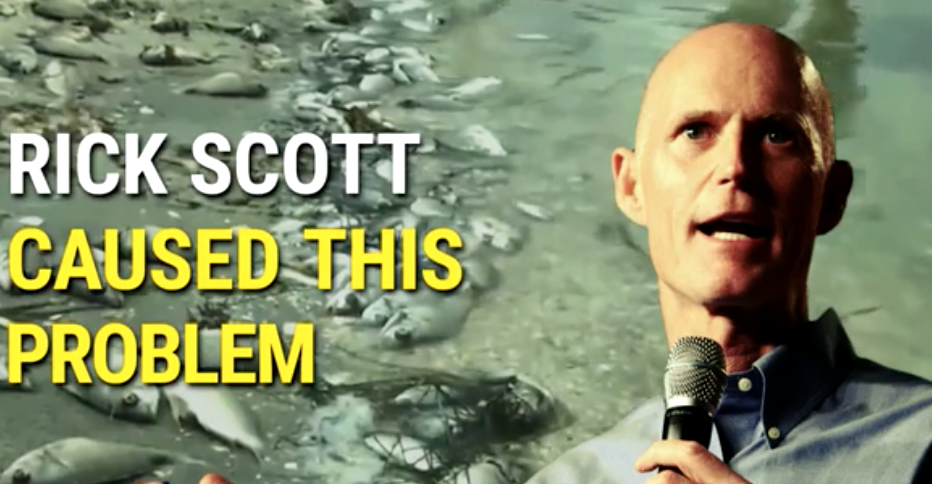 A few days after seeing Republican Gov. Rick Scott's campaign launch a TV commercial seeking to blame him for Florida's algae crisis, Democratic U.S. Sen. Bill Nelson is firing back with an internet ad attempting to portray the environmental disaster as entirely Scott's fault.
The new 30-second video, "Algae," begins with images of putrid, green waters, dead fish and animals, and declares: "Florida's algae bloom crisis is a man-made problem, made by this man Rick Scott."
Last Friday, Scott's campaign had launched its commercial, "More Waiting More Talk More Algae," that contended the problem was one that Washington needed to address, and that Nelson had failed to do anything about it in Washington, so it was Nelson's fault.
Scott and Nelson are heading for the Nov. 6 showdown for Florida's U.S. Senate seat.
This time, the campaign declared that it is ridiculous for Nelson to try to blame Scott "for an issue that's been neglected by the same federal government Nelson has been a part of for decades."
Nelson's new video ad includes quotes from opinion pieces published in the Miami Herald and the Orlando Sentinel, and from Florida Conservation Voters, all explicitly blaming the two-term governor for the crisis that has erupted again this summer with massive amounts of polluted water released from Lake Okeechobee feeding devastating algae blooms on Florida's Atlantic and Gulf coasts.
"This problem has a name: Gov. Rick Scott," the Herald's editorial is quoted.
"He's rolled back every common-sense safeguard in the books," quoting Florida Conservation Voters.
"Rick Scott cut environmental protections. Rick Scott gave polluters a pass," the commercial's text declares, with a picture of Scott in a Tuxedo, raising a glass.
"It is … fair to blame Gov. Rick Scott," the Orlando Sentinel's opinion piece is quoted as stating. "This governor has undermined our natural resources for eight straight years."
"The water is murky but the facts are clear," the commercial concludes. "Rick Scott caused this problem."
The reply from Scott's campaign:
"It's ridiculous for Bill Nelson to try to blame Gov. Scott for an issue that's been neglected by the same federal government Nelson has been a part of for decades. In fact, Bill Nelson himself pledged "to save Lake Okeechobee and make polluters pay for the cleanup" in campaign ad thirty years ago, but clearly, he failed to keep his word. No amount of misleading and negative attacks will hide the fact that Bill Nelson is -and always has been- all talk and no action.
"However, Governor Scott has invested record amounts in Florida's environment and has stepped up time and time again when Washington politicians like Bill Nelson failed to meet their commitment to our state. It was Governor Scott who secured state funding for repairing the Herbert Hoover Dike at Lake Okeechobee, supported legislation to accelerate the EAA reservoir, received a commitment from the president's administration to speed up dike repairs and secured funding through the Army Corps of Engineers to complete dike repairs by the Governor's goal of 2022."