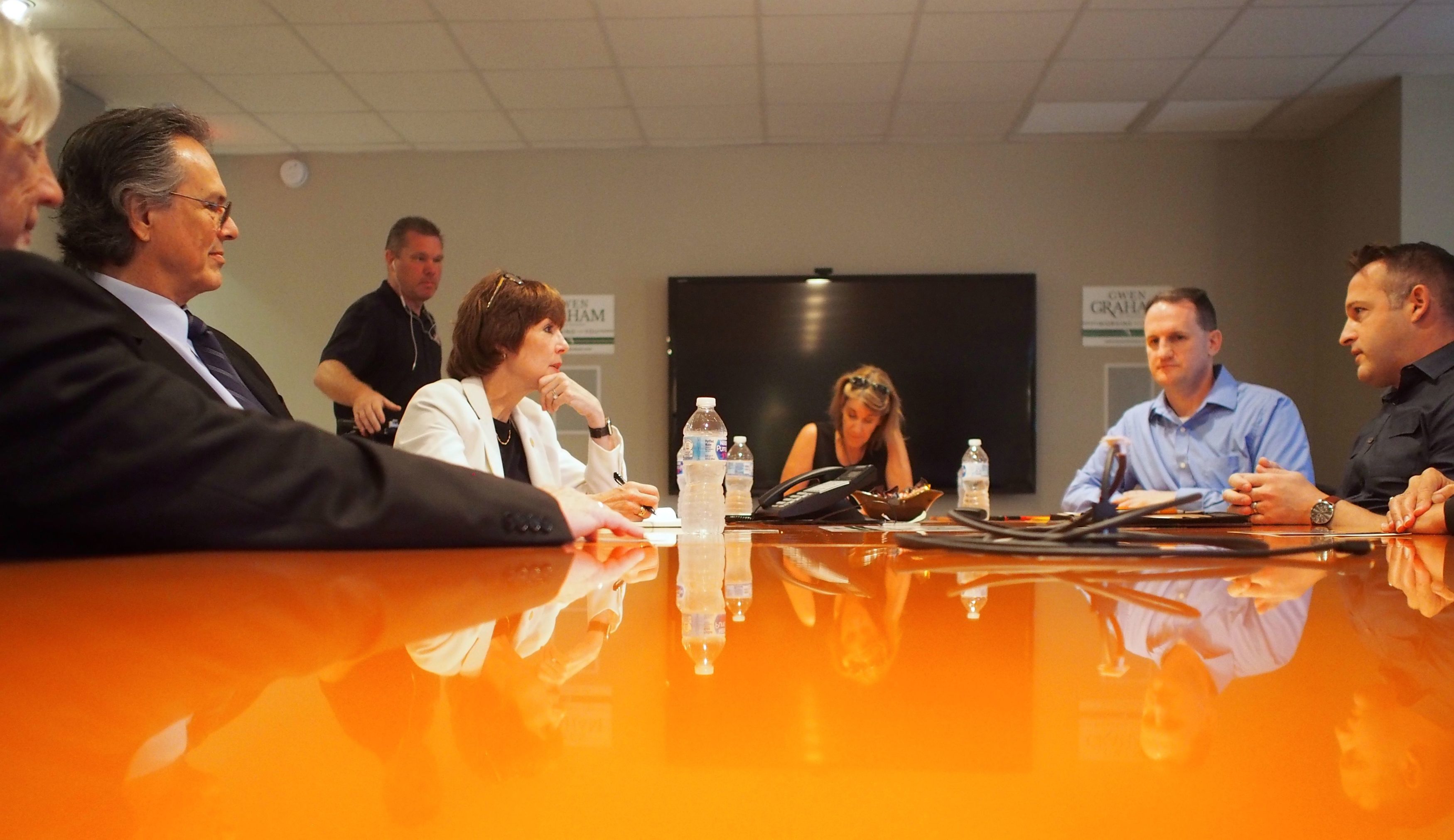 After hearing out leaders of Florida's struggling film industry, Democratic gubernatorial candidate Gwen Graham pledged to help as governor and said she blames ideological thinking in Tallahassee for driving away much of Florida's former movie business.
"It's a philosophical problem. That's what it is. That's what it is!" Graham said. "That's what it is in all these areas when you talk about health care, the education system. These have become ideological tools for state government. And that's not your job
"Your job when you're provided the opportunity to do what's right, and to help the state, is to not be influenced by ideology. And it makes me so angry," she continued.
The matter came up as Graham pressed a table full of Florida film and TV entertainment production business representatives on why the state's ability to attract TV and movie production has suddenly dried up and blown away to Georgia and other states in the past three to five years.
John Lux, executive director of Film Florida, a statewide industry organizaiton, and other film representatives told Graham the same thing they told her Democratic primary rival Philip Levine two weeks ago: that they perceive a rigid opposition in state leadership to providing any more business incentives, while states like Georgia and Texas have waved checks and called out, "over here!"
Levine, who's been making a commitment to turn around Florida's declining film industry a plank in his platform almost from the start of his campaign, pledged full support to the industry two weeks ago. Graham offered the same.
Lux said he also has spoken by phone with two other Democratic candidates, Jeff Greene and Andrew Gillum, and with the staff of the fifth, Chris King, receiving support.
Lux said he and others in the industry also have reached out to the leading Republican candidates, Ron DeSantis and Adam Putnam, but have gotten no responses.
At a meeting at Adrenaline Films of Edgwood on Wednesday, Lux, University of Central Florida film professor Lisa Mills, Michael Jordan of MJJ Entertainment and Filmotechnic USA, actor Tom Nowicki, and others argued that the costs to Florida include the losses of high-paying jobs associated with each production, the potential to develop permanent film production businesses in Florida, the tourism boost a movie or TV show can provide, and a source for careers for actors and college graduates coming out of Florida's film schools.
The talk from Tallahassee leaders in recent years, the film representatives said, has focused exclusively on returns on investment for state money. But they charged that the formulas the state is citing do not take into account the Florida product placement in popular movies and TV shows to promote Florida tourism, or the potential for Florida to feed development of a critical mass to grow its own film industry. And they argued that Florida doesn't need to be nearly as generous with incentives as states like Georgia and North Carolina, it just needs to look interested.
"They want to come here," Lux said.
They focused on "Bloodline," the Netflix Florida Keys-based TV series that ran for three seasons, before shutting down in 2017 with complaints that Florida was no longer a welcoming place for its production. Nowicki played an evil developer in that seires.
"In addition to the $30 million that was spent just on production, they found another $65 million in incremental tourism in people that decided to go there," Lux said.
Then there was "Dolphin Tale," the 2011 movie in which Nowicki also had a role.
"Before Dolphin Tale 1, the [Clearwater Marine] Aquarium was averaging 75,000, 80,000 visitors a year. The year after Dolphin Tale was released, that number went up to nearly 1 million," Nowicki said.
The film representatives said most of the lawmakers they lobbyed offered support for the film industry but that "the leadership" would not budge. Graham would not press them to name names, except for Republican Gov. Rick Scott.
raham sought to explore why, at one point concluding that it might just be a distaste for what she called, mockingly, "liberal Hollywood elites."
"The film industry, I'm passionate about this. And I want to bring this industry, and all different components of it, back to Florida," Graham said. "And I know what's going on, and it has been political."