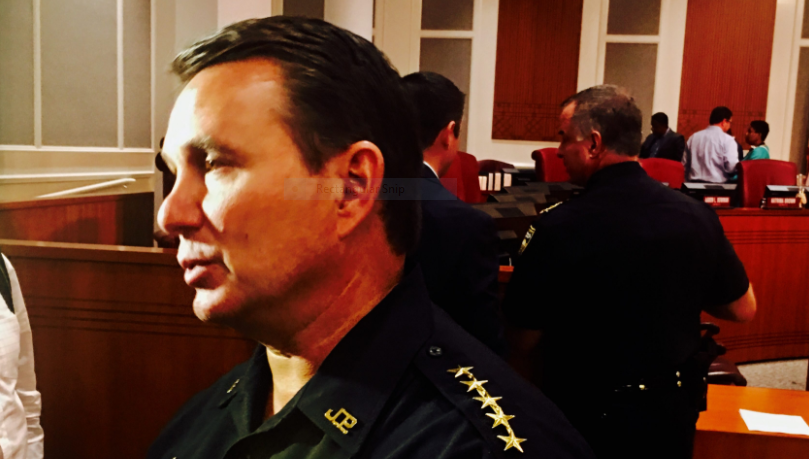 Jacksonville Sheriff Mike Williams endorsed U.S. Rep. Ron DeSantis for Governor late Wednesday, breaking with almost 50 elected sheriffs and police unions that have long since backed Adam Putnam.
"I am pleased to endorse Ron DeSantis for Governor of Florida.  I greatly respect his military service in the United States Navy in Iraq," Williams asserted.
"When I talk with Ron DeSantis, his view of law enforcement mirrors my own: protecting innocent citizens and holding bad actors accountable. I believe that as Governor Ron DeSantis will prioritize law enforcement and will be good for the citizens of Jacksonville.  I am proud to offer him my support," Williams added.
This endorsement came on the same day the head of the local Fraternal Order of Police was waving signs for Putnam outside the Jacksonville debate.
Two other major Northeast Florida players, state Senate Appropriations chairman Rob Bradley and his Clay County colleague, Rep. Travis Cummings, endorsed DeSantis Wednesday ahead of the debate.
Meanwhile, one other major Northeast Florida endorsement, that of Jacksonville Mayor Lenny Curry, still waits to be conferred.
Curry's mayoral chief of staff, Brian Hughes, was watching the debate with Curry's political adviser Tim Baker from the balcony Wednesday evening.
Hughes and Baker ran DeSantis' 2012 campaign for Congress, suggesting there may be an opportunity for synergy on that front also.