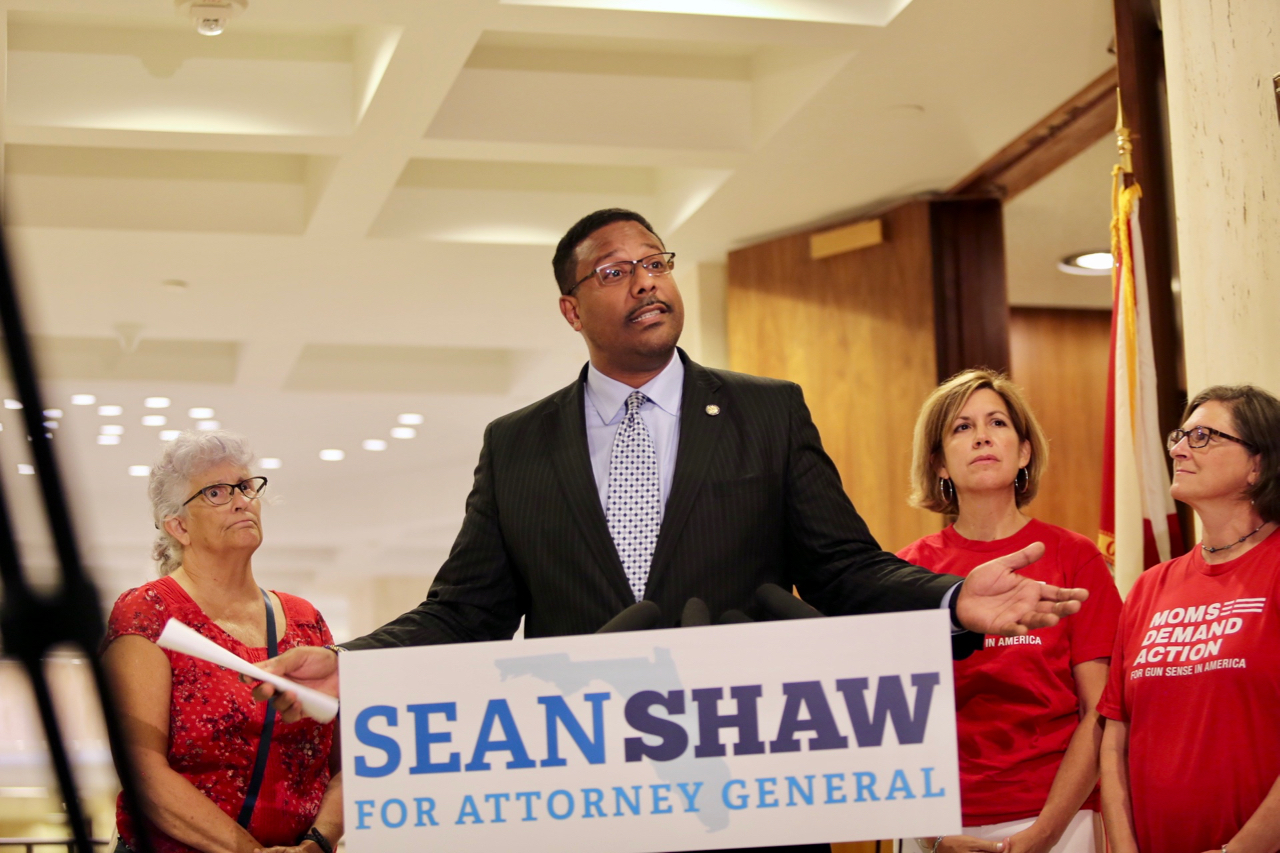 Democratic candidate for Attorney General Sean Shaw said, if elected, he will convene a "statewide gun violence working group" on his first day in office. He made the announcement at a Thursday press conference.
"Your voices will be heard," said Shaw, standing outside Attorney General Pam Bondi's Plaza-level office in the Capitol. He was flanked by members of Moms Demand Action, a gun-control group.
"Your concerns will be addressed," he added. "And I'll take action."
Most recently, Markeis McGlockton was shot and killed last month during a confrontation over a handicapped parking spot at a Clearwater convenience store. Pinellas County Sheriff Bob Gualtieri declined to charge alleged shooter Michael Drejka, referring to the state's "Stand Your Ground" law.
Shaw plans to take "task force's recommendations and champion new laws and regulations during the 2019 Legislative Session," a press release said.
It will include "invited representation from the Governor's Office and Cabinet Members, legislators, law enforcement, county sheriffs, county executives, public defenders, mayors, chiefs of police, schools, teachers, students, victims' rights advocates, mental health organizations, community groups, and gun rights advocates."
Shaw, now a state representative from Tampa, faces only Tampa lawyer Ryan Torrens in the Aug. 28 Democratic primary for Attorney General.
Shaw also is challenging Torrens' qualifications to be on the ballot. Torrens called the lawsuit a "sham," and admitted to making a honest fundraising mistake.
When asked why he sued Torrens, Shaw mentioned that he's "running on a platform of being one of the most active attorney generals" in the country.
"If I don't hold my primary opponent accountable, what does it mean when I tell people I am going to hold the Legislature accountable?" he said. "Or when I'm going to go after anyone doing wrong in this state? … This is what being a proactive attorney general looks like."
Periscope videos of Shaw's press conference and his taking further question from reporters are below.
Sean Shaw news conference #FlaPol https://t.co/fVqZ7uiw4k

— Jim Rosica (@JimRosicaFL) August 9, 2018
More Sean Shaw #FlaPol https://t.co/IUp0rSh4FA

— Jim Rosica (@JimRosicaFL) August 9, 2018