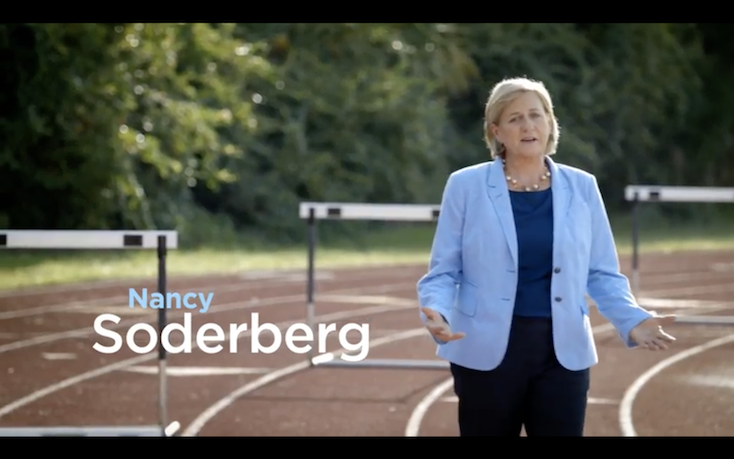 Former Ambassador Nancy Soderberg is the best-funded candidate in the race for Florida's 6th Congressional District, and this week she has started putting some of that cash to work by hitting the airwaves with her first TV ad.
The 30-second spot, "Hurdles," pitches the Democratic candidate as a problem solver by pointing to her experience as an Ambassador to the United Nations and as Deputy National Security Adviser during the Clinton administration.
That track record, the ad says, shows Soderberg would engage with both sides of the aisle in finding solutions for some of Washington's more intractable problems, such as affordable health care.
"Everyone faces hurdles. Lord knows I have," Soderberg says as she strolls along a running track replete with hurdles. "I helped bring Northern Ireland's opposing sides together to secure peace. As a diabetic, I was denied health insurance. I was one of the first to say 'let's get [Osama] bin Laden.
"Let's bring both parties together to deal with hurdles like unaffordable health care, protecting Social Security and Medicare. Hurdles don't phase me, I'm about solutions," she concludes while tipping over a hurdle.
In announcing the inaugural TV ad, Soderberg said she was "running to make Congress work for the people again" before hitting many of the same notes as the ad.
"I've taken on terrorists, negotiated with allies, and helped bring peace to a warring nation. In Congress, I'll bring both sides to the table to fight efforts to cut health care, create jobs you can raise a family on, and protect Social Security and Medicare," she said. "The people of Central Florida have been ignored for too long, and they deserve a representative who will fight for them."
Not mentioned in the press release: Details on the media buy that's backing it up.
Soderberg is the top fundraiser running for CD 6 with nearly $1.5 million raised and about $1 million in the bank at the end of the second quarter, though her primary opponent, Ormond Beach physician Stephen Sevigny, has brought in six-figure hauls as well and recently started rolling out his own suite of television ads.
A recent public poll put Soderberg atop the three-way Democratic primary contest with 30 percent support, followed by John Upchurch at 13 percent and Sevigny at 10 percent, with the rest of those polled saying they were undecided.
The winner of that contest has an uphill climb in the general election, however the outlook isn't as dour for Democrats as in past cycles. CD 6 is currently held by U.S. Rep. Ron DeSantis, who is giving it up to run for Governor. With no incumbent, high fundraising on the Democratic side and an expected boost in turnout among Democratic voters, a flip isn't out of the question.
Running for the Republican nomination are former state Rep. Fred Costello, Fox News personality Michael Waltz and businessman John Ward. Waltz and Ward have each crossed the $1 million mark in total fundraising thanks to a hefty amount of self-funding.