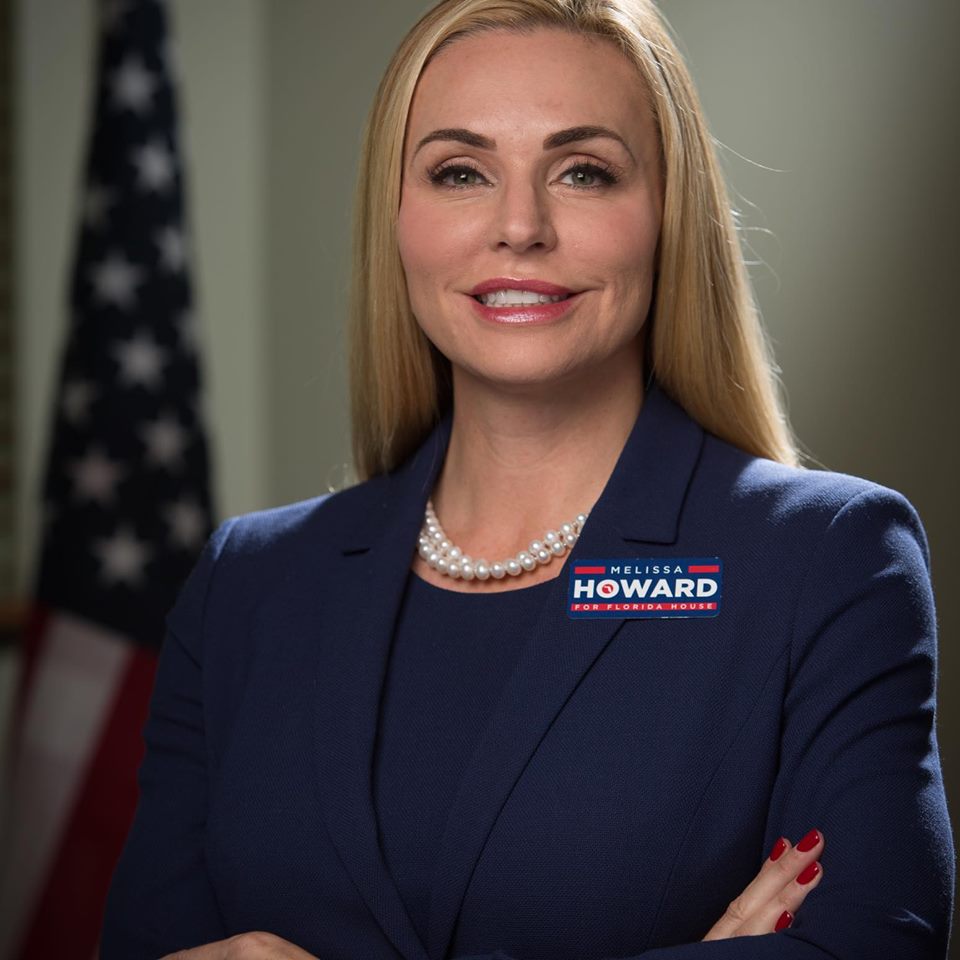 Revelations that Republican state House candidate Melissa Howard may have flown to Ohio for a picture with a fake college diploma quickly turned her from a strong political contender to the subject of national ridicule.
But amid guffaws at the audacity of this alleged deception, party leaders are quietly wondering, what if Howard still wins her election?
Before a scandal erupted about whether she falsified a degree from Miami University, sources close to Howard's campaign say she held a 20-point lead in the Republican primary over Sarasota lawyer Tommy Gregory.
That may be generous, but Howard is the Manatee County candidate and about three quarters of House District 73 voters reside there; Gregory lives with the other 25 percent  in Sarasota County. She's chapter president of the Gulf Coast Republican Women Federated; he's a political neophyte (though one with a National Rifle Association endorsement).
Of course, the calculus of this race surely changed when Miami University general counsel Robin Parker insinuated Howard lied about graduating from the university and cast doubt on a picture of the candidate's degree, apparently taken during a special trip by Howard to Ohio for the purpose of clearing her name.
Since then, Howard shut off her Twitter profile and Facebook page. Her husband had a cardiac event. One prominent Republican (make that two) called on Howard to drop out of the race. But to date, Howard campaign consultant Anthony Pedicini has labeled the story "fake news." This morning, he told Florida Politics he had no update.
While Howard today is laying low, caring for her husband and licking her wounds, absentee ballots shipped to voters in mid-July. As of this morning, 8,964 Manatee County Republican voters already mailed in their ballots and 9,585 Sarasota County Republicans had done the same.
It's unclear right now how many of those live in District 73, but only about 20,000 people voted in the Republican primary here in 2016. It's fair to say a substantial number of voters made their choice before news this weekend set the race on fire.
If Gregory truly trailed Howard by 20 points pre-scandal, can he make up the distance?
It's worth noting the current Representative in the district, Joe Gruters, barely won his primary two years ago despite serving as chairman of the Republican Party of Sarasota and as co-chair of Donald Trump's ultimately successful presidential campaign.
Gruters, now a candidate for state Senate, serves as Howard's campaign treasurer — at least for the moment.
There is mounting pressure for Howard to drop out of the race. And one Sarasota leader suggests that if Howard were already the nominee, this embarrassing scandal may have prompted the party to pull its support in the general election, as Democrats did two years ago when a sex scandal destroyed candidate Ed James' promising state House campaign in District 72.
If Howard dropped out now, votes cast for her in the Republican primary would not count, and Gregory would become the nominee. Considering Trump won this district by more than 25 percent in 2016, Gregory likely sails into office from there.
But would the same be true of Howard at this point?
General Election Woes
The winner of the Aug. 28 Republican primary will advance to face Democrat Liv Coleman in November. Local Democrats always proclaimed promise in Coleman, a University of Tampa political science professor who moved to east Manatee in 2015, though pundits paid little heed to the race.
Coleman as of Aug. 3 reported more than $35,000 in donations, and with no primary she has spent less than $10,000.
By comparison Gregory raised more than $103,000. Howard raised $55,000 and chipped in $100,000 of her own money. Both Republicans have spent upward of $70,000 on the primary election alone.
Can Coleman stand up against that? Gulf Coast Democrats believe she can, and remain high off Sarasota Democrat Margaret Good's stunning upset in neighboring District 72 in a February special election.
Coleman declined to comment on Howard's circumstances over the past few days, but one can only imagine Democrats in this deep red district rubbing their hands together imagining Howard winning her primary despite the scandal.
Would national dollars flow in to flip the seat the same as happened for Good? In February, Democrats beat the son of a congressman. In November, could they seize a seat now held by Trump's top Sunshine State campaigner?
Well, maybe not. One Sarasota elected official, a Republican, noted Howard just might win in November despite an expected barrage of bad press.
Considering Gruters, still Sarasota's party chairman, has stood by Howard so far, he might stop Republican leaders from shunning her should she emerge as the party nominee.
And Manatee County Commissioner Vanessa Baugh, who briefly considered running for this seat but stepped aside for Howard, was still defending her political protégé on Facebook as the scandal worsened yesterday.
But the Sarasota leader suggesting Howard could still win in November says that may be the start of the region's problems. This type of scandal could make Howard an utterly ineffective lawmaker, a pariah in a collegial body where relationships determine influence.
Howard may succeed despite her campaign nadir Saturday. But if that happens, the victory may be hollow, a void that may be easily filled with voter's remorse.