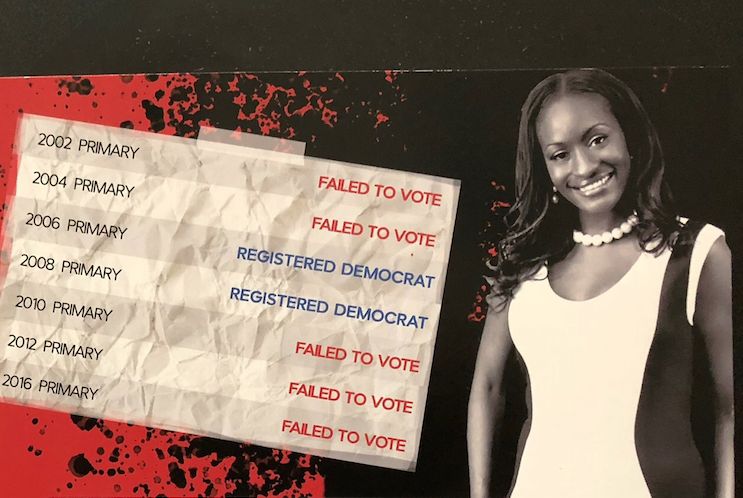 Republican Florida House of Representatives candidate Stockton Reeves VI has attacked the primary voting record of his Aug. 28 primary opponent Mikaela Nix, charging that she's been a Democrat until recently and doesn't often vote in primaries, in mailers that were delivered this weekend in House District 47 in Orange County.
"MIkaela Nix wants your vote in the Republican primary… but she's almost never come out to vote for anyone else," declares the stark-looking red, black and white mailer.
The mailer unleashed a counter-attack from Nix's campaign Monday, centering on a newly-filed ethic complain filed Friday against Reeves, involving his personal financial disclosures and campaign finance reports.
Reeves' new mailer includes a breakout of Nix's voting record in the past seven primaries showing that she was a Democrat in 2006 and 2008 and did not vote in 2002, '04, '12 or '16.
"When our Republican leaders needed every vote, Mikaela Nix couldn't bother to show up," the mailer declares.
Nix's campaign responded Monday morning by counter-charging that Reeves is going negative with misleading information because he's trying to deflect attention from financial discrepencancies and other matters that Nix's campaign is seeking to highlight in Reeves' campaign finance and financial disclosure reports. Her campaign also contends that she switched party affiliation from Democrat to Republican in college after learning more about party ideologies in college.
But Reeves maintains that Republican voters need to know Nix's record, or lack of record, in voting Republican.
The two are squaring off Aug. 28 in the Republican primary seeking a chance to run against Democratic nominee Anna Eskamani. The district covers north-central Orange County, including downtown Orlando. Incumbent Republican state Rep. Mike Miller is not seeking re-election because he is running for Congress.
"You've got an individual who is trying to portray herself one way when she is, factually, something quite different," Reeves said Monday. "You can say, 'lifelong conservative.' But she's running in a Republican primary, and I think it's important for voters to know these things. First, she's not a lifelong Republican; and second, her voting record is abysmal."
Reeves said he himself registered as a Republican voter before his 18th birthday – legal in the 1980s. And he maintained he has voted in every election since.
"If you're asking people to make you someone who casts votes in Tallahassee on a variety of issues, I think you should have an intererst in voting in elections, in participating. It's that simple," Reeves said.
Nix's campaign responded Monday by charging that Reeves' financial disclosures appeared to be hiding something, as they at least initially showed fewer assets than would be necessary for him to lend his own campaign $90,000, as he did last year.
Last Friday former Orange County Republican Executive Committee offiical Scott Prosinowski filed an ethics complaint against Reeves alleging "significant omissions."
Reeves said his initial financial disclosure filings were not as detailed as they could be and that he is filing an addendum to clarify the matter.
Nix's campaign also cited a 1994 Orange County political lawsuit case in which Reeves, then a political consultant, and others were ordered by a circuit court judge to stop making a false claim against an opposing candidate.
"Stockton Reeves has a history or running negative and misleading campaigns, and he's doing it again against Mikaela," Nix campaign manager Zac Stone said in a written statement. "A judge even ordered him to stop at one time. It's obvious why he's doing it; he doesn't want the voters to know about his financial problems, that he has an ethics complaint filed against him, and that he's unsuccessfully run for office so many times."
"As for Mikaela's voting record, she joined the Republican Party after taking a ideology class in college. Most find that refreshing and Mikaela has made that part of her story," stated Stone. "She's been a Republican for ten years and started voting in Primaries in 2014. Before that, she was either in college, law school and in her twenties."