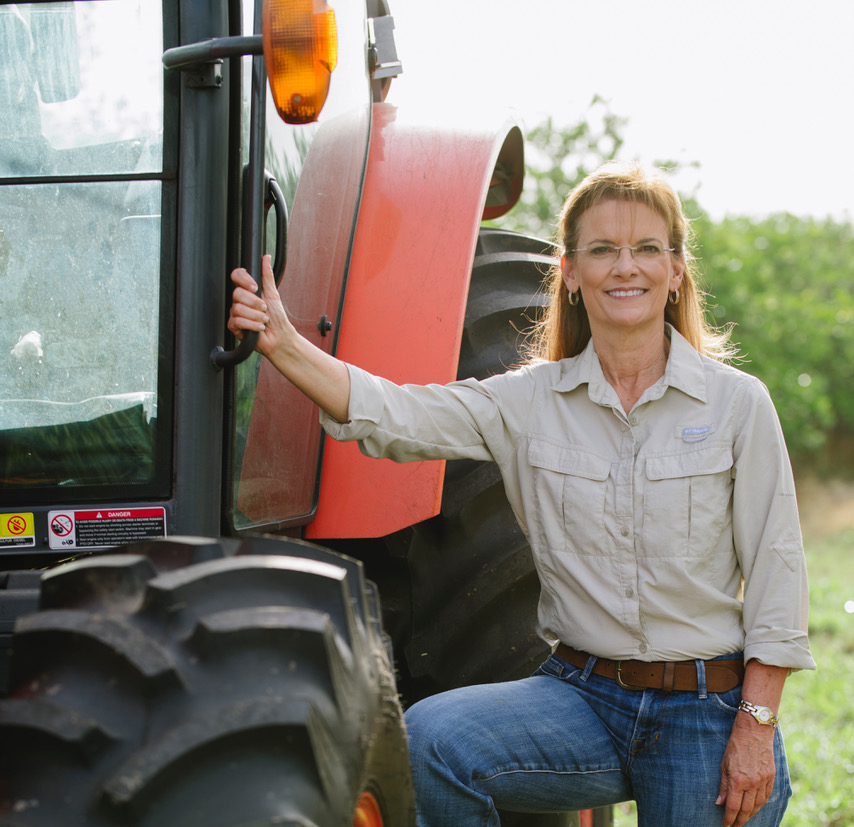 Agriculture Commissioner candidate Denise Grimsley got the nod from a large contingency of her colleagues in the Florida Legislature Monday, adding another 32 backers just days after she announced three dozen endorsements from local elected officials from all corners of the Sunshine State.
Grimsley, a Sebring Republican, has been a member of the state Legislature since 2004, first as a member of the Florida House and, since 2012, as a member of the Florida Senate. She currently represents District 26, which covers all of DeSoto, Glades, Hardee, Highlands and Okeechobee counties as well as parts of Charlotte, Lee and Polk counties.
The bulk nod included a baker's dozen of backers who are currently serving alongside Grimsley: Sens. Dennis Baxley, Aaron Bean, Anitere Flores, George Gainer, Rene Garcia, Dorothy Hukill, Debbie Mayfield, David Simmons, Kelli Stargel and Reps. Sam Killebrew, Cary Pigman, Elizabeth Porter and Charlie Stone
The nine current senators announced today join incoming Senate President Bill Galvano and Senate Majority Leader Wilton Simpson, making for half of the Republican Senators not named "Grimsley" backing her campaign. Grimsley's chief rival in the Republican primary, Lehigh Acres Rep. Matt Caldwell, has landed loads of support from his House colleagues, but has only earned one endorsement from a sitting Republican Senator: St. Pete Sen. Jeff Brandes.
Also adding their names to the pile were 19 former lawmakers, all but five of whom served alongside Grimsley for at least a couple years of her tenure in Tallahassee, including former House Speakers Allan Bense, Dean Cannon, Larry Cretul, H. Lee Moffitt; former Sens. Ellyn Bogdanoff, Charlie Dean, Pat Neal and Miguel Diaz de la Portilla; as well as former Reps. Kim Berfield, Marti Coley, Faye Culp, Frank Farkas, Mark Flanagan, James Frishe, Kurt Kelly, Dick Kravitz, Dave Murzin, Mark Ogles and Joseph Spratt.
"During my time in the Florida Senate and Florida House of Representatives, I have met or worked with many of these Senators and Representatives while serving our Sunshine State," Grimsley said. "We have worked together to make this the best state in the nation to live, work and play; and, I am grateful for their support of my campaign.
"With my diverse background raising cattle, growing citrus, helping people, running a business and managing a budget, paired with my dedication to solving problems that face Florida, I know I am the most qualified and best candidate in this race; and, I look forward to the opportunity to continue my work serving Floridians as their Commissioner of Agriculture," she said.
Grimsley has surged in endorsements over the past several weeks. Outside of the 66 endorsements she's announced since Friday, she has the support of 36 current county sheriffs — seven Democratic and 29 Republican — as well as numerous statewide organizations, including the Fraternal Order of Police, Florida Professional Firefighter, Florida Realtors and the Florida Medical Association, among many others.
Caldwell and Grimsley are running alongside retired U.S. Army Col. Mike McCalister and former Winter Haven Rep. Baxter Troutman in the Republican primary.
Through Aug. 3, Grimsley leads in true fundraising with $2.65 million in outside cash raised since she entered the race in February 2017. She also currently holds the cash lead with more than $1.1 million in the bank between her campaign account and two political committees, Saving Florida's Heartland and Let's Grow Florida.
Caldwell, meanwhile, has also broken the $2 million mark since entering the race in April 2017 and had a little over $1 million in the bank at last check-in.
Troutman, however, has pumped $3 million into his campaign fund and raised about $500,000, though his high burn rate has left him with just $322,500 on hand as of Aug. 3. McCalister, for his part, has raised just $22,604, including nearly $19,000 in candidate loans.
The winner of the Aug. 28 Republican primary will move on to November when they'll face one of three Democrats: Nikki Fried, Jeffrey Porter or Roy David Walker.