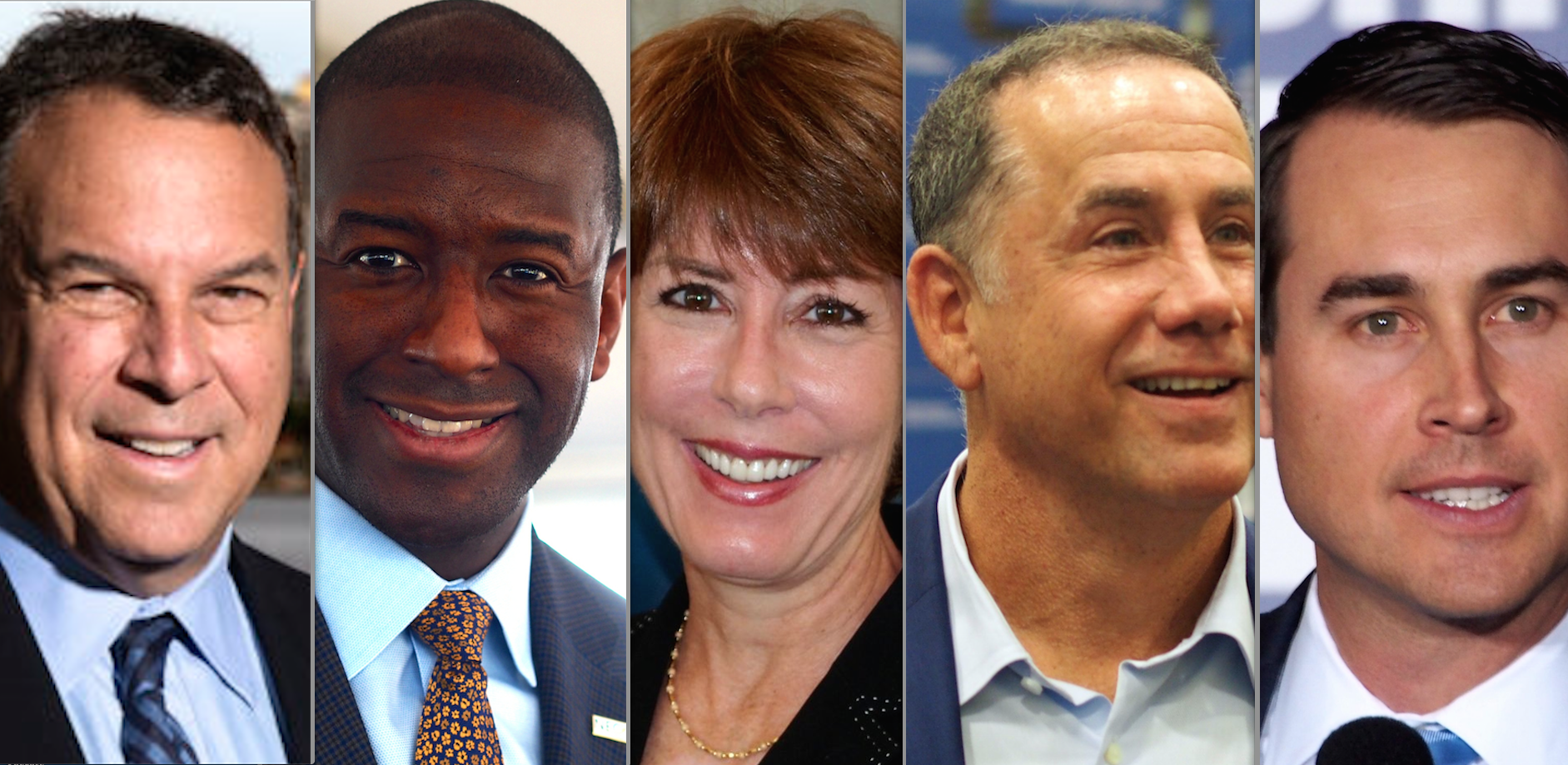 With eight days before Election Day in the race for the Democratic nomination for Florida governor, three candidates, including a surging Andrew Gillum, are separated by just six points.
Leading the field is former U.S. Rep. Gwen Graham at 27 percent. Right on her heels is former Miami Beach Mayor Philip Levine at 25 percent. Those two have been atop nearly every poll in months, and began looking like they were locked in a two-person battle.
But now Gillum, who rallied in Orlando and Tampa last week with U.S. Sen. Bernie Sanders and launched a new TV commercial pushing his progressive message, has surged to 21 percent, a marked improvement from two weeks ago when the Tallahassee Mayor was in fourth at 12 percent.
Palm Beach billionaire Jeff Greene is starting to fade in our tracking poll, dropping to fourth place at 15 percent. In our previous survey, Greene was at 23 percent and in second place.
Chris King, despite his sharp message and his fierce yearning to make an impression with voters, is in the low single digits, while six percent of Democratic voters are still undecided.
The survey was conducted by St. Pete Polls for Florida Politics on August 18 and 19 and finished with a sample size of 2,202.
The numbers in this survey get even more interesting when you look at the breakdown of those who say they've already voted. Going by that number, the race is even tighter, with Graham and Levine tied atop the field. And not just rounded-up tied, but down-to-the-tenth-of-a-percent tied at 27.8 percent. Gillum is third at 20 percent.
Buoying the top three candidate's strong showings are their favorability ratings with Democratic voters. Graham, Levine, and Gillum each have favorability ratings north of 50 percent, while both Greene and King are upside down.
The past several weeks have seen numerous negative TV commercials and mailers, through which the candidates have been attacking each other.
This latest poll suggests they're working.
Everyone's favorability ratings fell, some sharply.
Gillum's has solidly emerged as the best-liked Democrat in the field: 50.4 percent of those polled said they have a favorable opinion of him, while just 11.2 percent have an unfavorable view of him. That gives him favorable-unfavorable overall rating of 39.2.
Levine is second, with 31.4 percent more respondents liking him than not liking him.
Graham's overall favorability rating was 23.6.
Greene and King both were underwater, with more respondents saying they have unfavorable ratings than favorable ones.
Election Day is Tuesday, August 28.