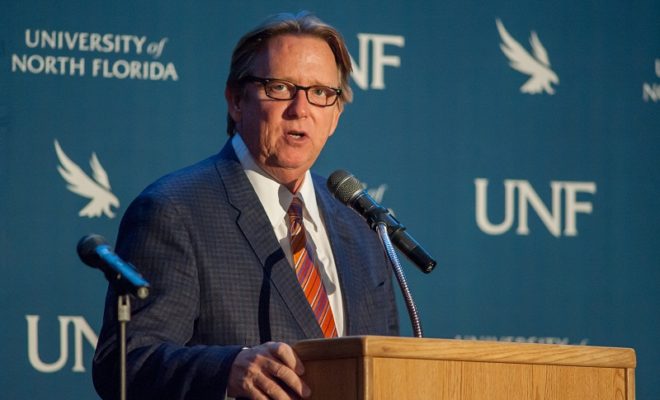 In April, we reported the next move of former Jacksonville Mayor and University of North Florida President John Delaney: work with a strategic alliance between Rogers Towers and the Fiorentino Group.
The Fiorentino Group. one of the top lobbying firms in Florida, has clients across the state though Jacksonville-based groups make up the bulk of their client sheet.
Delaney, who was also Jacksonville's general counsel before becoming Mayor in 1995, brings a unique understanding to the game, having functioned at the highest level of city government and as a university president.
After working only a couple of days a week through the summer to get acclimated, Delaney will ramp up his work Sept. 1, he told us.
He's in the office every day this week for something, with new clients for both Rogers Towers and Fiorentino.
"Having fun," he said. "What finally hit me last week was that I have no management responsibility for the first time in 35 years."
"Liberating" was how Delaney described that.
His portfolio will run the gamut: "Local, state, federal, in-state, out of state" with "lots of business development — connecting people."
At least for the time being, Delaney said, he will be lobbying the executive branch. There are no Council issues, as of yet, in which he will be engaged. And the composition of the Legislature is still in development for the 2019 Session.
Locally in Jacksonville, Fiorentino Group represents a lot of players, including UBER, AT&T, CSX Railroad, and TECO and Emera Energy companies.