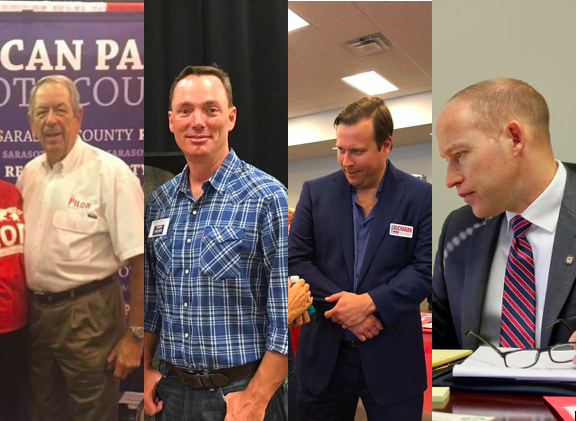 The Grand Old Party looks toward the general election after nominating Ray Pilon in District 72, Tommy Gregory in District 73, James Buchanan in District 74 and Spencer Roach in District 79.
Republican voters picked nominees in this series of Southwest Florida seats to fight for the red team and defend against a blue wave in a region struck by red tide.
District 72
Pilon, a six-year veteran of the state House, fended off challenger Jason Miller. With 42 percent of precincts reporting, Pilon led Miller with 64 percent of the vote.
Now the veteran pol fights to take back a seat vacated two years ago for a failed state Senate bid, and he's taking on one of the Democratic Party's rising stars, state Rep. Margaret Good.
The District 72 seat stayed in Republican hands in 2016, but after state Rep. Alex Miller resigned the seat, Good managed to flip the district in a February special election, defeating Buchanan, the son of U.S. Rep. Vern Buchanan.
Now Pilon looks to reclaim the Sarasota area seat. He won this district before in 2012 and 2014. Indeed before the district was redrawn to be more favorable to Republicans, he defeated Democratic incumbent Keith Kitzgerald here in 2010.
District 73
Before polls even opened today, Gregory, a Sarasota lawyer, already technically secured the Republican nomination.
His opponent Melissa Howard two weeks ago announced the end of her candidacy after she got caught showing off a fake college degree to falsely prove she had graduated from Miami University, a move quickly undermined by the Ohio college.
Technically, Howard withdrew her candidacy with the state a week ago, making all votes for her null and void. But her name remained on the ballot. That said, no votes counted for her and the Division of Elections isn't even bothering to report the totals..
Gregory now will face Democrat Liv Coleman, a University of Tampa professor, in the general election.
District 74
Buchanan may have finally found a home. After running in three districts in less than two years, Buchanan secured the Republican nomination in District 74, a south Sarasota County seat.
With all precincts reporting, he led North Port City Commissioner Linda Yates with 59 percent of the vote.
Buchanan this cycle originally intended to challenge Will Robinson in a District 71 seat in the Bradenton area, then decided to run in District 72 after Miller resigned. He seemed a favorite there early on until the race became a referendum on President Donald Trump.
But fate intervened again. After District 74 state Rep. Julio Gonzalez announced he would run for Congress, Buchanan filed in the Venice area district, armed with a new PAC.
Now Buchanan faces Democrat Tony Mowry, a Venice lawyer, in the general election.
District 79
Spencer, a former JAG officer, filed shortly after term-limited incumbent Matt Caldwell announced he would run in the Republican primary for Agriculture Commissioner.
He immediately drew support from political voices including U.S. Rep. Francis Rooney and Caldwell himself. Now, he secured the nomination over Republican challenger Matthew Shaun Miller, an Alva businessman and Air Force veteran. With all of precincts reporting, Roach beat Miller with 59 percent of the vote.
Throughout the campaign, Roach remained the more high-profile candidate, and as of late July told The News-Press he had never even met Miller despite attending numerous community forums.
Roach now advances to the general election, where he faces Democrat Mark Lipton, who like Roach lives in North Fort Myers and works as a lawyer.