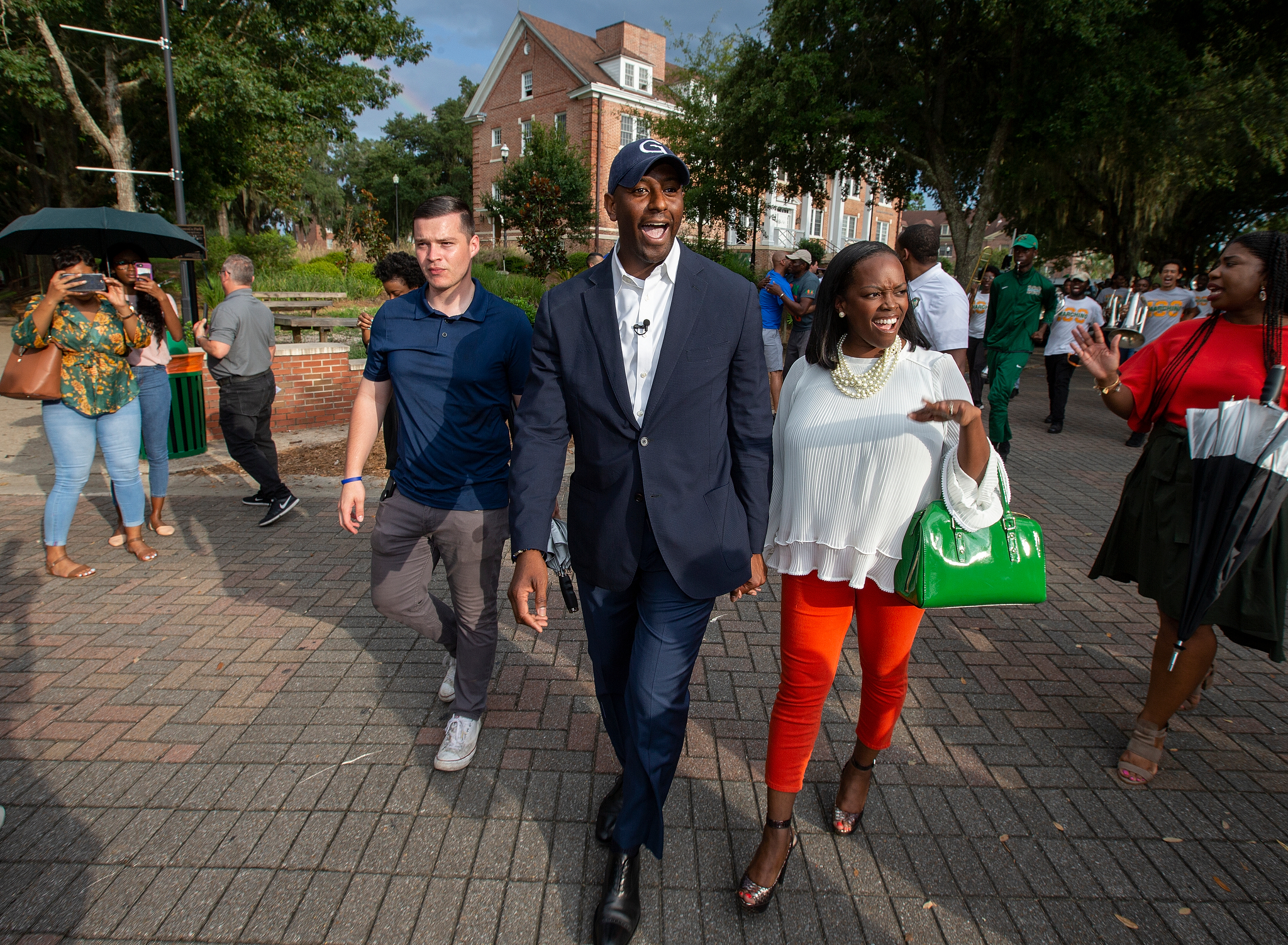 If Florida voters wanted a contrast in the election for Governor, they have it. The differences between Andrew Gillum and Ron DeSantis in the November election couldn't be dramatic – and it goes far beyond the fact Gillum now stands one election win away from being the first black Governor in the state's history.
He is a hard-left, progressive candidate who didn't play it safe in the campaign and was continually overlooked, but he never went away. He shocked pollsters, pundits, and everyone but himself Tuesday night in winning the Democratic primary.
DeSantis is the anointed acolyte of Donald Trump who surged on the president's endorsement and blew out Adam Putnam, the one-time heir apparent to the governor's mansion, to secure the Republican nomination.
DeSantis had a 20-plus point lead in the polls leading to Election Day with his complete embrace of the president and his policies.
It is set up as a national referendum on the president, and maybe it was always going to be that – just not like this, though.
Gillum lagged well behind early in the polls. Even as he surged at the end behind a populist and positive message of change against the status quo, he was basically dismissed by the pundits.
DeSantis cruised in the closing days of the primary, seemingly at ease and assured.
Gillum?
He ran hard the entire way.
He didn't have enough money, at least until a late infusion of cash from George Soros, progressive billionaire Tom Steyer, and Collective PAC, a group dedicated to electing African-Americans.
He didn't have enough experience.
It wasn't his "time" in 2018. Maybe later.
But something about his campaign connected with voters. His upbeat message, his unabashed progressive platform – it all worked and set up the November showdown against DeSantis and/or Trump, depending on how you view the race.
Yes, Florida politics rarely ceases to astonish, and we greet this morning with the news that the son of a bus driver is now the Democratic nominee for Governor.
Gillum never stopped believing, even if most others did.
Even as late polls showed Gillum was surging, he still trailed Gwen Graham by 5 points. She was trying to make history, too, by becoming the first woman to hold Florida's top office.
So, what happened?
An endorsement by Bernie Sanders certainly helped. Gillum pushes a populist agenda – a $1 billion increased commitment to public education. Increased vocational training. A ban on assault weapons, high-capacity magazines, and bump stocks, and tougher background checks.
He will actually use the words "climate change" from the Governor's pulpit if elected.
He proposes raising corporate taxes or, as he calls it, "ask the richest corporations to pay a little more of their fair share."
It is a reliably progressively agenda, against what is sure to be a 180-degree opposite in DeSantis.
But let's leave the policy wonk stuff for another day and focus on what we just saw.
While Gillum might have been mayor of Florida's capital city, he still was largely an unknown through the rest of the state. He called himself the only "non-millionaire" in the race. It's true he was out-moneyed by billionaires Philip Levine and Jeff Greene.
Graham had a famous last name; her father, Bob Graham, served both as Governor of Florida and in the U.S. Senate.
How could the son of a bus driver overcome that?
It started with a message that resonated. His Democratic rivals stressed many of the same points, but Gillum's progressive and "why not now?" platform seemed to connect. Voters clearly saw him as the face and voice of change they were looking for.
It's a remarkable achievement to get this far.
The journey isn't done, though.
To break 20 years of Republican rule in Tallahassee, Gillum will have to convince a statewide electorate that he is more than a fresh face and more than just the latest face of history. It will be his challenge to prove he has answers as well as a great story.
Tuesday was a night for Gillum and his supporters to celebrate and reflect. They have accomplished something that wasn't supposed to happen. They proved the experts wrong. They believed when few others did.
The son of a bus driver is the Democratic nominee for Governor in Florida.
They made history. But as the primary result proved, anyone who believes Andrew Gillum is satisfied with getting that far is mistaken.