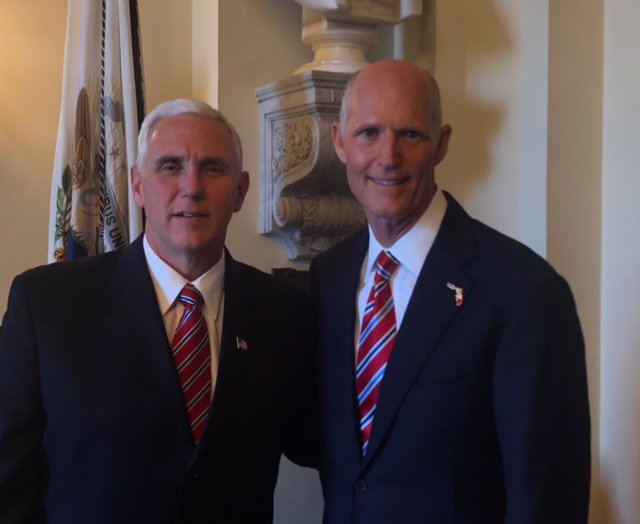 Vice President Mike Pence will headline a fundraiser for Senate candidate Rick Scott on Thursday in Orlando.
Palm Beach philanthropist Darlene Jordan and Texas GOP donor Tom Hicks, Jr. will host the event, which has a suggested contribution level of  $250 for individuals.
A specific location for the Sept. 6 "afternoon reception" has yet to be released. The event happens the same day as Scott's "Let's Get to Work: Kickoff to November!" press conference with state elected officials.
Scott and Pence have appeared together in Orlando in the past. The Florida governor last year joined the vice president for a business roundtable at the Correct Craft factory last year to promote President Donald Trump's tax cut proposal.
At the time, Pence stressed a message of helping "job creators," a theme much in line with Rick Scott's "Let's Get to Work" message that fueled his two terms as Florida's top elected official.
"It's the jobs creators that are here today that we feel the greatest debt to, men and women that put their resources and time on the line to create opportunities," Pence said then.
Now, Scott is challenging three-term Democratic U.S. Sen. Bill Nelson in the November general election.
Scott, of course, proved a valuable ally to now-President Donald Trump in 2016, when the Republican ticket carried Florida in the presidential election.
Trump publicly stated during visits to Florida last year he hoped Scott would run for Senate.
But since announcing his run in April, Scott has kept a cautious distance from the currently unpopular president. But even while Trump has been unpopular generally, he's at record levels of popularity among Republicans.
Pence, incidentally, has been consistently more popular than Trump.
Jordan, executive director of the Gerald R. Jordan Foundation, has been a close Scott ally for years.
The governor appointed her in 2016 to the State University System of Florida's board of governors. Last year, Scott named Jordan to the Florida Constitution Revision Commission.
Hicks, a partner at Hicks Holdings, served as national finance co-chair for Trump's presidential campaign and as vice chairman of the finance committee for the 2017 Presidential Inauguration.