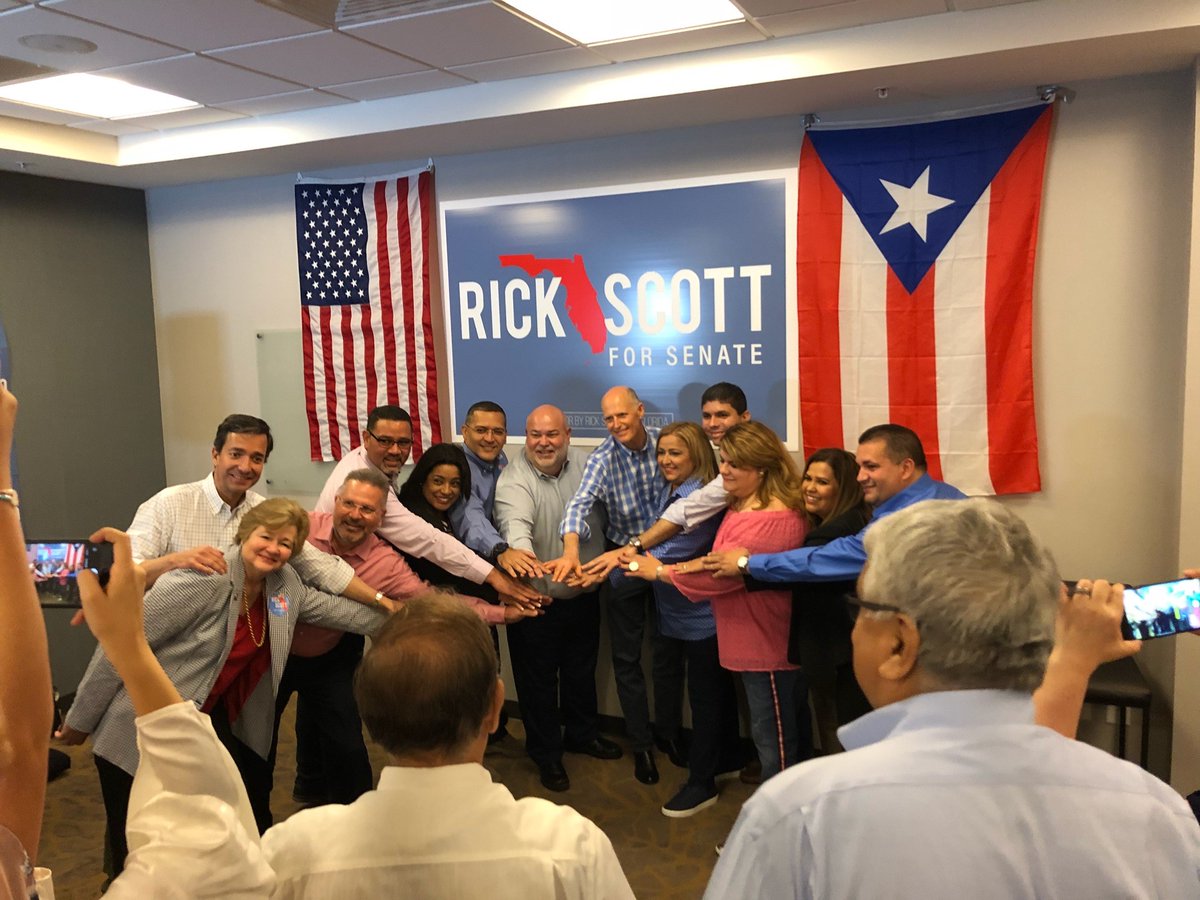 Jenniffer González-Colón, the resident commissioner representing Puerto Rico in Congress, rallied with other island leaders behind Gov. Rick Scott's Senate bid today.
Scott held a news conference this morning at the Wingate by Windham Miami Airport where a dozen leaders from Puerto Rico appeared and endorsed the Republican candidate, who is challenging Democratic U.S. Sen. Bill Nelson in the Nov. 6 general election.
"It has been an honor to work alongside Congresswoman Jenniffer González-Colón and Puerto Rico's elected officials to support Puerto Rico's ongoing recovery," said Scott, "and ensure Puerto Rican families here in Florida have the resources they need to succeed."
González-Colón, a member of the Republican Party, spoke on social media in Spanish about her support, saying that Florida's governor showed his human quality in reaching out to Puerto Rico after Hurricane Maria devastated the island nation and has opened the doors for those leaving Puerto Rico who chose Florida as their new home.
.@ScottforFlorida demostró su calidad humana al inmediatamente extendernos una mano ante la catástrofe q sufría PR a causa de Marìa. Continúa pendiente de las necesidades de los ciudadanos en PR y le abrió las puertas a quienes escogieron Florida como su nuevo hogar. Gracias! pic.twitter.com/rXpWd8GICS

— Jenniffer González (@Jenniffer2012) September 1, 2018
The other leaders backing Scott included: former Puerto Rico Governor Luis Fortuño; Speaker of the Puerto Rico House of Representatives Johnny Mendez; former Speaker of the Puerto Rico House Jose Aponte; Puerto Rico Reps. Eddie Charbonier, Michael Abid Quiñones, José Quiquito Meléndez, Lourdes Ramos, Manuel Claudio, Jackie Rodriguez and Milagros Charbonier; and Puerto Rico Committeewoman Zoraida Fonalledas.
González-Colón, the first woman ever elected as Puerto Rico's lone, non-voting representative in the House, formally endorsed Scott back in May.
"They say that hard times will always reveal true friends, and I cannot think of a better friend to the American citizens of Puerto Rico than Governor Scott," she said then.
The storm, of course, could have huge impacts on Florida politics, as displaced residents move to Florida. As U.S. citizens, those who move their voter registration to the state will have the right to vote in elections this year.
That's generally been seen as potentially beneficial to Democrats, especially as President Donald Trump's administration comes under fire for its response to hurricane recovery.
Puerto Rican officials last week amended the number of confirmed deaths from last year's storm from 64 to 2,975. And other Puerto Rican leaders have become involved in Democratic politics in the state.
Gov. Pedro Rosselló in June endorsed Nelson, for example.
But the disdain among Puerto Rican voters for Trump does not seem to extend to Scott.
In July, a poll by Florida International University found 75 percent of Puerto Rican transplants to Florida held a favorable view of Scott, compared to just 62 percent with a favorable view of Nelson.
Scott made more than a half dozen official visits to Puerto Rico in the aftermath of Maria, and at the Saturday event also raised the economic relationship between Florida and the island.
"We have worked hard to help our neighbors in need and create a booming economy that provides opportunities for every family in Florida," he said.