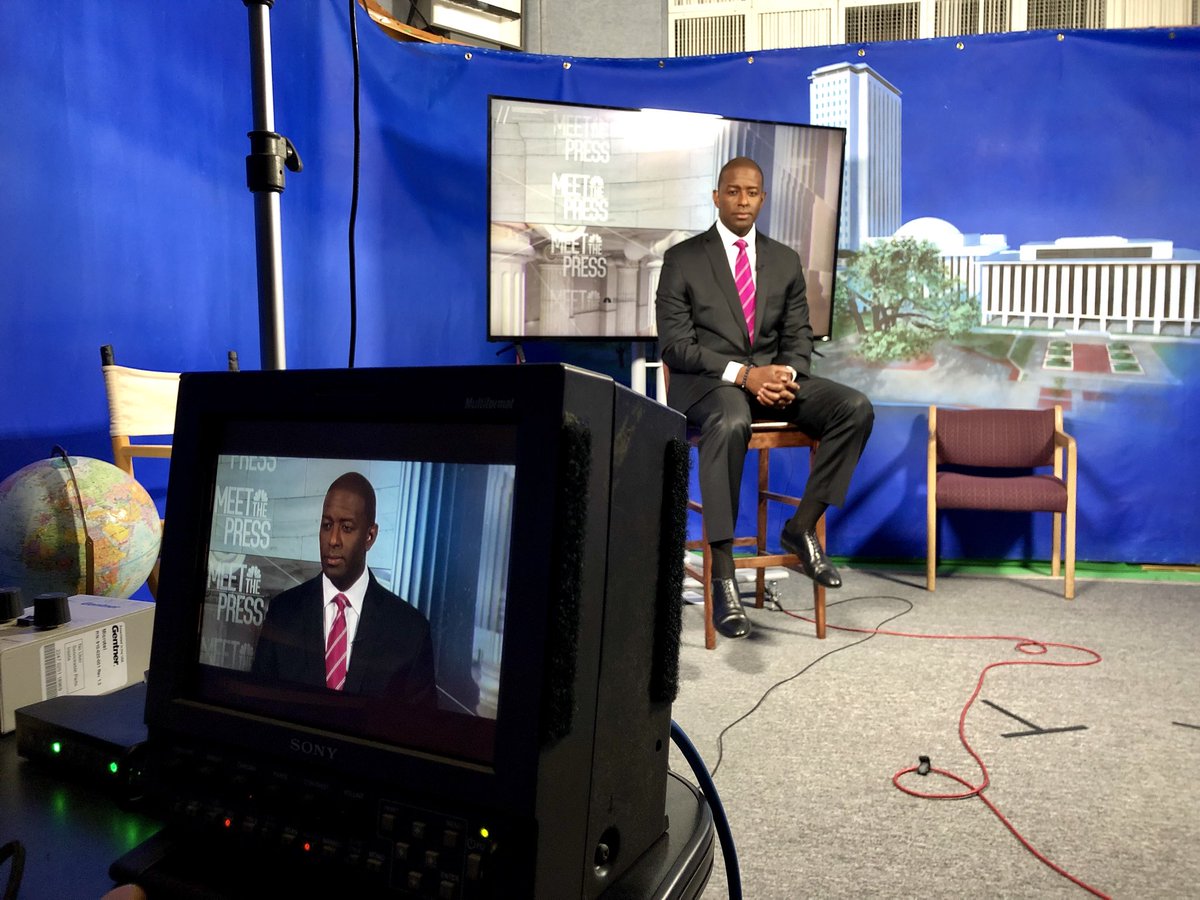 Democratic candidate Andrew Gillum during a round of political talk show interviews Sunday morning called for racist rhetoric to be toned down in Florida's gubernatorial campaign.
He also spoke to Republican opponent Ron DeSantis' now-infamous "monkey this up" comment made on Fox News the day after the primary election.
"I do find it deeply regrettable, on the day right after I secured the Democratic nomination we had to deal with some of the dog whistles directly from my opponent," Gillum told CNN's Dana Bash on her "State of the Union" program.
The response came after Bash asked Gillum about robocalls reportedly released by an Idaho-based Neo-Nazi group.
Gillum, Florida first black gubernatorial nominee from a major political party, said he would like race left out of the campaign.
"I want to make sure that we don't racialize and frankly weaponize race as a part of this process," Gillum said, "which is why I called on my opponent to really work to rise above some these things."
On NBC's "Meet The Press," host Chuck Todd asked Gillum if he was satisfied at how swiftly Republic leaders denounced the Neo-Nazi calls, the Democrat said he had been pleased by that but still felt DeSantis needed to show greater leadership on the matter.
"It's important for Ron DeSantis to take control and ownership of his own rhetoric and words," Gillum said. "People take their cues and act out in ways far beyond what's appropriate in this environment."
Todd noted DeSantis has declined an invitation to appear on the show.
On MSNBC's "A.M. Joy," Gillum told host Joy Reid that DeSantis should raise the rhetoric of the campaign.
"He's a Harvard-educated man, surely he knows his way around the U.S. vocabulary," Gillum said of DeSantis. "But he chooses rather to embrace these kinds of dog whistles and bullhorns."
Gillum said his focus through the campaign would be on issues like health care and gun reform, and he returned to a regular primary message of financially empowering the low- and middle-class.
"I have not called him a racist," Gillum said on Todd's show. "What I will call him is someone who has worked to undermine the health care system and to give more and more money to corporations."
Todd asked Gillum about the fact his candidacy thus far has been funded by billionaires like George Soros and Tom Steyer, but Gillum said a $2-million injection into his post-primary campaign comes mostly from small donors. Gillum noted his mother has been using auto-donations of $20 a month toward the campaign.
When Todd asked if Gillum expected more funding to come from the Democratic Governors Association, Gillum suggested Todd as a Florida native understood the significance of the race.
"You know this being a homeboy yourself that the implications here in Florida are so great not just in this race for Governor and the Cabinet but also in the United States Senate," Gillum said.
Gillum also committed to make all his travel receipts related to an FBI investigation in Tallahassee available shortly after an ethics interview concludes this week.