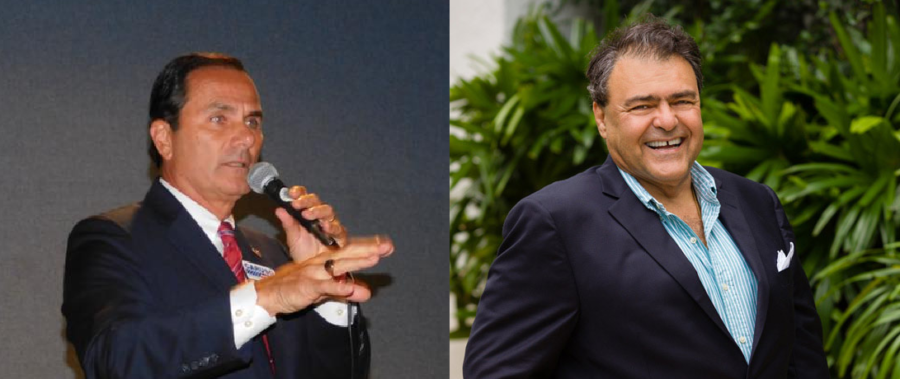 Now that the general election matchups are set in stone, Democrats have their eyes on several GOP U.S. House seats come November.
But some state races are showing signs they could flip as well, including House District 89 in Palm Beach County.
The contest is open as current state Rep. Bill Hager is term-limited. Last month, Ocean Ridge Mayor Jim Bonfiglio earned the Democratic nomination, while accountant Mike Caruso won the GOP nod.
Caruso embraced Donald Trump "bigly" in his primary race against Matt Spritz. The two traded barbs throughout the contest over who was the bigger Trump supporter.
Spritz hit Caruso for accepting money from a lawyer who had filed a lawsuit seeking to declare President Trump "incompetent." Caruso fired back at Spritz after an old quote from Spritz resurfaced where he essentially declared himself a "never Trumper" during the 2016 campaign.
With Caruso the last (Republican) man standing, will his support of Trump help him turn out voters on Nov. 6? Or will it be a classic example of pushing to win the primary at the expense of the general election?
The enthusiasm gap is always given a hefty amount of attention leading up to the midterms. If Caruso's goal is to motivate the Republican base to show up on Election Day, his strong showing of support for the President could do the trick.
While Trump has had historically low approval ratings throughout most of his time in office, his support among Republicans has hovered close to 90 percent for a while now.
Trump's overall ratings are dragged down by disapproval from Democrats and Independents, and Democrats' dislike of Trump is surely a factor in their high enthusiasm levels ahead of the midterms. It may be difficult for Caruso to win over those voters, so tying himself to Trump could help Caruso combat Democrats' enthusiasm by compelling GOP voters to turn out on his behalf.
Or, it could push Democrats to turn out at even higher levels.
HD 89 was one of only six districts in the entire state to flip from voting for Mitt Romney in 2012 to supporting Hillary Clinton in 2016, according to an analysis by MCI Maps. If that aversion to Trump has strengthened in the ensuing two years, that could spell trouble for Caruso.
However, Caruso does have the advantage of running to replace Hager, a Republican who ran unopposed in 2016. Hager has represented the district since 2010. That shows there is enough of a base of GOP support to push Caruso into the legislature into November.
But there's a catch as well. While Hager did not face opposition in 2016, he survived tough challenges in both 2012 and 2014.
Hager won by just 5.4 percentage points in 2012. That margin dropped to 5 percentage points in 2014. If the political winds have shifted in favor of the Democrats in 2018, that gap could be closed, with or without Caruso's strong defense of Trump.
Bonfiglio also maintains a lead in cash on hand, according to the most recent filings with the Florida Division of Elections. Bonfiglio holds just under $90,000, with Caruso sitting at just under $80,000.
Caruso has raised more money overall, earning more than $72,000 in outside donations. That nearly doubles Bonfiglio's mark of $36,500. Both candidates have also loaned their campaigns about $200,000. But Caruso's sizable expenditures during the primary have left him with slightly less cash for the general as it stands right now.
Democrats also turned out more voters in last month's primary elections, beating out Republicans 12,437 to 12,028. Though there's no guarantee that pattern will repeat on Nov. 6, it's certainly not a bad sign for Democrats' chances.
There's still more than two months to go before the vote, meaning plenty could change between now and Nov. 6. But HD 89 is a race to keep an eye on, as it looks to be one of the more competitive state House elections in 2018.