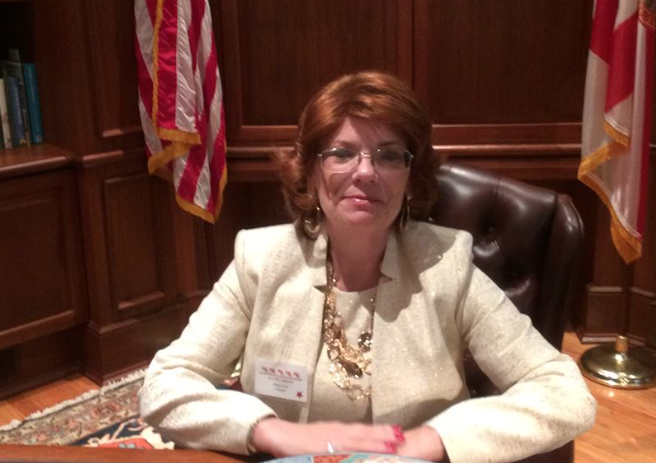 The Orange County Republican Executive Committee called Wednesday for Kathy Gibson to resign as the county's state committeewoman to the Republican Party of Florida.
The Republican panel made that decision Wednesday afternoon shortly after Republican congressional candidates Wayne Liebnitzky and Mike Miller made similar demands, joining gubernatorial nominee Ron DeSantis in calling for Gibson to step aside.
The calls for her immediate resignation developed from outrage over a social media meme that appeared under Gibson's Facebook account, falsely claiming that Democratic gubernatorial candidate Andrew Gillum was going to make Florida pay for its part in slavery. The meme, widely denounced as racist, appeared Monday night, and has since been deleted. Gov. Rick Scott also condemned any statements that would seek to "divide the people of Florida by race or ethnicity," though he stopped short of calling for Gibson's resignation.
She later claimed, in another Facebook post, that it was not hers and that her account had been hacked.
Republicans apparently are not buying that.
The controversy grew Wednesday in advance of the big Republican unity rally that Orange County is set to host Thursday.
It is to feature Scott, DeSantis, Liebnitzky, Miller, and almost all other top Republican statewide and Central Florida candidates and officials. It is supposed to be the Republicans' big celebration and kickoff to a 2018 election campaign.
In addition, Vice President Mike Pence is coming to Orange County Thursday for a fundraiser, but apparently is not arriving in time to attend the rally.
"We need people with a moral compass," Liebnitzky said after calling for Gibson to resign.
"Kathy Gibson's insensitive comments on Facebook have no place in politics. She should resign immediately," Miller, a state representative from Orange County, said in a news release.
Earlier, both DeSantis, the congressman from Ponte Vedra Beach, and Scott denounced the post. In a statement to POLITICO, DeSantis called the thinking behind the meme "disgusting" and called for her to resign.
Orange County Republican Chair Charles Hart said Wednesday afternoon the county party's board called for her resignation.
Gibson could not be reached Wednesday for comment.
However, on her Facebook page, around midnight going into Wednesday Gibson wrote, "To All Family & Friends Please be Advised that my Facebook Page was Hacked today. All Passwords & Codes have been Changed. If you saw anything today that didn't sound like me, please let me Thank You."
The response comments on that post were mostly not sympathetic. "Nice try," one person commented. "God shall not be mocked. He knows you posted untrue information and are now lying about it," wrote another. "Grow up and own it," said a third. Others used foul language to say the same things.
If Gibson resigns, she would be the second state official to the Republican Party of Florida from Orange County to resign this summer. Earlier, State Committeeman Paul Paulson resigned over scandalous reports involving a fraudulent charity he was running. He was replaced by Rich Crotty.
Gibson is an elected official, so she would have to submit a resignation to RPOF Chairman Blaise Ingoglia. However, the Orange County Executive Committee would have to select a replacement, as it did in Paulson's situation.