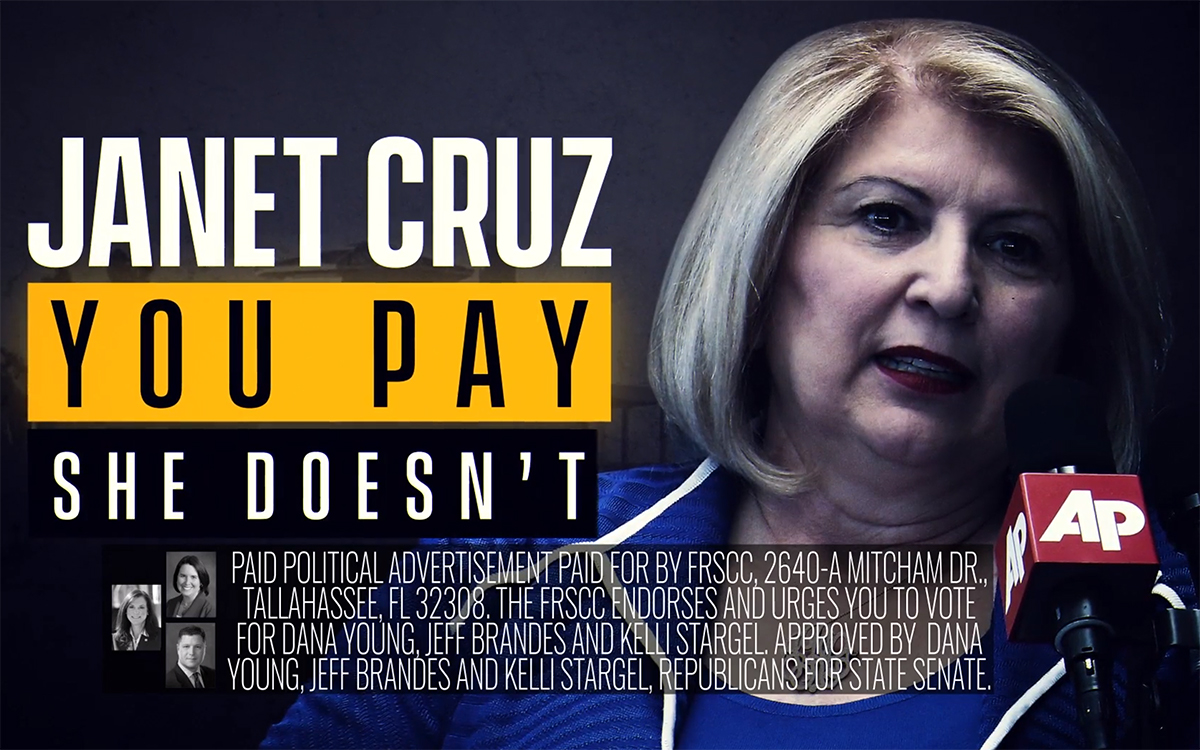 A new ad paid for by a committee charged with maintaining the Republican majority in the state Senate is hitting House Minority Leader and Senate District 18 candidate Janet Cruz for claiming homestead exemptions on multiple properties a decade ago.
The ad, titled "Lower Taxes," notes that even though the Tampa Democrat, who is challenging incumbent Republican Sen. Dana Young, slipped up on paying all of her own property taxes, she voted against a 2017 bill to increase the homestead exemption for all Floridians.
"What do you call a career politician who wants you to pay higher taxes while she plays less? Janet Cruz," the ad's narrator says. "Janet Cruz voted against increasing your homestead exemption but was caught red-handed illegally claiming two exemptions for herself.
"Her second exemption? This multimillion dollar bayfront mansion," the ad says while showing a picture of the property. "For five years, Cruz cheated on over $32,000 in taxes then voted to up yours. The Janet Cruz tax plan: You pay more. She pays less."
The ad disclosure states it was paid for by the Florida Republican Senatorial Campaign Committee, a political committee chaired by incoming Senate President Bill Galvano that supports Republican state Senate candidates.
Cruz indeed claimed multiple homestead exemptions from 2004 through 2008, leading the Hillsborough County Property Appraiser to place a $32,000 lien for back taxes on an Empedrado Street home she purchased in 1983. As noted in a 2010 Tampa Tribune article, Cruz had been living in a San Miguel Street home owned by her husband while her then 29-year-old son was living in the Empedrado home.
Florida law only allows property owners to claim homestead exemptions on their permanent residence or the permanent residence of a dependent. Currently, Floridians are exempt from paying taxes other than school district levies on up to $75,000 of the value of their home, depending on its assessed value.
That article also quotes an attorney for the property appraiser's office as saying Cruz "brought it forward" rather than the appraiser's office discovering the improper homestead exemption and added that the double exemption didn't appear to be an intentional violation of state law. In another article, published in 2010, Cruz said she would pay the taxes rather than appeal the lien in court.
"I have always operated within what I thought was my obligation as a taxpayer. As soon as this was brought to my attention, I immediately contacted the Property Appraiser's Office and went through the proper channels to remedy this situation," she said in a 2010 statement. "I will certainly do what any responsible citizen would do and pay what I am obligated to pay."
The ad comes as Cruz is set to release her first TV spot, which details her back story and her reasons for running for the northwestern Hillsborough Senate seat. Young released her first ad of the 2018 election cycle, which pitched her as a problem solver in a time of partisan fighting, in late July.
SD 18 is one of the Florida Democratic Party's top targets for a flip in the fall and, as evidenced by FRSCC's new ad, Florida Republicans are going to be aggressively defending the seat.
The district covers much of Tampa and has a close partisan split in voter registrations. SD 18 voted plus-6 for Hillary Clinton two years ago while at the same time electing Young with a plurality of the vote in a four-way race between her, Democratic nominee Bob Buesing and NPA candidates Joe Redner and Sheldon Upthegrove.
Only Cruz and Young will be on the Nov. 6 general election ballot.