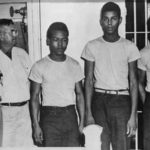 In 2017 the Florida Legislature acknowledged and apologized for one of Florida's ugliest recorded events of 20th-century racism. Yet barring a late surprise it would be left to the next state government to address the Groveland Four, and all four Democratic Florida Cabinet nominees pledged they would move swiftly, if elected, to issue long-sought pardons.
On Tuesday the Florida Board of Clemency will meet. As with the previous five times the board has met since the Florida Legislature urged Gov. Rick Scott and the Florida Cabinet to issue posthumous pardons for "grave injustices perpetrated against Charles Greenlee, Walter Irvin, Samuel Shepherd, and Ernest Thomas," such pardons are not on the agenda.
The offices of Scott and the other Cabinet members, Attorney General Pam Bondi, Agriculture Commissioner Adam Putnam and Chief Financial Officer Jimmy Patronis, have never publicly said whether they have any intention of considering the pardons demanded by the Legislature and families of the four men whose lives were destroyed in 1949 after what now are recognized as false rape accusations and a series of racism-fueled injustices.
That silence continued through the end of last week, despite fresh inquiries from Florida Politics and others. On Friday, Scott's office provided essentially the same response it did twice earlier, last October and in April, saying only that he is keeping his options open. The statement did not say what those options might be, or if the options include not acting at all.
The bipartisan-pushed and -celebrated resolution CS/HCR 631 was unanimously approved by both chambers of the Florida Legislature in April 2017, urging them to perform "expedited clemency review of the cases and grant full pardons."
Now, all four Democratic Florida Cabinet nominees including gubernatorial nominee Andrew Gillum are making it clear that they would act swiftly, if elected, on behalf of the Groveland Four. The Republican nominees each declined opportunities to comment on the pardons.
The Democrats also are declaring shame on Scott, Bondi, Putnam and Patronis for doing and saying nothing so far.
There is only one more scheduled meeting of the Clemency Board under Scott and the current Florida Cabinet, set for Dec. 5.
"It makes me incensed that the Cabinet would just ignore the will of a bipartisan Legislature," said Democratic chief financial officer nominee Jeremy Ring, a former state senator. "This was [Republican House Speaker] Richard Corcoran and [Democratic state Sen.] Gary Farmer coming together, right? This was a unanimous decision. … But more than just absurd that they would ignore the Legislature, it's unconscionable and mean that they would ignore the families."
"The total silence from the Governor and Florida Cabinet on expediting the pardons of the Groveland Four speaks volumes about why we so desperately need new leadership in Tallahassee," Democratic agriculture commissioner nominee Nikki Fried said in a written statement. "As ag commissioner, and a member of the cabinet, I would not hesitate to move the clemency review process, and these long-deserved pardons, forward quickly. The Groveland Four, and their families, deserve to finally realize the justice they were never able to in their lifetimes. And Florida deserves a Cabinet that will actually act in the spirit of fairness and compassion when it comes to the clemency review process."
"Justice for Ernest Thomas, Charles Greenlee, Samuel Shepherd and Walter Irvin is seven decades overdue," Democratic attorney general nominee Sean Shaw said in written statement. "I will do everything within my power to bring closure for these families if this is not resolved by my first Clemency Board meeting as attorney general."
Gillum declined to comment, though his campaign staff and his running mate made it clear he, too, is ready to issue pardons.
"The mistreatment suffered by these young men should trouble every law-abiding citizen and posthumous pardons from Gov. Scott are long overdue," Democratic lieutenant governor nominee Chris King said in a written statement.
Records released by the FBI and evidence and testimony gathered by Civil Rights crusaiders including Thurgood Marshall, the future Supreme Court justice, laid a powerful case that the four were falsely accused of raping a white woman in a rural area of Lake County outside Groveland in 1949. The story of racism and justice gone awry, and the individual stories of nightmares-come-true of the Groveland Four, were first comprehensively detailed in Gary Corsair's 2012 book "Legal Lynching: The Sad Saga of the Groveland Four" and then internationally exposed in Gilbert King's Pulitzer Prize-winning, 2013 best seller "Devil in the Grove."
Shepherd and Thomas were killed in custody. Greenlee and Irvin were convicted and imprisoned. They since have died.
"We hereby acknowledge that Charles Greenlee, Walter Irvin, Samuel Shepherd, and Ernest Thomas, the Groveland Four, were the victims of gross injustices and that their abhorrent treatment by the criminal justice system is a shameful chapter in this state's history," the Florida Legislature declared in the resolution.
The resolution also extended the Florida Legislature's "heartfelt apology to the families … for the enduring sorrow caused by the criminal justice system's failure."
The desperate familes, watching aging loved ones who are contemporaries of the Groveland Four move into the twilights of their lives, have gone from joyful to angry as time has slipped by since that resolution was published, Ap;ril 28, 2017, without any word of formal considerations of such pardons from the Florida Cabinet.
They're now assisted by a loosely-defined group that is getting pro-bono help from the firm Edelman Orlando for a more organized push for the pardons. The nameless group includes several family members and several others who've been involved in the effort for years, such as King and Josh Venkataraman, the young activist who brought the matter to the attentions of Farmer, then-state Sen. Geraldine Thompson, state Rep. Bobby DuBose and the Legislature. The group has been writing to the Cabinet members urging action, and seeking more media attention. So far they've not heard anything from Florida Cabinet officials either.
"It's like the Legislature vote did not happen," said Greenlee's daughter, Carol Greenlee.
Among survivors is Henrietta Irvin, sister of Walter Irvin.
"There's an 84-year-old woman in Miami with crippled hands that no longer work, who can no longer bathe herself or brush her hair, who spends her days in bed, wasting away because she has no appetite – a divorcee who raised children, worked long hours at a hospital, buried two daughters, took care of a mentally disabled brother for decades, who has nurtured the hope that her wrongfully-convicted brother, Walter Lee Irvin, would one day be exonerated," Corsair wrote in an email to Florida Politics. "I believe only one thing is keeping this praiseworthy woman alive – a fading hope that the state of Florida will right a terrible wrong and restore Walter Lee Irvin's to nullify his criminal record and restore his reputation to law-abiding citizen."
The response from Scott's office, from his press secretary Ashley Cook, did not provide any specific reason for Irvin or others involved to hope that a resolution is forthcoming.
"Governor Scott is aware of the Groveland Four case and is strongly against any form of racial injustice or discrimination. Currently, the families of Walter Irvin and Charles Greenlee have applications pending with the Commission on Offender Review which, on behalf of the state of Florida, conducts clemency investigations per standard procedure and the Florida Constitution. After the Commission concludes clemency investigation, their findings are presented to the four-member Board of Executive Clemency," Cook said in a written statement. "We continue to review all of our options."
Gillum, the Tallahassee mayor, is ready to pursue pardons "following the will of the Legislature," if he is elected governor, according to his spokesman. "The Groveland Four and their families deserve closure," said Geoff Burgan.