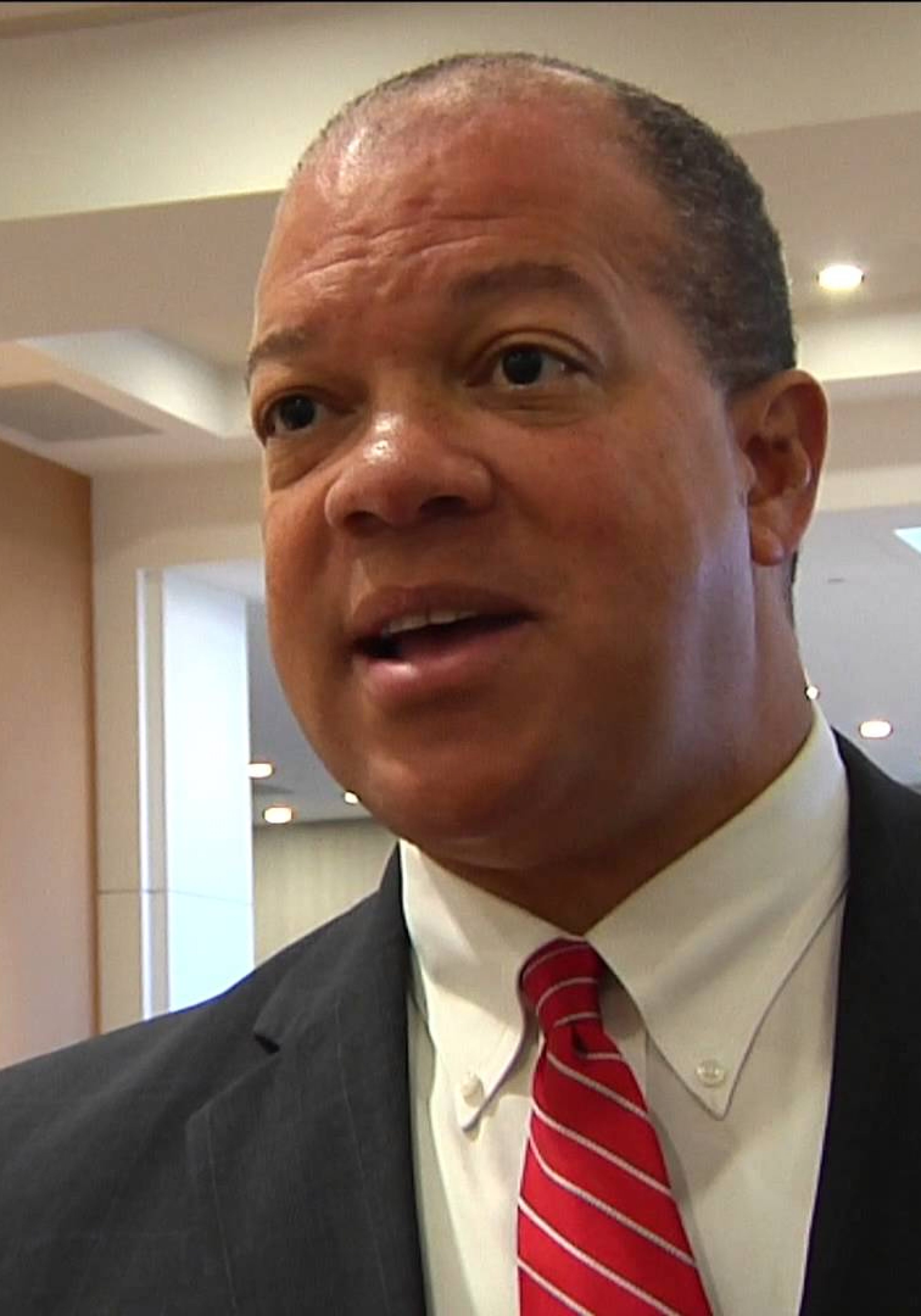 Florida's primary elections had some shockers, none more so than the surprise win of Andrew Gillum in the Democratic primary for Governor.
Further down the ticket, in the Republican primary for Escambia County's state House District 1, there was another big upset: Former state Rep. Mike Hill's 3-point victory over rising GOP star Rebekah Bydlak.
Bydlak had outraised him, outspent him and had picked up the kind of endorsements that usually carry candidates through a GOP primary — the National Rifle Association and term-limited HD 1 Rep. Clay Ingram both endorsed her, and she had an "A" rating from the staunchly anti-abortion group Florida Right to Life.
Polling also indicated Bydlak was ahead of Hill and a look at the vote totals on the Escambia County Supervisor of Elections website shows Bylak held a 52-44 percent lead among early voters, and she and Hill were tied 48-48 percent with mail ballots included.
Hill won Election Day, however, by 5 percentage points. Milton Republican Lisa Doss nearly quadrupled her vote tally to take 9 percent of the ballots cast last Tuesday.
What happened?
Hill's performance could all be due to his higher name recognition. HD 1 shares a border and media market with his old seat, HD 2, where he won a couple of elections. Two years ago, he also spent nearly $200,000 in campaign dollars running in the SD 1 Republican primary, where he lost by 14 points to now-Sen. Doug Broxson.
But the late break this year toward Hill could also be due to a string of deceitful mailers, disinformation, racially charged and sexist comments, shady campaign stunts and a fake endorsement from President Donald Trump in the closing days of the race.
Hill spent more than $25,000 in hard money on direct mail ads in the final weeks of the race, and nearly all of them smeared Bydlak.
One of Hill's mailers featured a phony picture of Bydlak smiling alongside 2016 Democratic presidential nominee Hillary Clinton and claimed Bydlak had been "kicked out of the Republican Party," didn't own a house in HD 1, received $100,000 from a member of the anti-Trump establishment tied to billionaire liberal booster George Soros and that she was pro-choice and anti-gun despite her receiving recommendations from groups that would certainly take umbrage if she held those positions.
Another mailer claimed Bydlak and Republican U.S. Rep. Justin Amash of Michigan were attacking "conservatives like Mike Hill and President Trump," and that Bydlak was trying to take down Confederate monuments in Pensacola — no small accusation in the deep-red Panhandle district.
In now-deleted social media posts, Hill also called attention to Amash's Palestinian heritage, noteworthy because of Hill's other statements about Islamic people. In early August, Hill tweeted about the "demonic Muslim horde" and retweeted a statement that "Islam is a cancer."
https://twitter.com/MikeHillfl/status/1024876221761511424
https://twitter.com/curtis_foreman/status/1031779119623626754
Also on the list of social media tactics was the use of paid campaign staffers to blast Bydlak for her not having children.
"How can a girl make good solid choices on my children and grandchildren, when she has never raised a family?" Kelly White Seward asked in a Facebook post liked and shared by Hill. Florida Division of Elections records show Seward received $2,000 in payments from Hill's campaign account during the 2018 cycle.
All the while, Hill has allowed racism to fester on his campaign's official Facebook page, where his supporters have repeated Republican gubernatorial nominee Ron DeSantis' possibly misinterpreted "monkey" comment. More overt: Another supporter responded to a Facebook post Hill made criticizing Democratic gubernatorial nominee Andrew Gillum by saying the Tallahassee Mayor should be "picking cotton."
While Hill was pouring money into the negative ads and stoking racial tensions, a committee tied to Clearwater Republican Rep. Chris Latvala paid thousands of dollars more for a slate of positive mailers pitching Hill as the "pro-life, pro-guns, pro-Jesus" candidate in the race.
One of the mailers paid for by Latvala's Suncoast Better Government Committee features a faked picture of Hill next to Trump and strongly insinuates the President had endorsed him — laid over the top of the Hill-Trump photo is a label that says "I like Mike."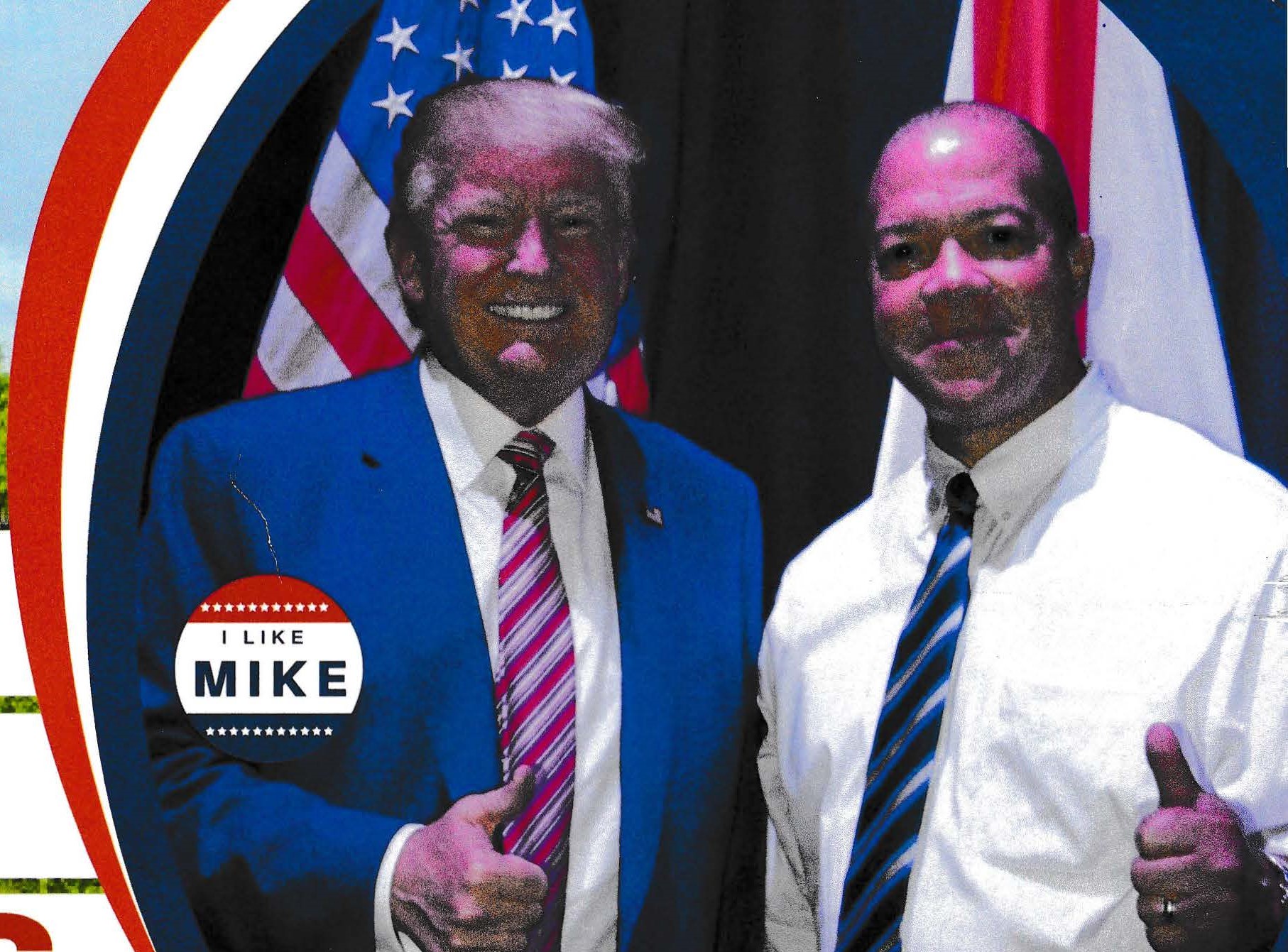 Trump did say that phrase in an early August tweet during his spat with NBA superstar LeBron James. But it was an obvious reference to Michael Jordan, whom James is most often compared to in "best ever" arguments.
https://twitter.com/realDonaldTrump/status/1025586524782559232
Hill quoted that tweet, calling it his Trump endorsement.
https://twitter.com/MikeHillfl/status/1025596181181808640
In a vacuum, that tweet could be viewed as a lighthearted joke, however, the mailers cast doubt on that and toe the line of what is considered legal campaign communications.
Under Florida law, it is illegal "for any candidate or person on behalf of a candidate to represent that any person or organization supports such candidate, unless the person or organization so represented has given specific approval in writing to the candidate to make such representation." In English: Faking an endorsement is a crime.
If the mailers don't cross a line, his odd last-minute livestream just might. The Facebook Live video features Hill standing in front of a Confederate monument holding a replica of Trump's Hollywood Walk of Fame star and teetering between representing it as real and acknowledging it was fake.
"As you can see, Pensacola, I have the Trump star. We're bringing it here to Pensacola. We're going to lay it here. Trump is an awesome president and we're going to show our support and respect for our President. Hollywood doesn't want his star, we want it here," Hill says, star in hand.
He then hedges his claim that the star is real by saying, if elected, he'll "be able to do more to make sure that this star gets here and that it stays here."
But he again purported to have the real-deal star in a Facebook post made after the livestream.
"We have President Trump's Hollywood Star! Pensacola is America's first settlement — where it all began. Fitting that we have our President's star rejected by leftists. We will honor and protect it!" he wrote.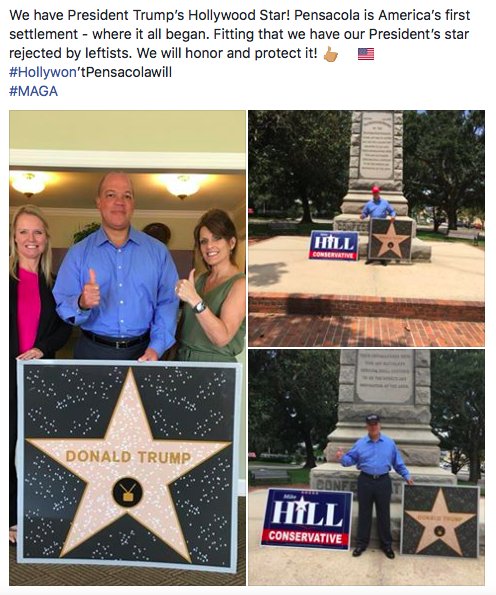 He used similar wording in an official campaign email sent via MailChimp that went out to the entire Escambia County absentee voter list.
"We have President Trump's Hollywood Star! Pensacola is America's first settlement  —where it all began. Fitting that we have our President's star rejected by Hollywood. We will honor and protect it," Hill said in the email.
Trump's Hollywood star was destroyed. Twice. According to Ana Martinez, the Hollywood Walk of Fame's producer and the vice president of media relations at the Hollywood Chamber of Commerce, Hill's star isn't the real thing.
"Oh, that's a fake," Martinez said after viewing a photo of the star. "They were destroyed with a pickaxe."
Martinez added that the Hollywood Chamber is in possession of the emblem from the original star and that the second star was essentially reduced to dust — an individual attempted to sell one shard of that star on eBay for $500 but the auction was pulled for violating the site's rules. A real Walk of Fame star weighs more than 300 pounds, Martinez added. Hill easily lifts his star in the video.
Martinez described Hill's counterfeit star as an "infringement" and said that the matter would be referred for further investigation.
Just as bizarre as those Walk of Fame claims are statements made by Doss, who entered the primary race just days ahead of the qualifying deadline and raised no money outside of the self-contribution she used to pay the ballot fee. Though it is unconfirmed, there are rumors that Doss was recruited by Hill, who has never won a one-on-one race, to help split the vote in his favor.
Florida Politics attempted to contact Doss but received no response.
According to the financial disclosure she turned in to the Florida Division of Elections, her only income was a $1,248 Social Security disability check while her two bank accounts had a combined balance of $350 on June 18. However, her listed assets also included $3,100 in cash. She used that cash to open her campaign account, leading to an audit by the Division of Election for exceeding the limit on cash contributions. She was also dinged for not listing her occupation, which she later amended to be "disabled."
Like Hill, Doss used MailChimp to send out her campaign emails while her campaign website, VoteDoss.com, was registered via the same Bulgarian-based web hosting company as Hill's campaign site: SiteGround.us. Both Hill and Doss paid the $12 fee charged by the company to hide the information of who registered their respective websites, but the servers they are hosted on are in the same Chicago data center.
Hill's domain was registered on Sept. 16, 2017, though he never reported any expenditures directly related to the website's registration, creation or upkeep. Doss' domain was registered on June 30, and the only expenditures she ever reported other than the ballot fee were $75.35 in payments to SiteGround for a "website" and "extra security for website."
Suspicions were further raised given that Doss' campaign emails and social media posts used oddly similar language and peddled the same conspiracies as Hill's — namely that Bydlak was tied to Soros and that she did not own a house in the district.
The latter attack is true, though misleading. Bydlak rents a home within the district and her parents and grandparents also live in the district, same as the past nine generations of her family. The attack that she doesn't own a home also obscures some history behind her political heritage — the first-ever meeting of the Florida Legislature was actually held within what is now HD 1 in the home of her fifth-great-grandfather, Don Manuel Gonzalez.
Doss also often referred to herself as the middle ground between Bydlak, whom she said was "too liberal," and Hill, whom she said was "too conservative." In such a red district, that statement would be more likely to benefit Hill and kneecap Bydlak than to help Doss.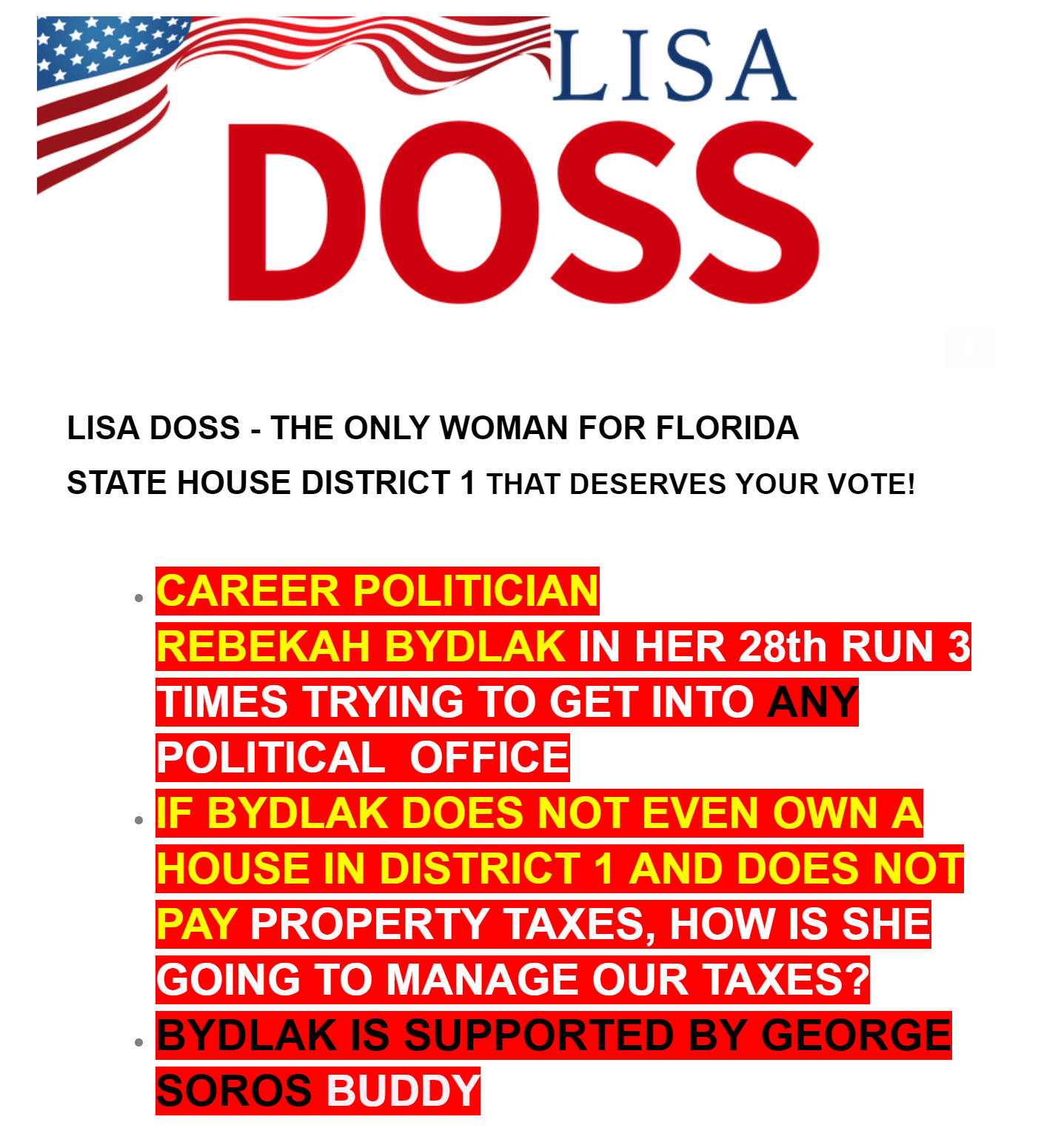 Additionally, Doss was a frequent poster on Hill's social media pages. In one Facebook post she said that even though she wanted to win the primary election, it was more important that Bydlak lose.
"Even though I'm running against Mike Hill, I do know he is a good man!! I hope 2 win but if I don't I sure hope Mike Hill does!! As a candidate myself I have done a lot of research on my opponents & the bunch funding Rebekah Bydlak I found out the same information on," she wrote, referencing Hill's Soros claims.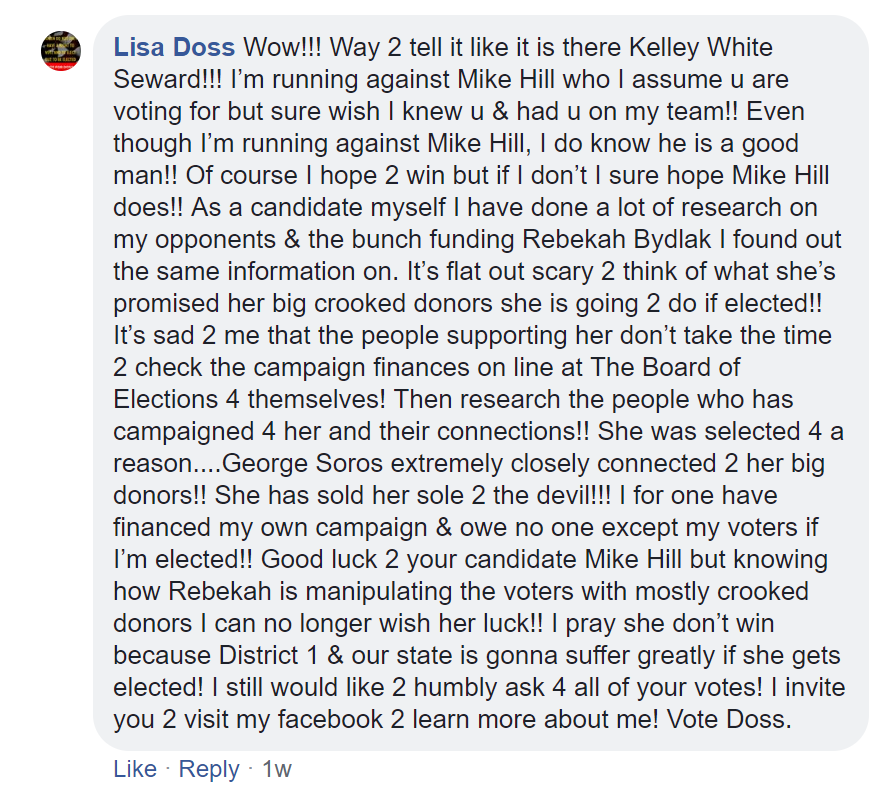 And when Doss' birthday rolled around, Hill made sure to wish her the best.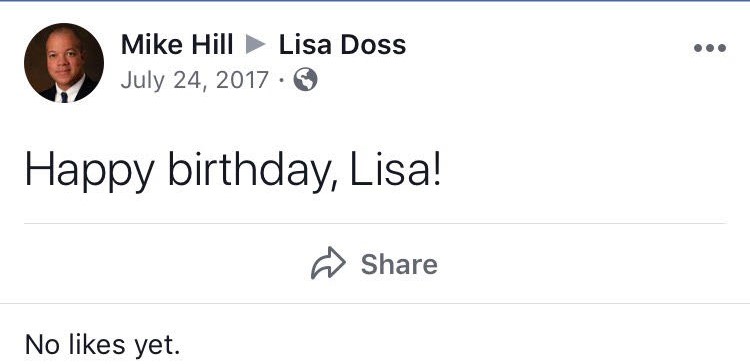 In the end, the Republican primary came down to 542 votes out of the nearly 19,000 cast, and Hill's victory virtually assures he'll cruise back into the state House after drubbing Democratic nominee Vikki Garrett in November.
Bydlak, meanwhile, steps back into private life.
"If you want to know why principled conservatives don't get involved in politics, you need only look at this race. If you want to know why conservative women run for office less frequently then men, take a look at how Mike Hill shamelessly lied to voters that Rebekah was pro-choice and anti-gun. He's disgraceful and frankly unfit for public office," said her husband, Jonathan Bydlak.
Mailers sent out by Hill's campaign and the Suncoast Better Government Committee are below.
Mike Hill direct mail ads by Andrew Wilson on Scribd