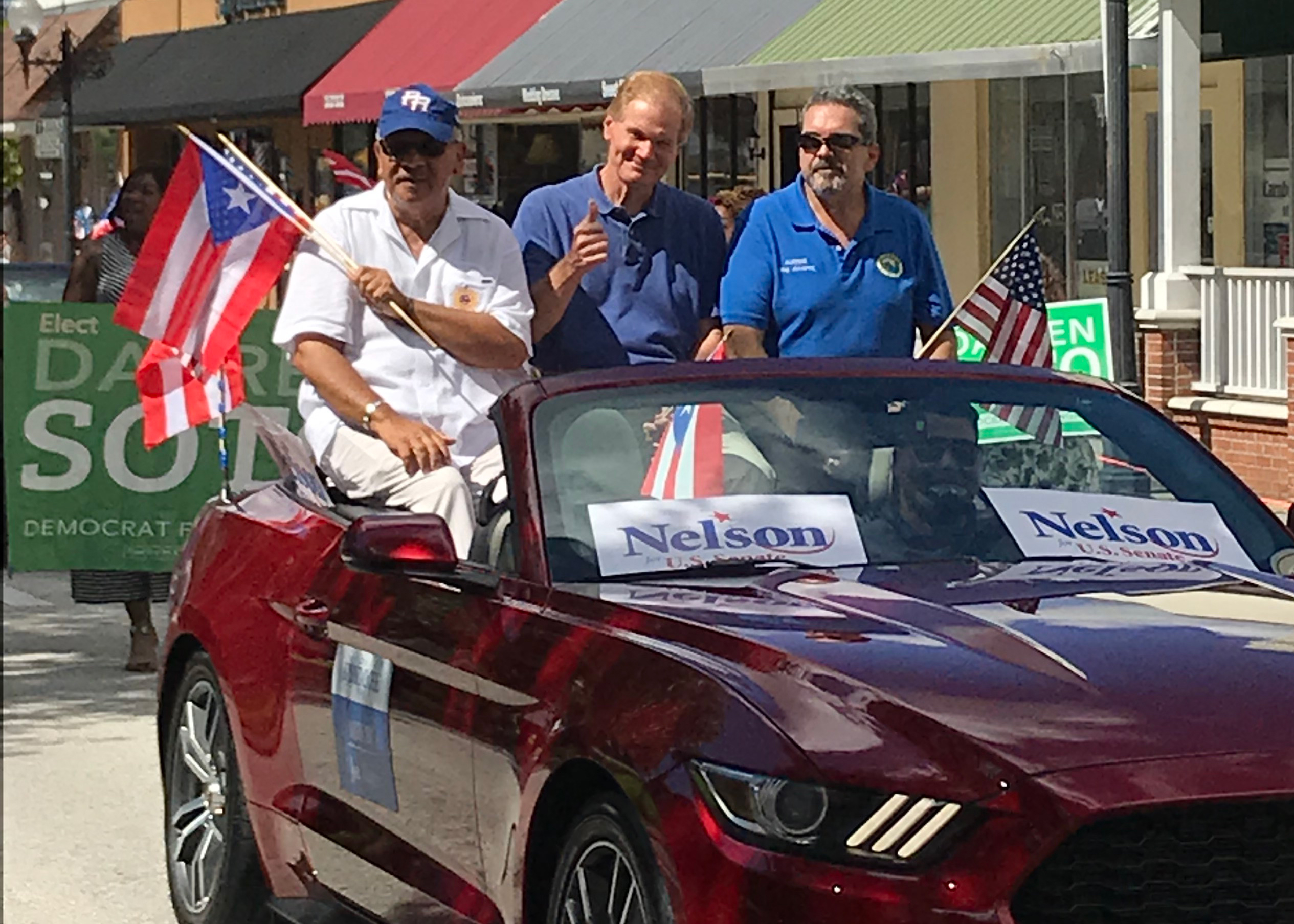 U.S. Sen. Bill Nelson today picked up the endorsements of two Hispanic leaders—Mayors Jose Alvarez and Maria "Mayita" Meléndez.
Alvarez announced his support for the Democratic incumbent shortly after Nelson participated in the Osceola County Puerto Rican Parade this morning.
At a campaign announcement, Alvarez called Nelson "the best choice not only for the people of Kissimmee and our city's Puerto Rican community, but for all Floridians."
Meléndez, the mayor of Ponce, Puerto Rico, sent a video message from the island also appealing to the many Puerto Rican residents of Florida. She cited the three-term senator's experience as reason for her support.
Nelson this year faces the toughest re-election battle of his career and remains neck-and-neck in the polls with Republican challenger Rick Scott.
The fight for support among the Puerto Rican population within Florida has been fierce. Scott's campaign a week ago held a South Florida event spotlighting the support from Puerto Rico Resident Commissioner Jenniffer González-Colón and other island leaders.
All citizens of Puerto Rico hold U.S. citizenship, and if they reside in the United States can vote in the mid-term elections. And a CNN analysis earlier this year showed a record number of Puerto Ricans migrating from the island in the aftermath of Hurricane Maria, and Florida the state where more have settled than anywhere else.
After the heavily criticized federal response to the storm, President Donald Trump has been incredibly unpopular with island voters. But a Florida International University poll found voters from the island have a high view of Scott.
That's part of why Nelson has worked hard to shore up support from the traditionally Democratic voting bloc.
Support from Meléndez could prove critical, as the Puerto Rican official runs the second-most populous city on the island behind San Juan. And Nelson already has the backing of San Juana Mayor Carmen Yulín Cruz, former Puerto Rico Govs. Pedro Rosselló and Alejandro García Padilla and former Puerto Rican Secretary of State Kenneth McClintock.
At the event where Alvarez endorsed Nelson, a number of other prominent Central Florida leaders with ties the community also appeared, including U.S. Rep. Darren Soto, state Sen. Victor Torres, state Rep. John Cortes, Osceola County Commissioners Viviana Janer and Cheryl Grieb, Kissimmee Mayor Pro Tem Jim Fisher and City Commissioner Angela Eady.
Kissimee boasts one of the highest concentrations of Puerto Rican voters in the state.
Additionally, Nelson's camp hopes Alvarez, who was born in Cuba, can help with another Hispanic voting bloc.
The Cuban-American population has been a traditionally Republican demographic, and more than half of Cuban voters in Florida backed Trump in 2016, according to Pew Research. But Democrats for years have worked to make inroads with one of the only right-leaning Hispanic groups in the country.