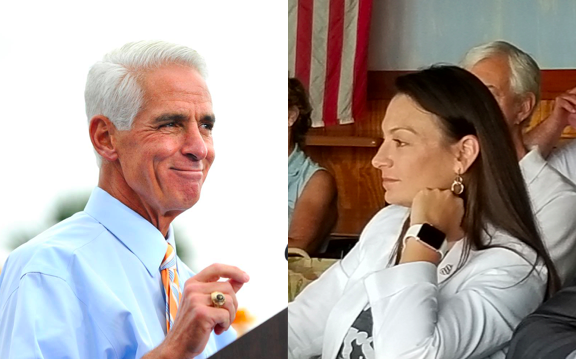 Following action by multiple banks to close Agriculture Commissioner candidate Nikki Fried's campaign accounts, U.S. Rep. Charlie Crist will file federal legislation to address conflict between federal and state marijuana laws.
Crist and Fried, both Democrats, will hold a joint press call Monday to discuss the "urgent need to reform medical marijuana advocacy at the federal level."
A release announcing the conference call stressed an overwhelming majority of Florida voters in 2016, more than 71 percent, came out in favor of enshrining legal access to medical cannabis in the state constitution.
Wells Fargo officials this month informed Fried's campaign it could not maintain accounts with the financial institute because she worked as a lobbyist for the medical marijuana industry and accepted contributions from individuals working in the field.
Friday, news broke another bank, BB&T, shut Fried's accounts down as well.
A review of Fried's campaign finances shows donations from Savara Hastings, executive director of the American Medical Marijuana Physicians Association, and Jake Bergmann, CEO for medical marijuana company Surterra Holdings, among others in the industry.
The banks' actions against Fried's campaign made national headlines.
When Florida Politics first reported the Wells Fargo news, reporters from Georgia, a state where Republicans like state Rep. Allen Peake led the charge on allowing medical marijuana to be sold, contacted this outlet about the development.
Fried also she heard from officials north of the Florida-Georgia line, and told Florida Politics an increasing number of bipartisan leaders nationwide have come around to supporting medical cannabis. On Friday, she predicted that would lead to federal action.
"In red states that have moved the needle on medical marijuana, those states are seeing their own bank accounts may be jeopardized," Fried said.
"When it starts to become a personal thing and people realize their own accounts could be closed down, you will start to see some movement in Congress."
Crist will announce details of his legislation in the conference call today. He also held a roundtable in Largo earlier this month with local veterans groups and marijuana industry leaders, then sponsored legislation aimed to protect veterans from being fired from federal jobs for using marijuana as medical treatment.
"Medical marijuana is an issue of compassion," Crist said, "and in the veterans' community, access is even more important as more and more veterans are turning to cannabis to address chronic pain and PTSD."
Fried said in many conservative areas, politicians ultimately were swayed on support for cannabis because of its effectiveness in treating first responders and others who suffer trauma.