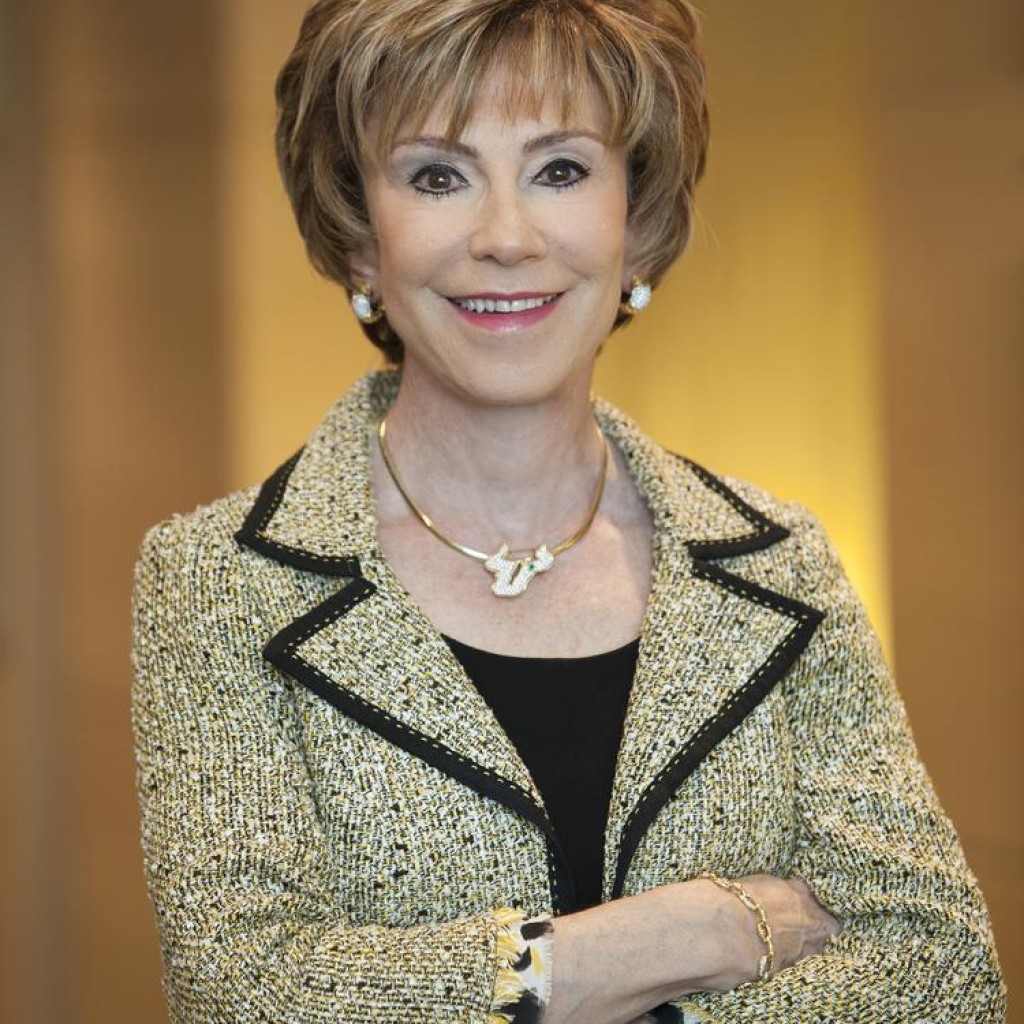 Judy Genshaft, the powerful academic leader who propelled the University of South Florida into national prominence, will announce her retirement later today (Monday).
On Monday morning, the university published a letter from Genshaft to the university community in which she thanked it for its support and friendship. She plans to step down as president on July 1, 2019, after holding the position since 2000.
The 70-year-old will outline her decision at a 2 p.m. press conference at the Patel Center.
"Nearly two decades ago, this university and this Tampa Bay community welcomed me, Steve and our sons into its family," Genshaft wrote in the letter. "The impact that this community has made on me and my family cannot be overstated, and we are deeply grateful.
Members of the board of trustees and key regional political leaders were first briefed Sunday on the development, however USF officials at first would neither confirm nor deny Genshaft's decision.
"President Genshaft has not made any announcements regarding her future," university spokesman Adam Freeman said Sunday in a statement.
Genshaft, previously the vice president of academic affairs at the University at Albany, SUNY, came on as president of USF in July 2000 following a national search to succeed Betty Castor.
During her tenure, USF grew to be a research and engineering powerhouse, and just this summer the university obtained the distinction from Florida's Board of Governors as a "preeminent university," a goal Genshaft set out during her introductory speech in the year 2000.
That guarantees millions in additional funding each year to continue building the university's academic strength.
Genshaft also welcomed the university's first Phi Beta Kappa chapter in August, further establishing the school's national reputation for academics. Just this past week, she announced new branding at the school, including a new academic logo.
"Like any great organization, we now have a clear, consistent brand to guide us as we continue to evolve in the future," Genshaft told The Oracle, the campus newspaper.
During her 18-year tenure, the six-year graduation rate at the university rose from 38 to 70 percent. And during her tenure, USF became the second public university in 50 years to complete a $1 billion capital campaign.
She's seen her share of controversies too, most notably when she suspended and later fired Palestinian professor Sami Al-Arian, who at one point was arrested on charges stemming from the USA Patriot Act.
The episode regularly gets referred to as one of the biggest academic freedom cases in U.S. history. Al-Arian, who always maintained he was a scapegoat and victim of anti-Muslim hysteria post-9/11, was deported to Turkey in 2015.
But Genshaft also worked to make sure the university grew in size, population and diversity.
She has overseen a mass expansion in the number of students receiving Pell grants, which Genshaft told WUSF earlier this year would ensure education for Tampa Bay's diverse, urban population.
"These are capable students that, with the right mentoring and the right surroundings, achieve remarkably well," she said.
In March, she named the university's newest chief diversity officer, who will oversee implementation of a system-wide diversity strategic plan.
For the past several years, the university wrestled with internal debate over consolidation.
The St. Petersburg and Sarasota-Bradenton campuses previously earned independently accredited, but the Legislature this year stripped the campuses of that honor. The USF system now has a consolidation process underway.
Over the course of her 18-year tenure, Genshaft tallied numerous honors for the university and herself, rising to become one of the most well-paid university presidents in the country, earning $1.18 million last year according to the Tampa Bay Business Journal.
She has served as the chair of the American Council on Education and was the first women ever to chair the Division I Board for the National Collegiate Athletic Association. She won the Florida Economic Council's Richard L. McLaughlin Award in addition to numerous awards with the Tampa Bay business community. And this year she serves as the chair for the Tampa Hillsborough Economic Development Corporation.
USF during her time at the helm served as an incredible economic engine. University officials say innovation and economic development efforts surrounding the Tampa campus generate $400 million in statewide impact each year, sustain more than 3,000 jobs, and return more than $52 million in tax revenue to local, state and federal governments.
No announcements have been made as far as a search for Genshaft's own successor.
—
Here is the text of the letter Genshaft sent to the USF community:
To the USF community, USF Board of Trustees and Florida Board of Governors:
The University of South Florida System is on a trajectory unlike ever before in its history. We are reaching milestones once reserved for universities twice our age. We are being recognized by everyone from local supporters to state leaders to national and global higher education stakeholders. We continue to make groundbreaking strides in research, student success, teaching and community impact. And we are coming together, for the good of our students, as one united, strong and dynamic university.
Because of this positive momentum, my family and I believe that this is the right time for me to step down from my post as President, effective July 1, 2019. It has been the honor of my professional career to be part of this journey since the year 2000.
USF is on the cusp of a new era because of the collective will and tenacity of the entire USF community. This year we were named a Preeminent State Research University by the Florida Board of Governors, we were welcomed into the prestigious Phi Beta Kappa national honor society, we surpassed our $1 billion goal for our Unstoppable campaign, we reached a record of $568 million in annual research expenditures and we admitted the most accomplished freshmen class in our university's history. The USF System has transformed into a vibrant community, with millions of dollars in new residential, academic and research facilities, including our new USF Health Morsani College of Medicine and Heart Institute in downtown Tampa. And I'm especially proud of the national recognition USF has received for our efforts to improve student success and close the graduation gap among students of all races, ethnicities and socioeconomic status.
(Read about more of our accomplishments detailed in this year's Fall Address).
All of us working together as a USF community – the students, faculty, staff, university administration, Board of Trustees, alumni, fans and supporters – is what made these achievements possible. It is this community that decided, together, to push the limits of our own potential. It is this community that will keep pushing forward as we reach greater heights of excellence.
I know that our leadership team, including our trustees, vice presidents and deans, will ensure that our strong momentum continues during the transition and beyond.
Nearly two decades ago, this university and this Tampa Bay community welcomed me, Steve and our sons into its family. The impact that this community has made on me and my family cannot be overstated, and we are deeply grateful. Thank you for your support and friendship.
GO BULLS!
Judy Genshaft
USF System President