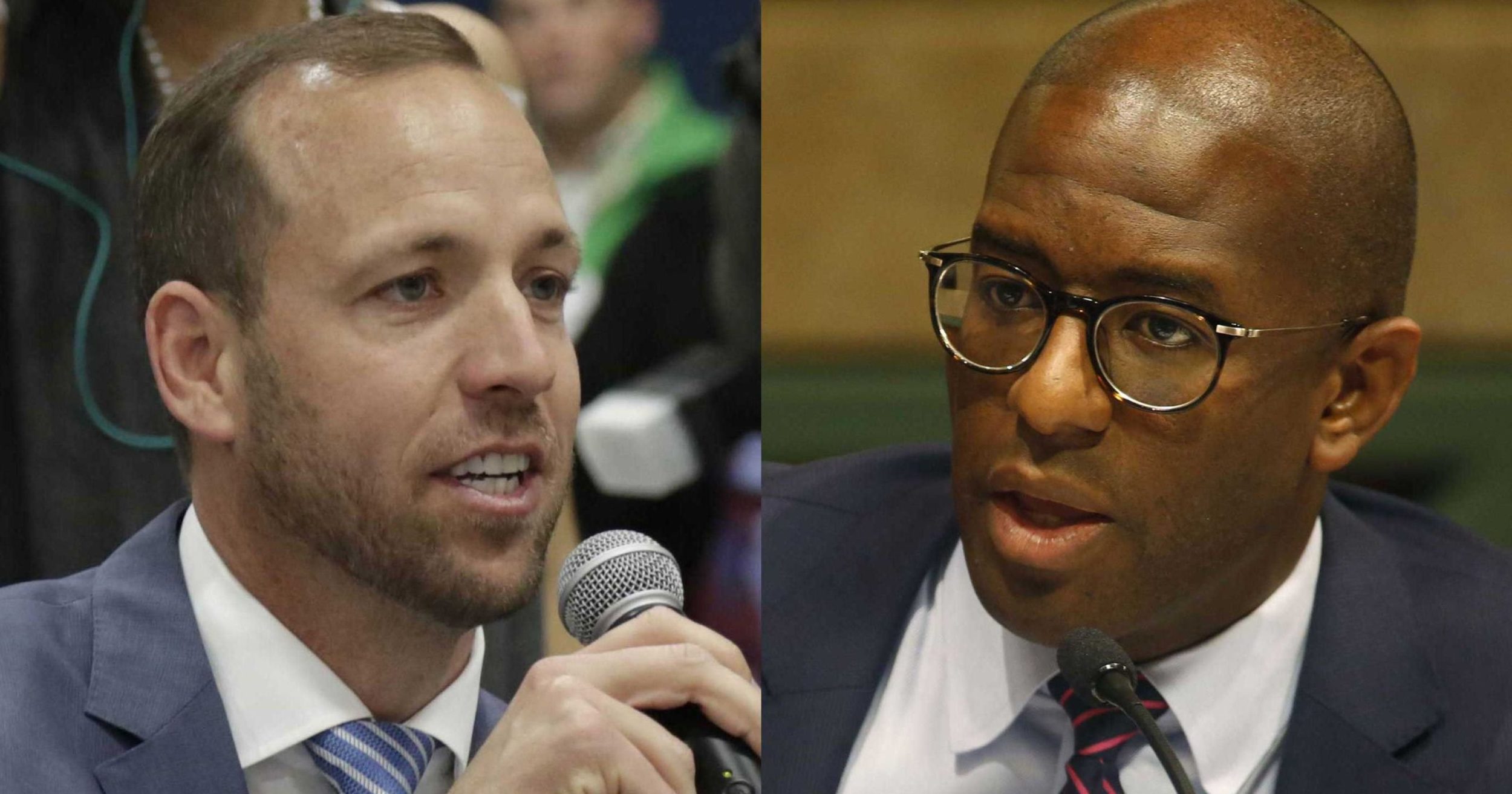 Let's give Andrew Gillum the benefit of the doubt.
When he says that the FBI told him he is not the target of an investigation into the city of Tallahassee, it's pretty easy to believe him because, from the surface level, it appears City Commissioner Scott Maddox is the politician with the crosshairs trained on him.
To refresh: Gillum has been linked to the FBI investigation thanks to his ties to Adam Corey. According to the Tallahassee Democrat, Corey, a lobbyist and entrepreneur, has been named in at least three subpoenas related to the public corruption probe. Corey's $2.1 million loan in local tax money to renovate the Tallahassee-based Edison Restaurant is part of the FBI probe.
Gillum has steadfastly maintained that he is not the subject of the federal inquiry and that he has cooperated with investigators, turning over thousands of pages of documents.
As clumsy as it was, Gillum's effort to publicly release receipts that he says show he paid for travel that is currently under investigation by the state's ethics commission has reduced the affair, at least politically, to just another case of whataboutism.
When Republicans suggest that those receipts do nothing to shed light on Gillum's luxury trips to Costa Rica and New York City with lobbyists and undercover FBI agents, Gillum's campaign gets to blast Ron DeSantis for backing Donald Trump's undermining of the FBI's probe into Russian electoral collusion.
"You've got a Republican in Ron DeSantis who's spent the last year obstructing the FBI, attacking the FBI and trying to discredit the FBI. And now he has the gall to talk about an FBI investigation that Andrew Gillum has been cooperating with and trying to help them resolve. They'll attack us on that, and we'll go right back at it," Scott Arceneaux, a former executive director of the Florida Democratic Party who's a senior consultant on Gillum's campaign, told the News Service Florida.
To bottom line it: The FBI investigation into Gillum's City Hall is mitigated by the FBI investigation into Trump's White House. This is part of the reason why the first round of public polls is deadlocked while showing intensity among each candidate's political base.
But here's what is still concerning about Gillum and those receipts: has he left himself vulnerable to a perjury charge?
Immediately after Gillum disclosed bank records to show he withdrew $400 to pay for his share of the $1,400-a-night Costa Rica villa that was shared by several couples, an attorney for Corey disputed that account, according to Gary Fineout of The Associated Press.
The attorney said Corey won the Costa Rica lodging through a charity auction and "to date Mr. Corey has not received any cash from the mayor." He added that Corey did not purchase or swap for a ticket to the Broadway show "Hamilton," which Gillum and his brother took in as part of their trip to New York City.
"The idea that Marcus Gillum would have exchanged something for the 'Hamilton' ticket is nonsense," Corey's attorney, Christopher Kise, told Fineout.
So, again, let's concede that Gillum isn't the target of the FBI investigation. Let's even concede that, in the end, even if it finds Gillum responsible for something involving that travel, the state's ethics commission really doesn't have the teeth to bite him.
And, finally, let's concede that even if the ethics commission does ultimately fault Gillum, it won't matter a lick with those supporting him because they're as against DeSantis/Trump as they are for Gillum.
All of that is conceded. But the issue still remains: Gillum provided testimony to state investigators that he paid Adam Corey cash for that trip to Costa Rica. Gillum provided testimony to state investigators that his brother had obtained a ticket to Hamilton in a swap for a concert ticket.
Corey, who has been a friend to Gillum their entire adult lives and who once served as Gillum's campaign treasurer, is publicly stating that is a lie.
This leaves the situation with three possibilities.
One, Gillum is telling the complete truth, Corey is lying and the investigation will bear that out. Gillum essentially wins.
Two, the truth is somewhere in between what Gillum and Corey are saying and the investigation will conclude without determining who is really telling the truth. Gillum wins by default.
Three, Gillum is lying and Corey has given sworn testimony to the contrary. And he's able to produce some sort of documentation to undermine Gillum's statements. Gillum could be in big trouble.
(Update — 7:42 a.m. — I guess there is a fourth possibility. Gillum could be lying, but his statements to investigators were not made under oath and therefore he might lose in the court of public opinion but he would not be in legal jeopardy.)
In an ironic way, the showdown between Gillum and Corey is similar to that of Trump and his former fixer, Michael Cohen, who blew away the president's credibility by providing federal prosecutors with evidence that Trump was lying.
Might Corey have similar evidence?
What if he has an email from the days when FBI agents weren't camped out in the capital reminding his then-friend Andrew that he needed the cash for that trip they took to Costa Rica? What if there is a loose text message to Gillum's brother, Marcus, that contradicts the ticket swap story?
Who knows what is out there.
Right now, Corey is the most intriguing character in Tallahassee. For more than a year, he has walked around town clearly having been taken down several pegs. But he still has that twinkle in his smile and he remains a charismatic figure. He has one of the best-connected lawyers in the state representing him.
And it's obvious he wants to tell someone — everyone — that he's not 100 percent to blame for what has gone down in this extraordinary saga.
Everyone assumes Corey has struck a deal with prosecutors.
What he might have had to say as part of a deal could be what decides the fate of Florida's gubernatorial race.
___
Material from The Associated Press and the News Service of Florida was used in this post.