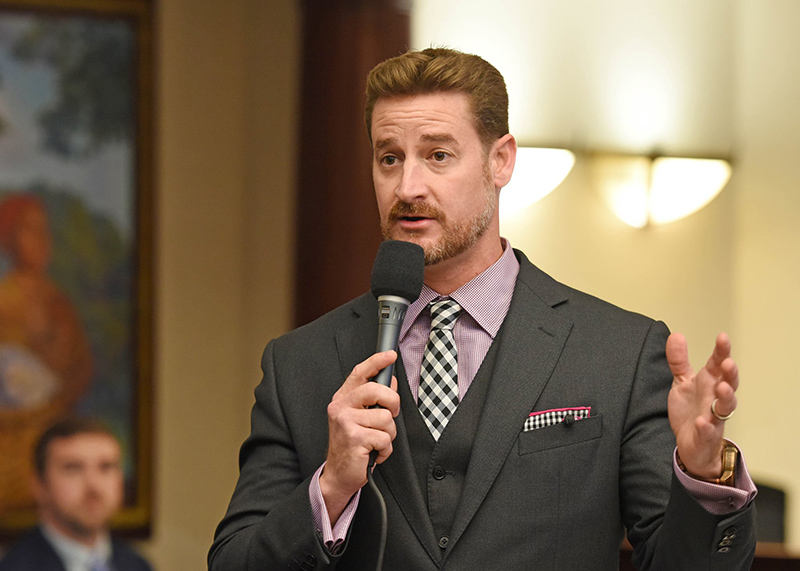 Sarasota state Sen. Greg Steube cruised through the Republican primary for Florida's 17th Congressional District, but now it's time to refill his war chest for the upcoming general election showdown with Cape Coral Democrat April Freeman.
To that end, Alan Jay Wildstein and Ashley Pierce are hosting a fundraising reception for the 40-year-old Republican's congressional campaign in Sarasota next month.
The Oct. 2 reception will run from 5:30 p.m. to 7 p.m., but it'll take an RSVP to Kelly Dowd via [email protected] to get an address for the event. The invitation lists a suggested contribution of $1,000 to get in the door.
In the Aug. 28 primary election, Steube garnered more than 60 percent of the vote while Venice state Rep. Julio Gonzalez was the pick for 18 percent of Republican voters, putting him in third place behind lesser-known candidate Bill Akins, who received 19 percent of the vote.
Gonzalez blamed his resounding defeat on several oppo dumps by the Steube campaign, including unearthing some "Never Trump" comments made by Gonzalez during U.S. Sen. Marco Rubio's doomed presidential campaign in 2016.
"My character was assassinated," Gonzalez said. "It's really sad that tonight deceit and lies prevailed in the political discourse."
On the Democratic side, Freeman scored a 77-23 victory over Bill Pollard though she faces much steeper odds in the general election for CD 17, an expansive and solidly Republican seat where President Donald Trump defeated Democratic nominee Hillary Clinton 62-35 two years ago.
When it comes to fundraising, Steube had raised more than $525,000 for his campaign account and had about $132,000 banked as of Aug. 8. Steube has also been the beneficiary of a load of spending by outside groups. In July, Club for Growth Action and Liberty and Leadership Fund said they had $627,000 banked to boost Steube's congressional bid and that they had already put $400,000 of that cash behind broadcast and cable ads.
Freeman, meanwhile, had raised just $28,265 and had $4,283 left to spend through the same date.
CD 17 is open this year thanks to current GOP U.S. Rep. Tom Rooney's decision to not seek re-election this year. The district sprawls across parts of Sarasota, Lee and Polk counties as well as the whole of Charlotte, DeSoto, Glades, Hardee, Highlands and Okeechobee counties.
Rooney has held the seat since it was redrawn ahead of the 2012 elections. Freeman was also the Democratic nominee two years ago when Rooney won re-election with 62 percent of the vote.
Election Day is Nov. 6. The fundraiser invitation is below.