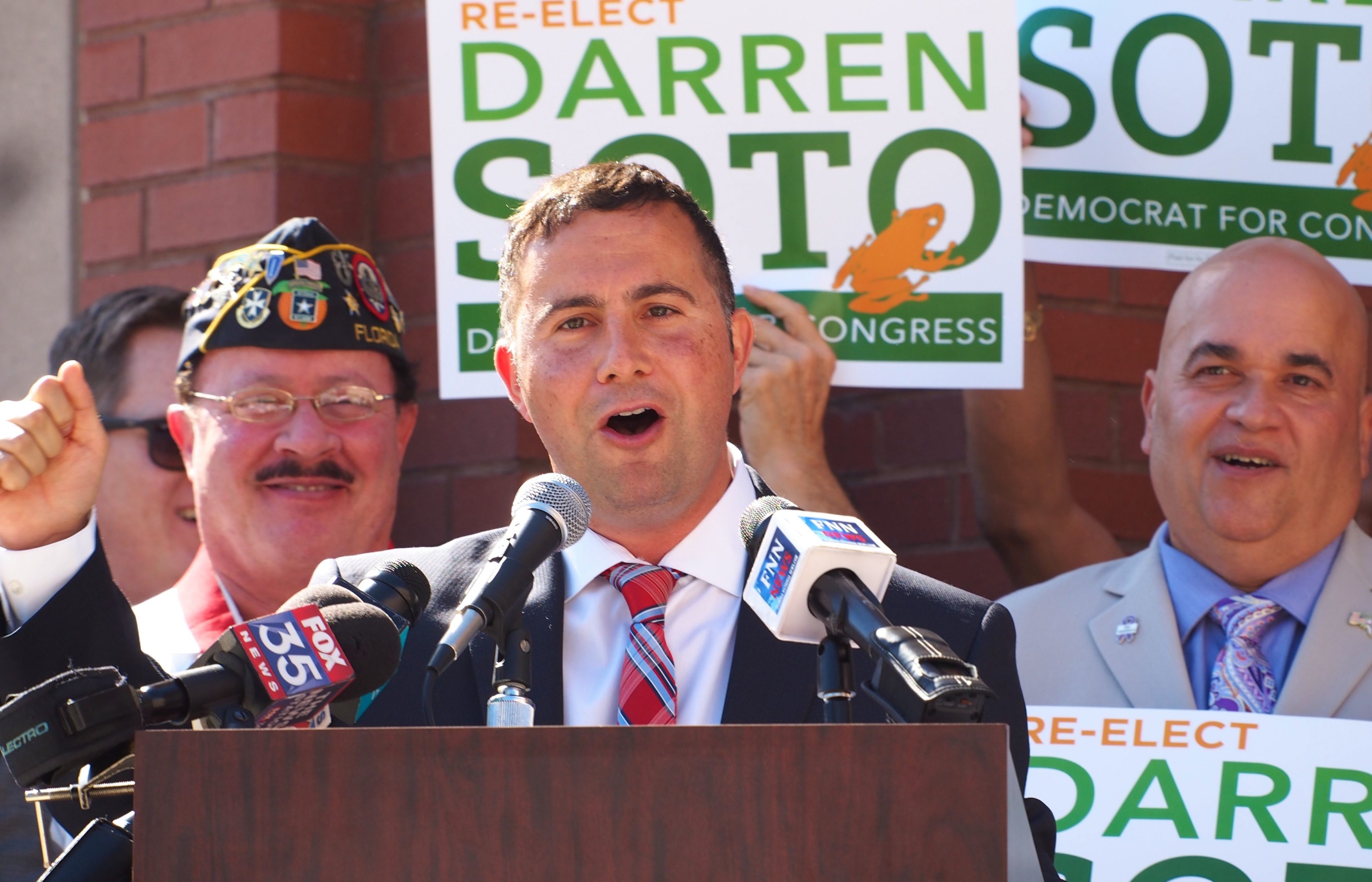 Eight outside political committees and groups provided almost $1.2 million support to U.S. Rep. Darren Soto's defeat of his predecessor former U.S. Rep. Alan Grayson in the Aug. 28 Democratic primary for Florida's 9th Congressional District.
Apparently highlighting the outside help for Soto was the George Soros–backed Latino Victory Fund, which claimed on primary day that it had pumped more than $500,000 into media buys to support Soto on Spanish-language media.
FEC records of independent expenditures through Election Day do not show that much spending by Latino Victory Fund, but almost, and there may be spending yet to report.
The FEC records also show Latino Victory Fund also was not alone in spending to either support Soto or oppose Grayson, and perhaps not even the most generous toward Soto's candidacy. FEC records show Latino Victory Fund spending $415,000 through the primary, while Progress Tomorrow Inc. spent $544,000.
There are no FEC records reporting any outside groups making any independent expenditures that supported Grayson or opposed Soto.
Grayson had set up what was to be his big political comeback this year after he unsuccessfully sought the Democratic primary nomination to run for the U.S. Senate in 2016, and lost his congressional seat to Soto by default. But that comeback required him to take out Soto, and Grayson crashed badly, in an election landslide.
The total for outside spending to support Soto or oppose Grayson was $1.18 million, potentially more than Soto might have spent through his own primary campaign fund, though the final numbers are not yet in for his official campaign's account. Through August 8 his campaign had spent about $886,000. In that Aug. 8 report, the most recent available, Soto had just $251,000 left in the bank.
Grayson had spent $540,000 through Aug. 8.
Soto now faces Republican Wayne Liebnitzky, who has far less money available, only about $29,000 on Aug. 8, heading toward the Nov. 6 election.
For the Aug. 28 Democratic congressional primary outside spending, the FEC reports show:
— Latino Victory Fund, described by the Center for Responsive Politics' website OpenSecrets.org as a hybrid of a political action committee and a super political action committee, largely but not entirely funded by Soros, spent $415,184 on various kinds of advertising, from pushed text messaging to television.
— Progress Tomorrow spent $272,000 on digital and mail advertising supporting Soto and another $272,000 on digital and mail advertising attacking Grayson.
The super PAC has a curious combination of resources, according to records made available through OpenSecrets.org. All of Progress Tomorrow's money has been donated by two other PACs. The first is Forward Not Back, whose principal benefactors are New York businessmen Peter May and Nelson Peltz, who each have been big supporters of Democratic candidates, and New York businessman Louis Bacon, who has supported both Democrats and Republicans, including Rudy Giuliani. The other PAC is United Together, principally funded by News Corp. Chairman and Republican rainmaker Rupert Murdoch, and by Chicago White Sox owner Jerry Reinsdorf, a big backer of Democrats.
— United for Progress, a super PAC entirely funded by Soros, spent $123,000 on radio advertising to support Soto.
— Alianza for Progress, a dark-money 501(c) committee that does not have to disclose its donors, reported $41,555 worth of door-to-door canvassing to support Soto.
— Organize Now, the progressive 501(c) grassroots group put together by former organizers for Barack Obama, reported $35,062 worth of printing and canvassing efforts to support Soto.
— Boricua Vota Inc., an Orlando-based group, reported spending $22,590 on billboards, radio advertising, and event expenses to support Soto.
— The Humane Society Legislative Fund provided $1,386 worth of support through a list rental and a text message platform for Soto,
— The Center for Popular Democracy Action, a dark-money 501(c), offered $1,411 worth of canvassing labor and transportation to support Soto.