Vanilla Ice was the guest of honor at the Florida Governor's Conference on Tourism Wednesday evening.
There, the group bestowed the famed hip-hop artist with the 2018 Film Florida Legends Tourism Ambassador award, which is presented annually to entertainment legends who keep the Sunshine State on their mind and involved in their work.
"Vanilla Ice has been a recognizable artist for nearly 30 years, all the while being a wonderful ambassador for Florida," Film Florida President Bonnie King said.
In honoring Ice (born Robert Matthew Van Winkle) King cited the artist's record-breaking and successful hip-hop career — hit song "Ice, Ice Baby" was the first hip-hop song to reach #1 on the Billboard Hot 100 charts — and his devotion to Florida, which includes hosting an annual block party in Wellington and starring in his own Florida-based home improvement reality show, "The Vanilla Ice Project," now in its eighth season on the DIY channel.
Ice also annually presents the music video award, now named after him, at The Palm Beaches Student Showcase of Films.
Added King: "Vanilla Ice continues to help others and accomplish so much, while representing the state of Florida in such a positive way."
In receiving the award, Ice now joins the ranks of prior recipients Burt Reynolds, Sharon Gless, Emilio and Gloria Estefan.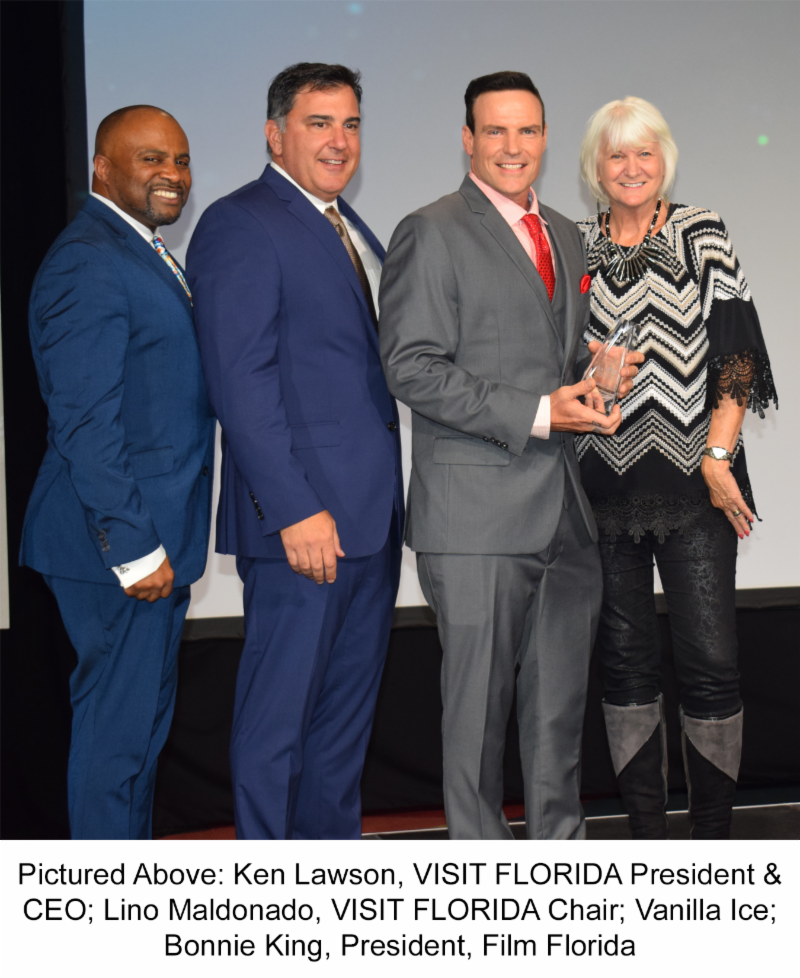 Coming up, the usual assortment of tidbits, leftovers and not-ready-for-prime-time moments by Danny McAuliffe, Drew Wilson, Jim Rosica and Peter Schorsch.
But first, the "Takeaway 5" — the Top 5 stories from the week that was:
Take 5
Florida chips in ahead of Florence — Private and public utilities sent aid to the Carolinas this week, anticipating additional cleanup and restoration efforts would be needed following Hurricane Florence, which made landfall on the North Carolina coast Friday morning. More than 200 crew members from 18 public power companies made the trip, according to the Florida Municipal Electric Association. As well, Tampa Electric Co., Florida Power & Light Co. and Gulf Power Co. sent line workers to help restore power. Gov. Rick Scott prepared the Florida National Guard and Florida Fish and Wildlife Conservation Commission law-enforcement officers to deploy for affected areas if needed. He also waived weight requirements for emergency vehicles heading to the storm.
Lawmakers pass on revisiting security funding — A panel of state lawmakers this week ultimately rejected a request from Gov. Scott to reconsider funding appropriated to a program that arms non-teacher faculty in schools. The Joint Legislative Budget Commission convened on Friday, and despite repeated urges from Scott to unlock leftover funds trapped in the Coach Aaron Feis Guardian Program, the item was not listed on the meeting agenda. Both House Speaker-designate Oliva and Senate President-elect Bill Galvano had pushed back against Scott's request. Scott had pointed out that just $9 million of the $67.5 available for the Guardian Program had been used. He suggested the remaining $58 million could be used to help offset the cost of staffing safe-school officers or law enforcement personnel at every school.
UCF misspending prompts resignation, investigation — University of Central Florida Chief Financial Officer William Merck stepped down this week after it was discovered the school improperly used $38 million to construct a campus building. On Thursday, UCF President Dale Whittaker told the state university system's Board of Governors that the school has replenished the state money, while taking steps to investigate the problem and to prevent similar occurrences in the future, reports the News Service of Florida. That action, however, didn't keep House Speaker Richard Corcoran from launching an investigation into the misuse of funds. In a Friday letter, Corcoran announced that Incoming Speaker Jose Oliva would chair the Public Integrity and Ethics Committee "to investigate the misuse of funds by the University of Central Florida."
Justice application period begins — The Florida Supreme Court Nominating Commission began accepting applications this week to fill three upcoming vacancies at the high court. Justices Barbara Pariente, R. Fred Lewis and Peggy A. Quince face mandatory retirement next year on the same day Gov. Scott will turn over the governorship to whoever is elected in November. The nine-member panel has 60 days to forward three to six names for each vacancy. Scott, who has argued that he has the authority to nominate new justices during his final day in office, announced this week that he intends to cooperate with the next Governor to pick new justices. That didn't sit well with Democratic nominee Andrew Gillum. His campaign's spokesperson said, "In our understanding of the Constitution, the next Governor will appoint the next three Supreme Court justices."
Justices to consider sweeping 'bundling' challenge — The state Supreme Court will examine challenges to three amendments proposed by the Constitution Revision Commission. Former Supreme Court Justice Harry Lee Anstead filed the lawsuit, which claims each of the amendments improperly lumps issues together or 'bundles' the amendments. The three amendments at stake include a proposal that would ban vaping in the workplace and offshore drilling; a proposal that deals with governance of the state-college system and death benefits for survivors of first responders and military members; and a measure that would remove constitutional language that prohibits "aliens ineligible for citizenship" from owning property and would revise language to make clear the repeal of criminal statutes does not affect the prosecution of crimes committed before the repeal.
Scott, Putnam welcome tree recovery money
When the Florida Division of Emergency Management announced it had received more than $340 million in federal Citrus Tree Recovery Program funding this week, Gov. Scott and Agriculture Commissioner Adam Putnam were happy.
To them, it was the culmination of their hard work paying off for Florida farmers.
"Since October, I have been fighting for Florida's citrus growers to get the relief they deserve to replant and rebuild their livelihoods," Scott said. "This includes, traveling to Washington to advocate for relief and activating a $25 million Florida Citrus Emergency Loan Program last year."
"We've worked tirelessly with Florida's agriculture industry, elected leaders and government agencies to help our citrus industry recover from Hurricane Irma's unprecedented damage," Putnam said. "Thanks to the hard work of so many, this much-needed piece of disaster assistance is finally on the way and will go a long way to help Florida's citrus industry rebuild."
In total, $343,331,216 is now at the ready to offset tree replacement, grove rehabilitation, system repairs and future economic losses incurred by Hurricane Irma, which made landfall in Southwest Florida a little more than a year ago.
State expands Blackwater River forest
The Blackwater River State Forest is extending to another 800 acres, state officials announced this week.
The expansion was made possible through a partnership between the Florida Forest Service, Florida Department of Environmental Protection, Santa Rosa County, the Naval Air Station Whiting Field, and the Trust for Public Land. The land was acquired through the Forest Legacy Program.
"Florida's state forests are vital ecological and economic resources for our state, and we must continue to prioritize the protection of Florida's unique natural spaces," said Agriculture Commissioner Putnam. "This addition to Blackwater River State Forest will enhance natural resources and provide more recreational activities for Floridians."
The land is expected to benefit endangered species in the area while also acting as a buffer space between NAS Whiting Field and the community.
Since 1990, the Forest Legacy Program has protected more than 2.6 million acres of land in the U.S., according to the Department of Agriculture.
Instagram of the Week
State leaders convene to highlight missing children
Alongside hundreds of law enforcement personnel, public officials and citizens, First Lady Ann Scott and Florida Department of Law Enforcement Commissioner Rick Swearingen remembered Florida's missing children this week in Tallahassee.
The annual event, Florida Missing Children's Day, also serves to recognize the state's child protection efforts.
In 2017, according to FDLE, there were more than 32,000 missing children incidents reported to law enforcement.
"As a parent and grandparent, Missing Children's Day is a solemn reminder that no family should have to endure the heartache of a missing child," First Lady Scott said. "I pray for continued strength and healing for the families, and the safe return of the loved ones still separated from their families."
Added Swearingen: "The safety and security of Florida's children continues to be a major priority for FDLE, as is the successful recovery of those who are missing."
First-generation students to receive scholarships
Education Commissioner Pam Stewart presented more than $1 million to Florida College System Chancellor Madeline Pumariega this week during the State Board of Education meeting.
The funding, made possible by the Florida College System Foundation, will help first-generation students who wish to pursue careers in health care.
"These scholarships will open doors for students that otherwise might not have existed," Stewart said.
With the help of the Helios Education Foundation, Florida Blue and Bank of America, the scholarships seek annually to relieve the national nursing shortage while also incentivizing college attendance.
The Florida College System boasts 28 institutions. More than 60 percent of the students attending these colleges work part-time while enrolled.
'BearWise' money doled out
A total of $500,000 has been awarded to 10 Florida communities to help them reduce bear-human conflicts, the Florida Fish and Wildlife Commission announced this week.
The money, known as BearWise funding, will be used to help offset the cost of bear-resistant trash containers and other equipment.
BearWise funding was prioritized for communities that had passed ordinances requiring trash be kept secure from black bears. Among those communities: The City of Apopka, Lake County, Santa Rosa and Seminole County.
The remaining funding went to the City of Mount Dora and Collier, Marion, Okaloosa, Volusia and Walton counties.
According to FWC, $2.1 million worth of BearWise funding has been provided to local governments since 2007.
Alexander concerned over university funding model
State Rep. Ramon Alexander asked the State University System Board of Governors to reconsider and reform parts of the performance-based funding model used to dole out additional money to institutions.
Alexander's letter to the board preceded its Wednesday and Thursday meetings.
Because the current system does not provide any funding to the bottom three universities, Alexander argues in his letter, those institutions are "disproportionately" harmed.
"Last year, many institutions showed growth and improvement, nonetheless, despite all efforts, they received no additional state funding," Alexander said in a statement accompanying his letter. "These funding disparities take a serious toll on the lower performing colleges and universities."
He added that the current model "fosters a system of competition" between the much larger universities in the state, which have different missions. In other words, it shouldn't be a one-size-fits-all awarding opportunity.
Alexander highlighted how both the University of North Florida and Florida A&M University have improved their performance scores. But, since the schools are still rank among the bottom three institutions, they weren't awarded performance-based money.
Davis helping host HBCU College Fair
State Rep. Tracie Davis will be collaborating on Saturday with The Center, One Foundation and Jacksonville City Councilman Garrett Dennis to host the second-annual Historically Black Colleges and Universities College Fair.
All nearby parents and students are welcome to attend the event, which will last from 10 a.m. — 2 p.m. today at Kingdom Plaza in Jacksonville.
Noting the "long and rich history" of HBCU's, Davis said she was excited to help host the event.
"HBCU's accept and provide scholarships to help more low-income and first-generation college students to ensure that all students get a fair chance at a good education," she added.
Davis' office also claims the demand for HBCU attendance is growing. It is expecting more than 1,000 people to attend the Saturday fair.
Lawmakers honored for 'conservative' clean energy work
Republican state Sen. Jeff Brandes along with Republican state Reps. Ray Rodrigues and Holly Raschein were honored this week as Conservative Clean Energy Champions.
They were joined by 41 other conservatives across the U.S. that were recognized by Conservatives for a Clean Energy Future, a nonprofit advocacy group seeking to promote pragmatic renewable energy.
"I want to thank you for all you do to help support the development of favorable clean energy policies in state capitols across America," wrote CCEF President Mark Pischea in a letter to the honorees. "We look forward to continuing to work with you — and our Champions — to continue making a difference for our clean energy future."
Champions, Pischea added, "are fighters for our nation's transition to clean energy."
National Lifeline Awareness Week
The Public Service Commission wants Floridians to know that struggling financially shouldn't block Floridians from quick access to emergency services — or even to family and friends.
The commission is participating in National Lifeline Awareness Week, an effort to promote awareness of a discount on landline, cellphone or internet services for low-income families.
One discount of $9.25 cents per month is available per household.
Recipients must have an income at or below 135 percent of the federal poverty guidelines. Alternatively, at least one member of the household must receive benefits through Medicaid, supplemental security income, federal public housing assistance, veterans' pension and survivors' benefits, or tribal benefits.
Learn more on the Federal Communications Commission's website.
"In this day and age, it's very difficult to function without a phone," PSC Chairman Art Graham said.
"We want consumers to know that if they already participate in an approved federal assistance program, they probably qualify for Lifeline and can easily apply for their discount."
Kuryla elected Florida Ports Council chair
At the recent Florida Ports Council annual board meeting in St. Petersburg, PortMiami Director and CEO Juan Kuryla was elected chairman. Kuryla replaces Port Everglades Chief Executive/Port Director Steve Cernak.
"Florida has 14 dynamic seaports that specialize in diverse business sectors from cargo to cruise. These ports, with their access to the third largest population in the U.S., serve as vital economic engines creating thousands of new jobs over the past five years," Kuryla said.
"I am honored to have been chosen by my colleagues to lead the Florida Ports Council and I look forward to continuing the work of my predecessors in growing jobs and commerce for the great state of Florida."
Port of Palm Beach Executive Director Manuel Almira was elected vice chairman and Port Panama City Executive Director Wayne Stubbs was elected secretary/treasurer. All positions are one-year terms.
The Florida Ports Council is the professional association of Florida's 14 public seaports, providing advocacy, leadership and research on seaport-related issues at the state and federal level.
Base rate reduction coming for Peoples Gas customers
Customers of TECO Peoples Gas System can look forward to lower bills under an agreement approved by the Public Service Commission.
The PSC signed off on a settlement between the company and the Office of Public Counsel, which represents consumers before the commission.
The commission attributed the estimated $11.6 million deal to the Tax Cuts and Jobs Act of 2017, the GOP bill that directed most of its savings to corporations. Peoples is Florida's largest natural gas utility, serving 370,000 customers in the state.
The base rate reduction per customer heating the average house will amount to $1 per month, beginning in January.
"We want to ensure that customers directly benefit from recent changes to the federal tax law through lower bills," PSC Chairman Art Graham said. "This agreement ensures that these savings for Peoples' customers will continue beyond 2019, and we found it to be in the public interest."
 'AOB' issue still in the fore
Following Chief Financial Officer Jimmy Patronis' lead, Florida Insurance Commissioner David Altmaier again condemned the practice of assignment of benefits, or AOB, abuse.
Patronis recently called on reforms to curb the fraudulent practice.
Per Altmaier, "Now, more than ever, is the time for a solution to the abuse and fraud that continues to threaten the affordability of insurance in Florida."
Altmaier said AOB reform is a "top priority" for his office. AOB agreements allow contractors and repair personnel to essentially "stand in the shoes" of an insured person, according to Altmaier's office.
"The excessive litigation fueled by bad actors who abuse AOBs will only result in higher premiums for our consumers," he explained.
FSU surges in national rankings
Florida State University jumped seven spots to the No. 26 rank among national public universities in the latest U.S. News & World Report's "Best Colleges 2019" guide.
"Florida State University is one of the best universities in the nation, and we are excited that U.S. News & World Report recognizes our academic excellence," said President John Thrasher. "Student success is at the heart of our mission at Florida State, and these rankings are a reflection of that commitment."
The latest ranking continues a rising trend for FSU. The school ranked No. 43 on the same list three years ago and has since steadily increased its status among public universities. The 2019 rankings mark the biggest single-year jump in university history, according to FSU officials.
Internally, FSU leadership has committed to becoming a 'Top 25' public university. Provost Sally McRorie said that goal could be achieved sooner than expected.
"Our 'drive to 25' is almost finished and a little earlier than I think any of us expected," McRorie said. "That's a testament to the very hard work of everybody across campus.
"We're planning for what comes next!"
Hurricane happily ever after
Florida's capital city played a small but significant role as Hurricane Florence churned toward land.
For a local couple intending to wed in North Carolina, Tallahassee was the next-best thing.
According to the Tallahassee Democrat's Nada Hassanein, who reported the story, Sam Hajjar and Hayley Watts moved their wedding to Tallahassee ahead of the storm's landfall Friday morning.
Watts, who had to re-plan everything with short notice, told the Democrat it's "the wildest thing I've ever done." But she's thankful there's a "sunny" forecast for the wedding now.
The couple, who grew up in Tallahassee, will now wed at the Red Hills plantation.
Capitol Directions