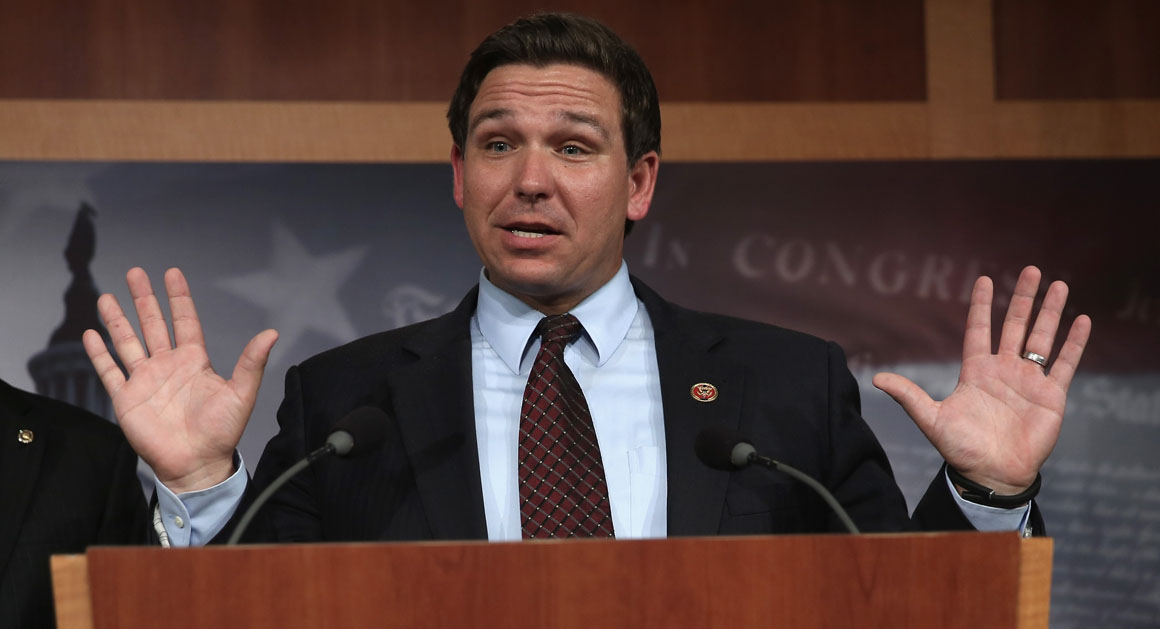 Did Ron DeSantis' campaign just put a First Responder group's nonprofit status into jeopardy? Well, probably not — but there's still time.
Schedulers for the Republican nominee for Governor included a charitable fundraiser on a list of "several campaign events" that the candidate will attend today.
The final public event for DeSantis will be the First Responders Fall Cook-off at the Indian River Fairgrounds in Vero Beach.
The problem? The event serves as a benefit for the First Responders of Indian River County, a 501(c)(3) organization with tax-exempt status. That designation comes with rules aplenty, according to LegalZoom, chief among them a prohibition on any political or substantial lobbying activity.
It's something local party leaders have been conscious of as they spread the word that DeSantis would attend the cook-off as a guest judge. Frank Sosta, Jr., Indian River County chairman for the DeSantis campaign, stressed on social media posts that there will be "NO CAMPAIGNING" (note the all-caps) permitted at the event.

That's because event organizers don't want their tax status revoked. Now, Sosta will have T-shirts to sell on-hand but those are not something to be worn at the event.
The local Republican Executive Committee will be on hand with voter registration cards. The Democratic Executive Committee could do that too, but says nobody invited them. But there will be no campaigning materials on the tables, and candidates themselves have been asked not to stump at the event.
And for the record, DeSantis campaign officials make clear that they don't intend to treat the cook-off like a sign-waving campaign event.
Candidates can only speak about how they support first responders, something that could present challenges for politicians, especially for those who want to tout any work on behalf of police and firefighters.
But last night, the event made it into the campaign event line-up pushed out as a paid political message from the DeSantis campaign. It was also alluded to in a pointed political release comparing the activity of the Republic to that of Democratic gubernatorial candidate Andrew Gillum.
None of this was done by the First Responders group, of course, which doesn't clear releases from the DeSantis headquarters.
That said, the question quickly arises why DeSantis would serve as a guest judge at a nonprofit event anyway. Vero Beach and Indian River County actually sit well south of Florida's 6th Congressional District, the area he actually represented in the House. Besides, he resigned from the seat this week to focus his efforts on his run for Governor. He's a curious choice to put on a panel.
Obviously, DeSantis has little reason to spend his weekend in Vero Beach six weeks out from the biggest election of his life other than to introduce himself to voters. But then, that's probably true of a lot of the people manning booths at events like this. Cook-offs held within two months of elections tend to inspire huge numbers of politicians to discover family recipes worthy of sharing with the world.
To list the event as a campaign function in any way, though, invites scrutiny no nonprofit welcomes. If anyone from the campaign shows up with the wrong T-shirt or too large a campaign button, they may need a change of clothes handy.
And DeSantis may need to be more careful than ever about the words that come out of his mouth. On the bright side, it looks like there will be plenty of delicious food to put there instead.