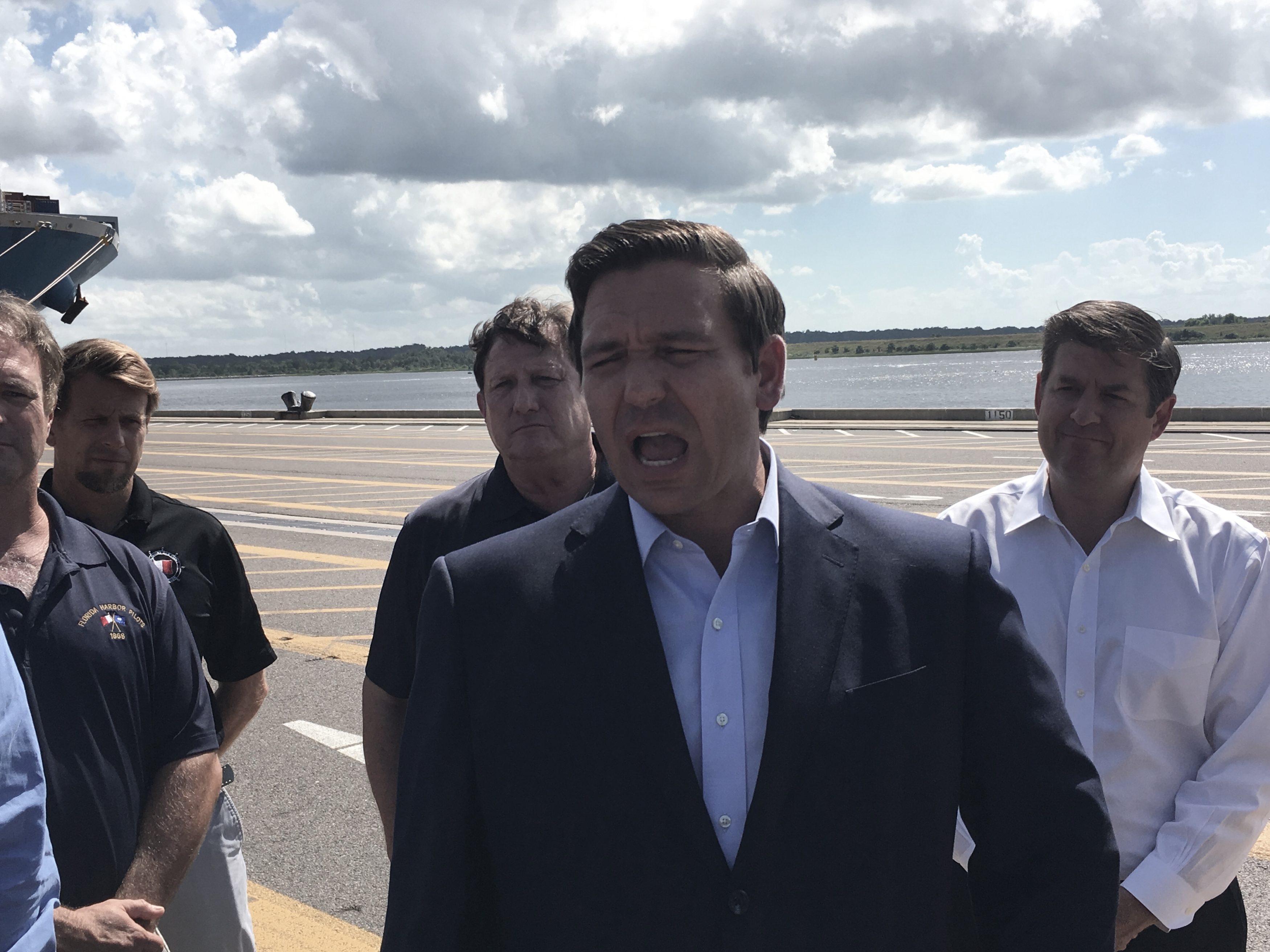 Republican gubernatorial candidate Ron DeSantis stopped by JAXPORT in Jacksonville on Wednesday, just hours before a major fundraiser on his behalf.
During the media availability, DeSantis bemoaned "McCarthyite tactics" from the media, which he said unfairly paint him as an extremist by association while not applying the same scrutiny to Andrew Gillum, his Democratic opponent.
Six weeks out from Election Day, polls have gotten increasingly ugly for the three-term Northeast Florida Congressman. NBC News has him down five points; Quinnipiac has him down nine. Swing voters and women are breaking Gillum's way.
Even friendly media outlets, such as Fox and Friends, are asking DeSantis why he's not connecting outside the base. DeSantis didn't have much of an answer for them when asked Wednesday.
DeSantis and running mate Jeannette Nunez have blamed the media elsewhere for double standards in coverage, spotlighting DeSantis' less savory associations while glossing over Gillum's.
With the spread in many polls outside the margin of error, and Florida voters seemingly drawn to Gillum, despite weeks of the GOP attacking the Tallahassee Mayor as a Soros/Steyer/Sanders socialist, we asked DeSantis if time was running out.
And, if he were to lose, would the media be to blame?
"We're a long way out," DeSantis said. "I remember people telling me polls in the primary, how I was somehow not going to win. We won by 20."
"Everybody said Gillum had no chance … he won," DeSantis said, before pivoting to what he clearly sees as his window in this race.
"Most voters, I don't think, have a really good sense of his views or his record," DeSantis said, noting that Tallahassee has the "highest crime rate in Florida four years in a row" and is "number one in murders last year in the history of Tallahassee."
[Some, like Leon County Sheriff Walt McNeil, dispute that, noting that "violent crime is down 24 percent, and overall crime is down 10 percent with crime at a five-year low in Tallahassee," and lamenting the "political fear-mongering" from DeSantis].
DeSantis also dinged Gillum for not using "non-union" workers for hurricane response during Hermine.
We asked DeSantis about questionable donors and supporters, a list of which has aggregated since the infamous advice to Florida voters not to "monkey this up" by electing Gillum. The candidate compared the reportage to "six degrees of Kevin Bacon," with media "trying to find anything anyone's ever done and trying to superimpose it on me, and that's wrong."
"I think it's a McCarthyite tactic, but they don't do the same thing with Andrew," DeSantis said, noting the lack of media scrutiny of the Dream Defenders group supporting Gillum.
"They say things like we should have no police, no prisons, abolish ICE," DeSantis remarked, adding that Gillum has "endorsed that group."
"I've seen a lot of folks involved with his campaign who are anti-Israel. I think if you support boycotts of Israel, you're anti-Semitic. But you don't see the same stuff," DeSantis lamented.
DeSantis otherwise had what are now familiar talking points, comparing Gillum's desire to hike the corporate income tax 40 percent to Florida "shooting ourselves in the foot" by forfeiting "that tax advantage."
"It's right in character with what he's done throughout his career," DeSantis said, noting that Gillum voted at one point to raise millage rates in Tallahassee ("a 2×4 to the taxpayers of Tallahassee"), and asserting that Gillum sees "California as a model," an assertion absent from Gillum's stump speeches.
Florida Democrats continued, even as this article was being written, to hammer DeSantis about his associations.
"Ron DeSantis and his corporate special interest allies are running an ugly, divisive and dishonest campaign," said FDP spokesperson Kevin Donohoe. "But that shouldn't be surprising given the individuals he surrounds himself with. It is time for DeSantis to finally disavow these people and lay out a plan for Florida instead of peddling hatred."
DeSantis is messaging more heavily on policy. But in a campaign that has been nationalized by the stark differences between the candidates, the long-awaited policy rollouts have been muted as the campaign moves from one news cycle to the next, many of them full of stories about some previously obscure operative or association.
Will October change the narrative that September seems to have set?