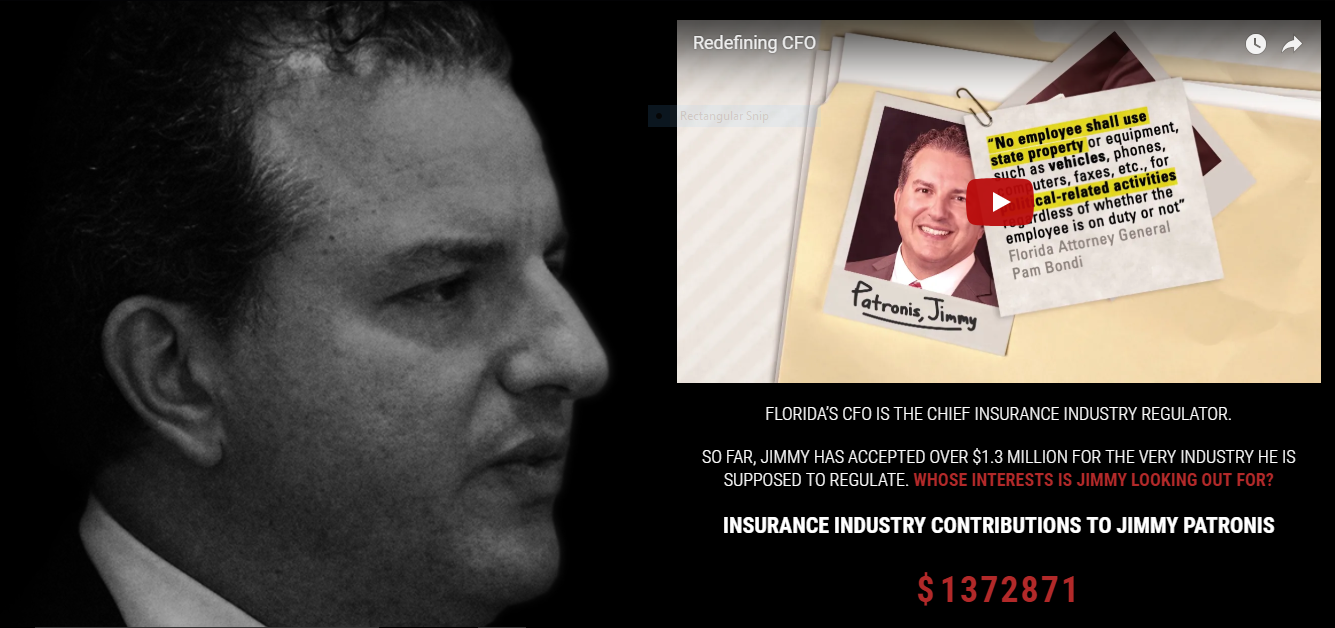 The mudslinging continued this week in the race for Chief Financial Officer, with Democratic nominee Jeremy Ring launching a website hitting Republican incumbent Jimmy Patronis.
Per a release from the Ring campaign, " JimmyPatronis.info … highlights Jimmy Patronis' questionable ethics. Specifically, the website shines a light on an ongoing ethics investigation into Patronis' misuse of taxpayer resources for political purposes, emphasizes his reliance on donations from the very insurance companies he is responsible for regulating, and outlines a slew of high profile criminal supporters."
If this sounds familiar, it's because it is.
Earlier this week, in response to a Patronis website (RingsCriminalRing.com) that highlighted his supporters with criminal pasts, Ring's campaign spotlighted the following: former House Speaker Bo Johnson, Jeffrey Bragg, former state Rep. Mike Horner, once-indicted Jay Odom, and Panama City club owner Thorsten Pfeffer.
Ring features those names on the new website, and adds some others, including Frank Stevens ("arrested for fraud"); Jeffrey Howell ("arrested for a DUI"); and Tiffany Carr ("investigated for misusing taxpayer money and providing false salary information to Florida's Department of Children and Families").
A back and forth of guilt by association largely defined the CFO race thus far. The Patronis website on Ring tallies his donations from characters like Paul Wharton, Peter Leach and Rex Hardin, and even goes through prostitution arrests for some of Ring's small donors.
Patronis, appointed to his position by Gov. Rick Scott, holds distinction as the only incumbent Cabinet member running this year.
A new poll by the Florida Chamber of Commerce shows Ring and Patronis in  a dead heat, tied at 38 percent. Patronis holds a a hefty fundraising advantage, with $5.4 million in overall fundraising and $3.3 million in on-hand cash, compared to $1.33 million raised by Ring, who had $473,000 banked as of Sept. 21.
Neither Ring nor Patronis faced a primary challenge this year.