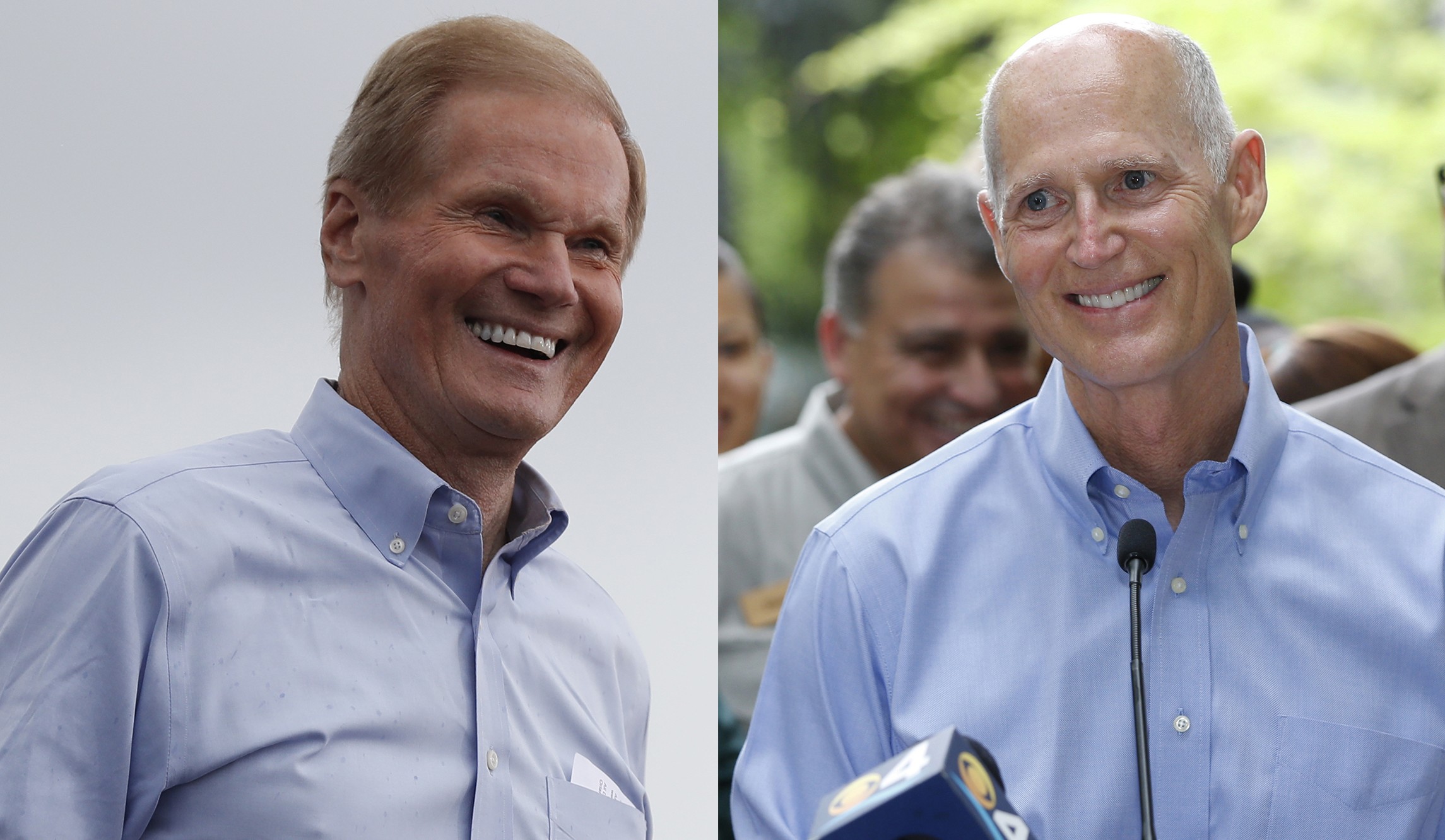 Democratic U.S. Sen. Bill Nelson has a two-point lead over Republican Gov. Rick Scott in Florida's U.S. Senate race, according to a new poll released Friday by the Florida Chamber of Commerce.
The chamber's poll, conducted Sept. 19 through Monday and released at the chamber's 2018 Future of Florida Forum meeting in Orlando Friday, gives Nelson 48 percent and Scott 46 percent, which falls within the 4.4 percent margin of error the chamber cited.
That makes it the third poll released this week that has Nelson ahead, though by a much narrower margin than the Quinnipiac University Poll released Tuesday and also tighter than the Marist/NBC News poll, also released Tuesday.
The Chamber's poll was of 622 Florida voters.
The poll also found modestly positive voter approval for both candidates' job performances: 50 percent said they approved of Scott's job performance, while 46 percent said they disapproved, giving the second term Governor a plus-4 favorability rating; 46 percent said they approved of Nelson's performance, while 41 percent disapproved, giving him a plus-5. About one in seven respondents were unsure about Nelson, however, while only 4 percent were indecisive about Scott.
Also of note: The poll put the job performance of President Donald Trump underwater by a 51-46 percent margin. Trump has been vocal in his support of Scott during his Senate campaign, going so far as to stump for him and  Ron DeSantis, the Republican vying to succeed Scott in the Governor's mansion, during a late-July rally at the Florida State Fairgrounds in Tampa.
The Nelson vs. Scott election is one of the most-watched races in the fall, as national Democrats look to defend 10 sitting Democratic Senators in states carried by Trump two years ago.
According to a recent analysis by Nate Silver of FiveThirtyEight, Nelson is the "most vulnerable" of the two dozen Dems seeking another term in November.
"It might seem surprising that the fundamentals calculation regards Florida's Bill Nelson as the most vulnerable Democratic incumbent since Florida is quite purple and there are Democrats up for re-election in some genuinely red states" … "Nelson has a very good challenger in Florida Gov. Rick Scott; one way our model accounts for candidate quality is by looking at the highest elected office the opponent has held, with races against current or former governors or senators falling into the top category."
Still, that analysis pegged Nelson as leading Scott by a tenth of a percentage point.