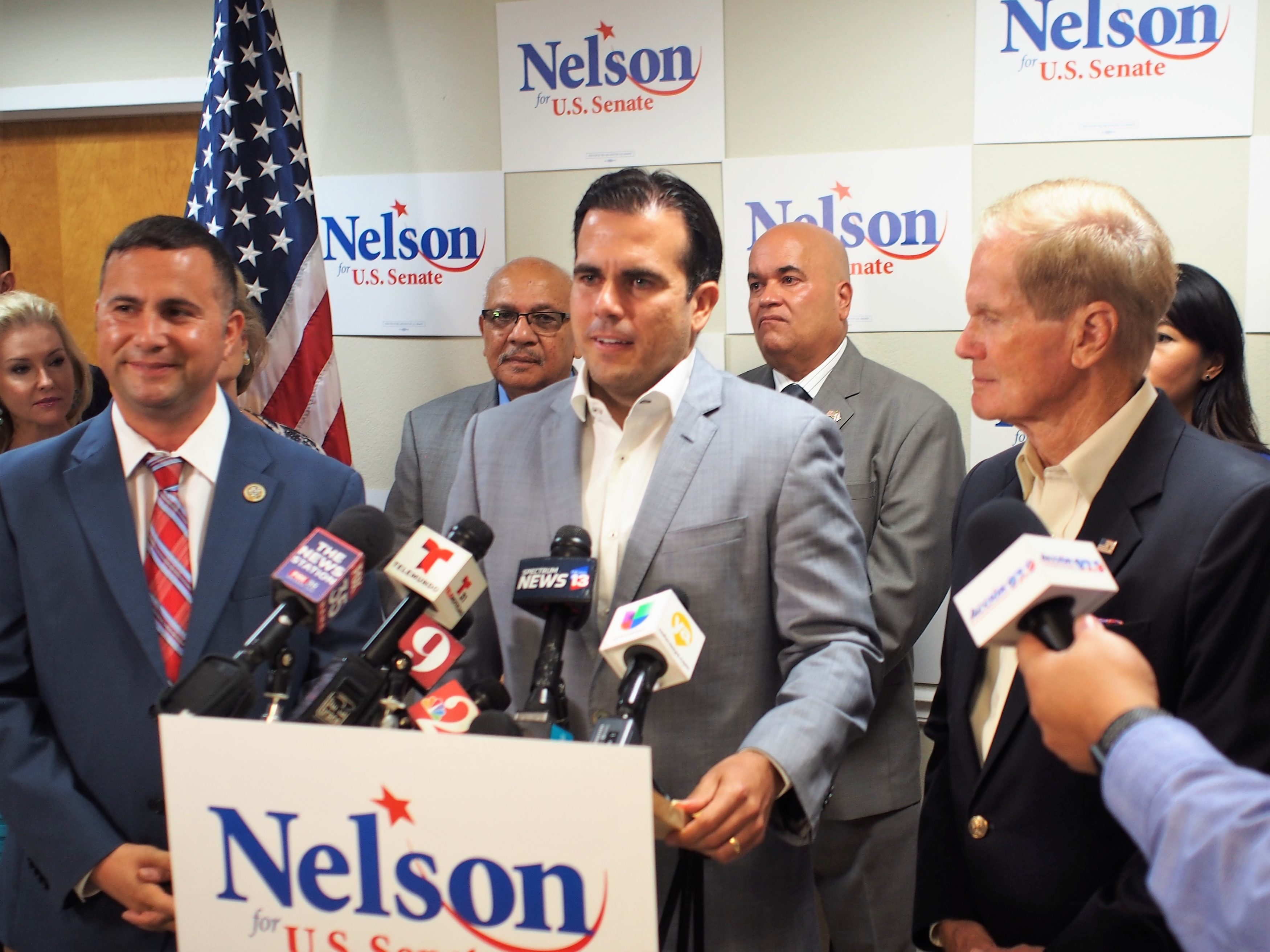 Declaring he wanted to stand with a friend of Puerto Rico who has supported the island and its people for a long time, Puerto Rico Gov. Ricardo Rosselló came to Orlando Monday to endorse Democratic U.S. Sen. Bill Nelson for re-election over Republican Gov. Rick Scott.
Rosselló, whose endorsement is expected to carry significant weight in Central Florida's burgeoning Puerto Rican community, also announced Monday that he is endorsing Democratic Tallahassee Mayor Andrew Gillum in the Florida gubernatorial race.
The two endorsements ended some suspense and even offered mild surprise as Rosselló had worked closely with Scott — and Nelson — in recovery efforts for the past year after Florida came to help Puerto Rico both politically and practically after the island was devastated by Hurricane Maria.
It also sparked some anger and frustration from some Florida Republicans who had worked hard to make sure Florida, including Scott, addressed Puerto Rico as a sister in need, and now fear the island's government could lose with the Republican-led Florida government. State Rep. Bob Cortes, Hispanic outreach liaison for Republican gubernatorial nominee Ron DeSantis' campaign, called Rosselló's endorsement "treacherous" considering all that Scott and Republicans had done.
On Monday Rosselló said it was a tough decision to endorse Nelson because he considered Scott to also be a friend of the island's residents. but he said in the end he went with Nelson because of his longstanding relationship.
Rosselló and Nelson also spoke to the clear partisan divide on Capitol Hill regarding Puerto Rico, as the Republican tax cuts bill passed at the end 0f 2017 slapped the island with new tax liabilities, which Rosselló said made a desperate economy less competitive; and for the U.S. House's passage of a disasters bill that had no money in it for Puerto Rico until the Senate, behind Nelson's push, forced it into the final bill.
In response, Scott's campaign put out a press release reminding that he also has received many Puerto Rican endorsements, including those of the island's U.S. Rep. Jennifer Gonzalez-Colon, former Gov. Luis Fortuno, and current Lt. Gov. Luis Rivera Marin.
Rosselló also announced his endorsement of the re-election of Democratic U.S. Rep. Stephanie Murphy of Winter Park. He previously had endorsed Democratic U.S. Rep. Darren Soto. Murphy is running against Republican state Rep. Mike Miller of Winter  Park.