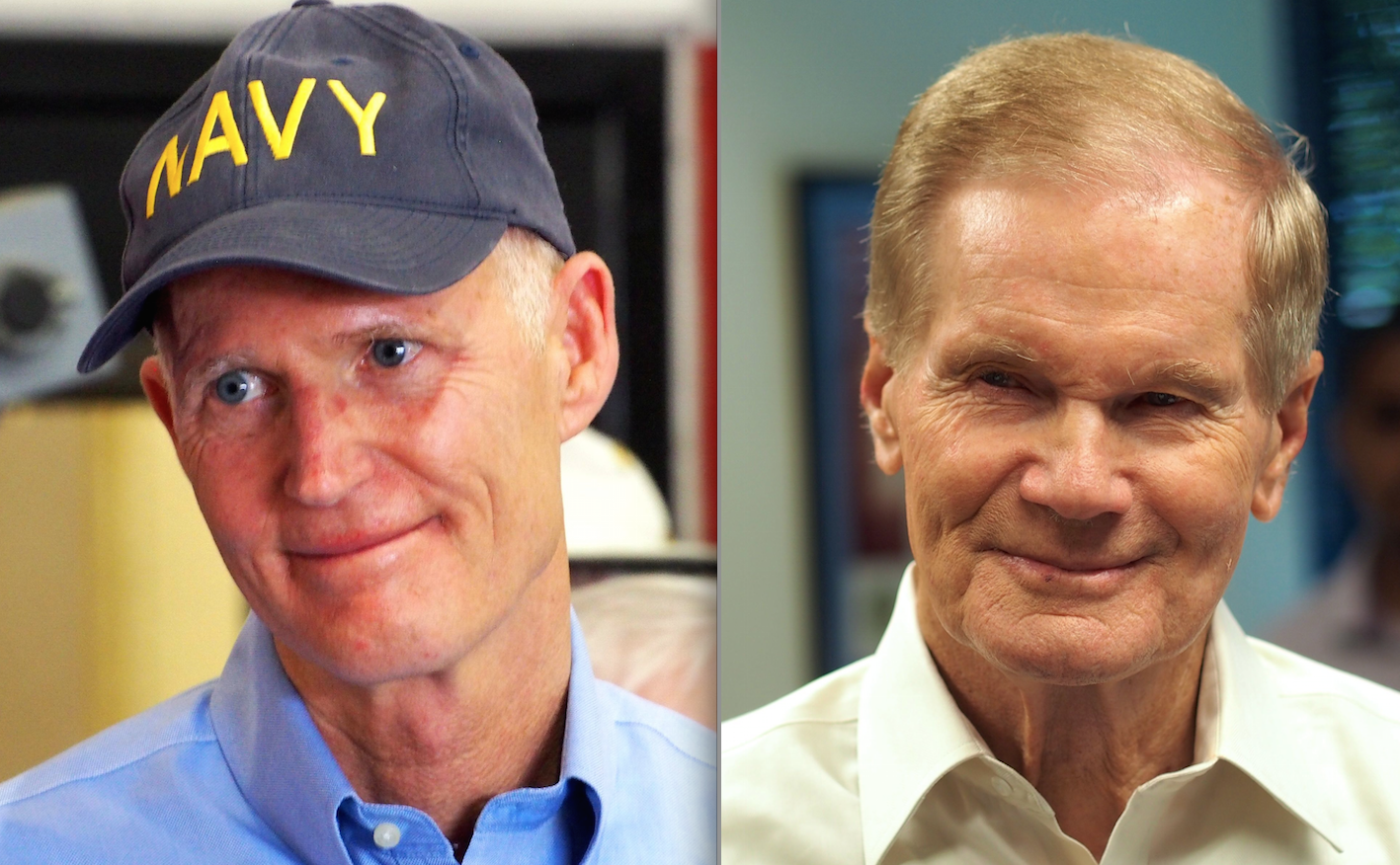 Republican Gov. Rick Scott and Democratic U.S. Sen. Bill Nelson are statistically tied in a new poll of November's U.S. Senate race, though Scott holds a razor-thin edge.
The St. Pete Polls survey, commissioned by Florida Politics, found Nelson, Florida's only statewide elected Democrat, and Scott, who is term-limited after eight years in the Governor's Mansion, each receiving about 47 percent support from likely general election voters.
Without rounding, Scott slightly edges out Nelson, 47.4 percent to 46.7 percent. The remaining 6.1 percent of voters are undecided.
Both Nelson and Scott have similarly strong support among their bases, with each breaching the 75 percent threshold among the party faithful, though independent voters prefer Nelson by a 51-40 margin.
By age, Scott holds a 49-55 percent lead among voters under 30, while Nelson takes the 30- to 49-year-old bracket by 6 points, 50-44 percent. The 70-and-up crowd leans slightly toward Scott, 47-46 percent, while the pair tie among 50- to -69-year-olds with 47 percent support apiece.
The high-ranking politicians are also tied among men, 47-47 percent, with Nelson leading by a basket among women, 48-46 percent. Demographically, Scott leads by 13 points among white voters, while black voters are plus-61 for Nelson and Hispanic voters also lean toward the incumbent by a margin of 48-45 percent.
The poll also measured each candidate's support regionally, with Scott holding firm leads in the state's Republican bastions of Pensacola, Panama City and Southwest Florida. The exiting Governor also holds a 56-39 percent lead in the Jacksonville media market.
Nelson, meanwhile, ran up the score in Tallahassee, Gainesville, and South Florida. He also holds a slim lead in the Orlando market, while the pair split Tampa with 46 percent support apiece.
Scott led in most early polls of the race, thanks in part to outspending Nelson with major media buys that started shortly after announcing his candidacy in April. Recent polls, however, have shown Nelson chipping away at Scott's edge.
A Florida Chamber of Commerce poll released Friday found Nelson with a 2-point lead, which fell within the poll's 4.4 percent margin of error.
Still, a recent analysis by Nate Silver of FiveThirtyEight labeled Nelson as the "most vulnerable" of the two dozen Dems seeking another term in November, 10 of whom, including Nelson, are seeking re-election in states that Donald Trump carried in the 2016 presidential election.
 "It might seem surprising that the fundamentals calculation regards Florida's Bill Nelson as the most vulnerable Democratic incumbent since Florida is quite purple and there are Democrats up for re-election in some genuinely red states" … "Nelson has a very good challenger in Florida Gov. Rick Scott; one way our model accounts for candidate quality is by looking at the highest elected office the opponent has held, with races against current or former governors or senators falling into the top category."
Florida's U.S. Senate election is seen as a "must-win" by national Democrats, who are holding out hope they can flip both chambers of Congress in the fall. Republicans currently hold a 51-49 advantage in the Senate.
The automated phone poll was conducted Sept. 29 through Sept. 30 and received responses from 2,313 registered voters who said they planned to vote in the November election. The top-line result of the St. Pete Polls survey has a margin of error of plus or minus 2 percentage points at a 95 percent confidence level.