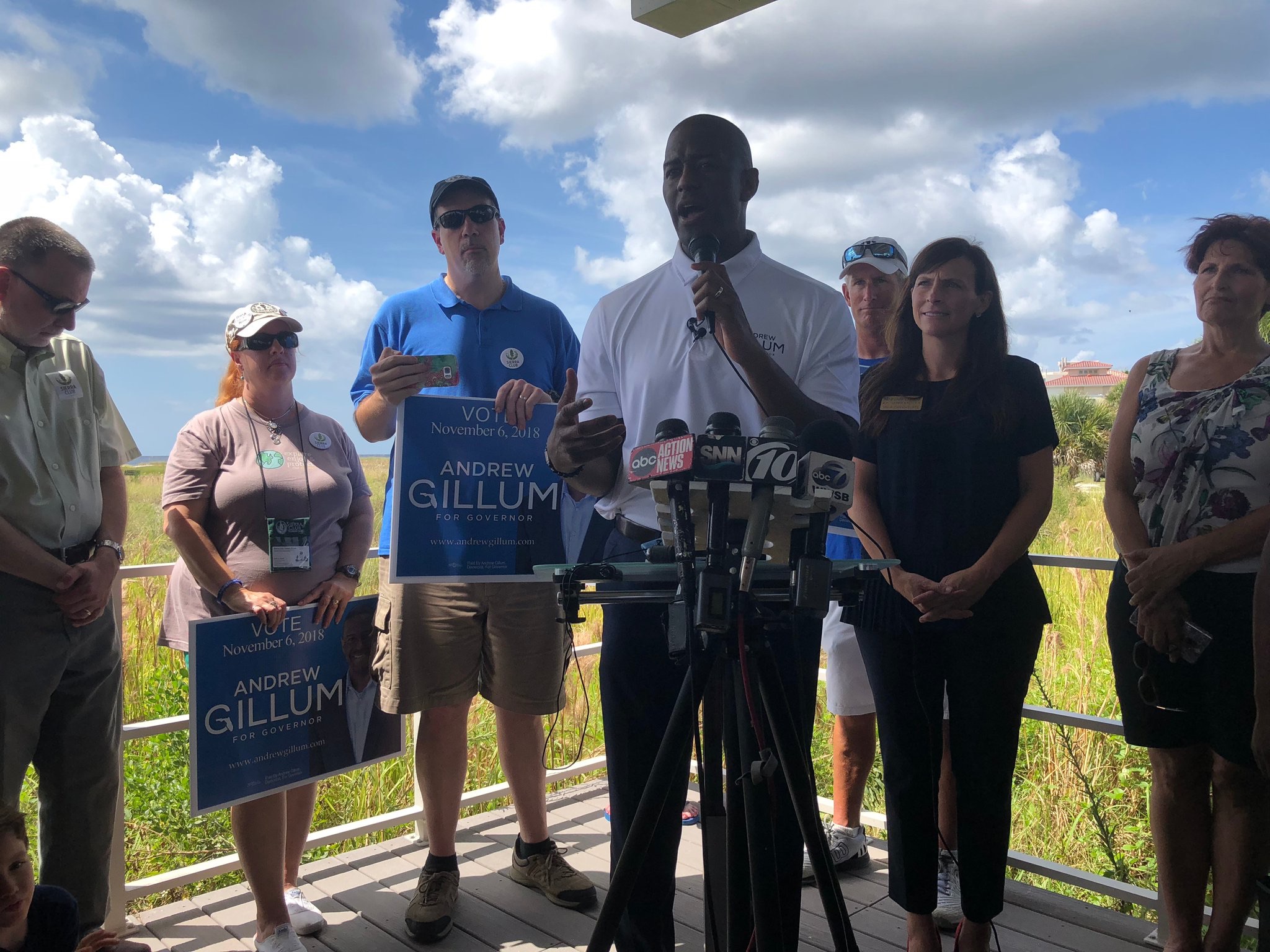 The issues affecting Florida vary, but they're all "interwoven" and dependent on the actions of elected officials up and down the ballot, according to the Democrat running for the top spot on Election Day.
Candidate for Governor Andrew Gillum rolled out his environmental plan on Tuesday, promising a series of changes to preserve the state's natural resources and actions that he believes would curb issues currently in the fore, like harmful blue-green algal blooms and red tide.
But in part, those changes are conditional. Floridians must send "a whole slate to the Cabinet, and our House and our Senate members all back to Tallahassee," Gillum said during a waterfront news conference in Siesta Key, which has suffered toxic red tide fish kills this year. In the historically conservative Sarasota town, hundreds of Floridians showed up to listen.
Gillum was joined at the conference by state Rep. Margaret Good, who won a special election in February that's been heralded as a signal for a Democratic 'blue wave' in November. Good's district went for President Donald Trump in 2016.
Alongside the once-longshot Democratic candidate and in front of calm coastal waters, Gillum pitched to a large crowd that his party had the answer to Florida's environmental issues.
Good introduced Gillum as "the change" to poor water quality that she blamed on "20 years of Republican rule."
When Gillum addressed the audience, he spoke of the "intersectionality" between Florida's issues, suggesting the environment is inextricably linked to the economy, even health care.
"The future of this state very much so depends on what we do to our great environment it depends on the businesses that have sprung up all around this area that depend on the tourism and the ecotourism that helps to power the state of Florida," Gillum told the crowd. 
The environment weighs on the "well-being" and "health of the people," he added.  
Shortly after the conference, Gillum rolled out an environmental policy plan. It largely focuses on measures that he believes would mitigate future problems with the toxic red tide and blue-green algal blooms. He advocates for upgrading wastewater treatment processes. He also promotes policies that would require septic-to-sewer conversions.
That concept would likely find support across the partisan aisle, as researchers sponsored by the Florida Chamber of Commerce recently pointed excess nitrogen from older septic tanks as a potential culprit of algal blooms. The Chamber is backing Republican gubernatorial candidate Ron DeSantis.
DeSantis and Gillum also appear to agree on proposed environmental measures. DeSantis unveiled his environmental plan earlier this month, proposing bans on fracking and offshore drilling. Gillum suggests doing the same. Both candidates also recommended similar Everglades protections, including working with the federal government to fully fund the Comprehensive Everglades Restoration Plan.
DeSantis also would convene a task force to "deal with Florida's red tide crisis," according to Stephen Lawson, DeSantis' communications director.
"Beginning on day one, Ron DeSantis will protect our environment by fighting for the completion of the southern reservoir, stopping the toxic algae discharges, and finding solutions to the red tide," Lawson added. 
But DeSantis' record on the environment was attacked by groups like Florida Conservation Voters and the Sierra Club when he unveiled his plan — in part because of his apprehension to address climate change at the state level.
That's where he and Gillum contrast. In Siesta Key, Gillum called for climate change resiliency efforts to combat rising sea levels. And he targets climate change in his policy plan.
"Sea level rise poses a catastrophic threat to our state — and one we're wholly unprepared to face," Gillum's plan reads. It also proposes that the state reconvene climate change summits started under former Gov. Charlie Crist, and "transition our energy production towards clean, renewable sources like solar and wave/tidal."
Complementing Gillum's environmental plan is a new television ad released by his campaign on Tuesday, titled "Protection." In it, he targets "special interests" and corporations for the state's environmental issues.