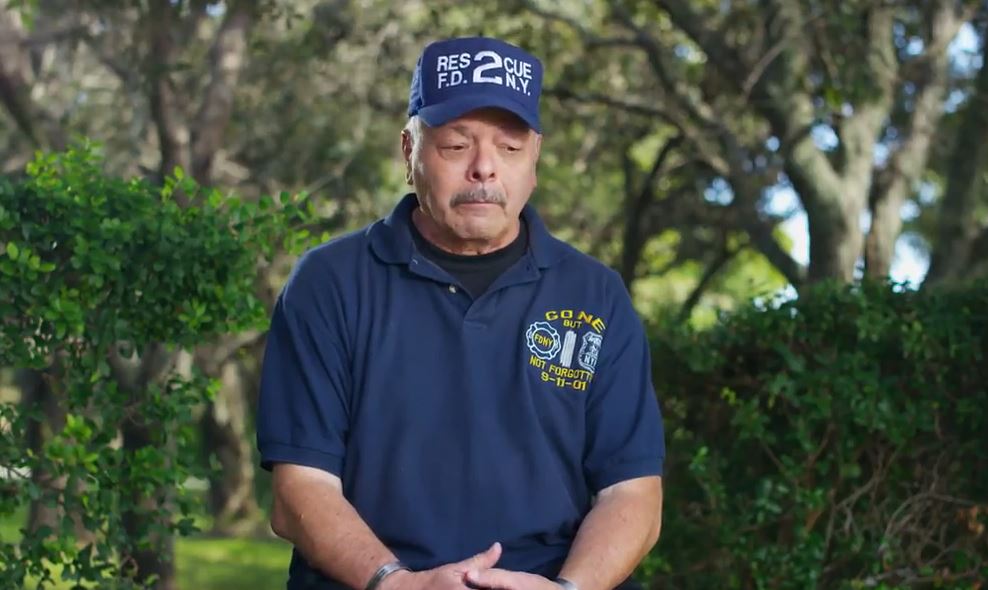 Republican U.S. Rep. Brian Mast is going after his Democratic opponent, Lauren Baer, over an article Baer wrote while attending Harvard which criticized American foreign policy in the immediate aftermath of 9/11.
The pair is currently competing in Florida's 18th Congressional District. Mast's new minute-long ad, titled "Sacrifice," features former New York City police officer John Napolitano discussing the death of his son, a New York City firefighter with FDNY Rescue 2. Napolitano then hammers Baer, assailing her criticism.
"On Sept. 11, 2001, my son John was one of the heroes never recovered," Napolitano begins.
"When I got to the Trade Center, I wrote a big message in the ash to my son. I wrote, 'Rescue 2, John Napolitano. I'm here and I love you. Dad.' I thought to myself, that if he was looking down on me, I was telling him that I loved him," Napolitano says through tears.
"While I was looking for my son, Ms. Baer was writing a paper about our country's shameful history, that this country would be more humane and more humble. If I could ask Ms. Baer, after my son made the supreme sacrifice, what could he have possibly done to have made him more humane?
"My son died for people that he didn't even know. I'm proud of America's history, I'm proud of my son, and I'm proud of Brian Mast. I urge you to vote for someone who knows what it's like to make a sacrifice.
"I urge you to vote for Brian Mast."
The Mast campaign also released a 30-second version of the ad. Both come just over a week after a similar ad was pulled when it was discovered the firefighter featured in that spot, John Cosomano, had a pair of felony battery convictions in 2013, according to a TCPalm report.
In a statement pushing back on the new ad, Baer campaign manager Rebecca Lipson made reference to last week's controversy.
"Lauren Baer devoted her life to public service and the promotion of American values abroad," she said. "And the insinuation that she is somehow un-American is a tired move from the typical DC politician playbook."
Lipson added: "The Mast campaign already tried this line of attack and had to pull their ad after featuring a known domestic abuser. Congressman Mast should be ashamed he has stooped so low as to again selectively quote from an article Lauren wrote in college in order to grossly misrepresent her values and point of view. Lauren has always respected Congressman Mast's patriotism, and we expect he would equally respect hers."
Since both the ad and topic are emotionally charged, it's worth taking a look at what exactly Baer said in her 2001 piece.
The article, titled "From Hypocrisy to Humanity" and written just shy of a month after 9/11, Baer noted the outpouring of support from around the world following the attacks. She made reference to comments from President George W. Bush, citing the NATO commitment that "an attack on one is an attack on all."
Baer then reflected on "whether America would be rushing to prayer and battle had the buildings toppled in Central Africa or Latina American or South Asia. I can only think that we would not."
She then cited other atrocities around the world which "should have warranted a meaningful U.S. response," criticizing the actual response as "meager, if it existed at all."
"Thus, we must ingest our sudden humanity with a grain of salt," Baer argued. "We must recognize the expediency, and not the moral uprightness, underlying our government's new cause. And we must call it to task on its hypocrisy."
She closed by calling for future responses which were "humbler and more humane."
One can certainly debate the validity of those criticisms, as well as the timing of the article. But in the ad, Napolitano asks of his son's sacrifice: "What could he have possibly done to have made him more humane?"
And while important to note that Baer's appeal to be "humbler and more humane" was about America's foreign policy, specifically in reaction to tragedies overseas, the article was in no way a rebuke of first responders to the 9/11 attacks.
Again, one can still criticize the piece and its timing, but it's important to avoid conflating Baer's criticisms with an attack on those who heroically sacrificed themselves on 9/11.
To watch Mast's new ad, click on the image below. You can also read Baer's original 2001 article here.