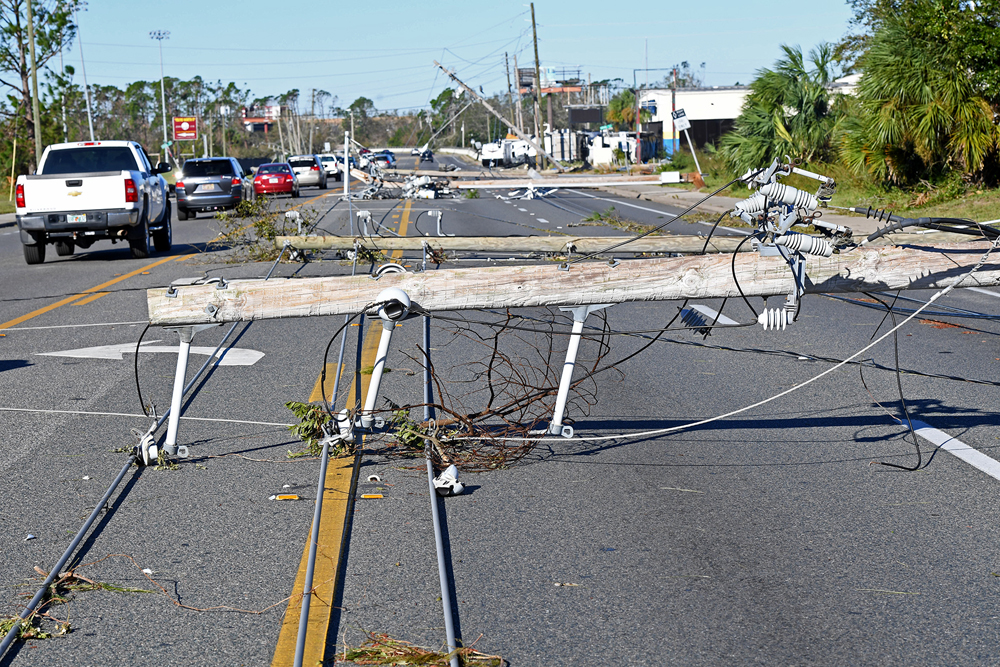 The platoon of power professionals working to get electricity restored in the Florida Panhandle has jumped to 4,400 according to Gulf Power, the region's major utility company.
In the immediate aftermath of Hurricane Michael, more than 400,000 utility customers in Florida were without power, and about a third of those were Gulf Power Customers. The company quickly got 25,000 customers back online and announced Thursday night that it had hit the 32,000-customer mark, including more than 4,000 in the Panama City area.
In its Friday morning update, Gulf Power said crews have restored power to more than 37,000 customers and more than 4,400 storm personnel have been mobilized and have already begun working in the hardest hit areas. The larger bucket trucks had to wait to be deployed until after cleanup crews had cleared roadways of debris.
"All of our crews are out working and customers will be seeing more bucket trucks in the hardest hit areas," Gulf Power spox Jeff Rogers said. "We also have drones and helos in the air today to provide us with more detailed reports of our system by the end of today."
The company said it has 1,000 power poles ready to go into the ground with another 800 expected to be delivered today. Those recon flights have given the company a look at more than 300 miles of transmission corridors.
"This was an unprecedented storm, and our customers will see an unprecedented response from Gulf Power," said Rogers.
To that end, the company said thousands of storm personnel from around the country arrived in the Panama City area Thursday for a total of 4,400 working the restoration and rebuilding process. Restoration crews will be on the job 24/7, and the company has set up seven staging sites to house those crews.
Gulf Power warned customers before Michael's landfall that it was expecting to have to rebuild much of the electrical system in the Panama City area as it worked on restoring power. The company reiterated Friday that those in the hardest hit areas should prepare to be without power for weeks.
Bay County, where Panama City is located, has seen the number of outages shrink by another 4,000 or so since last night, though as of 11 a.m. CDT, Gulf Power said there were still 92,692 Bay County customers without power.
Others waiting for the lights to come back on include 2,100 customers in Holmes County, 1,363 in Jackson County, 3,468 in Walton County and 6,493 in Washington County. Escambia, Okaloosa and Santa Rosa counties have been completely restored since Thursday night.
Gulf Power customers can monitor progress in their areas through the company's Facebook, Twitter and Instagram accounts as well as its outage map.